Aqua Fresh N1 _ RO_UV_UF_Mineral 15 L RO + UV + UF + TDS Water Purifier(Green)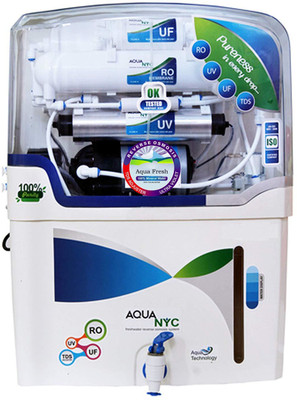 MRP - Rs. 14000
Price - Rs. 5050
product description
Aquafresh Mineral RO purification technology provides purification by RO combined with Mineral + Carbon + Sediments filter.
The carbon and sediments filter remove both suspended and chemical impurities such as chlorine, pesticides and various organic chemicals.
It's state-of-the-art Mineral filter and RO Membrane collectively purify water while the Mineral filter maintains the pH level as well as minerals essential for human body.
Stage Description (Stage 1) 5 Micron Sediment Filter : (Stage 2) :Pre Antiscalent Chamber .$ (Stage 3) Sediment Filter (Stage4 ) 100 Gpd Booster Pump .$ (Stage 5 ) Solenoid Valve (Stage 6 ) Carbon Filter .$ (Stage7 ) Uv (Ultra Violet Chamber) (Stage8 ) Tds Controller .$ (Stages9 ) Mineral Cartage Which Is 4 Stage (9+4)13 Stage .$ (Stage 14 ) Flow Resistor .$.$.$ Once The Product Deliver At Your Door Step You Can Call Customer Care No :-08769114059.
For Installation.$ 2.Installation And Unpacking Will Be Done By Manufacturer Within 2 -3 Business Days After Delivery .$ Installation Charges Are Extra 500-700 Rupees In All Over India.
you may also like