Selvia Casual Petal Sleeve Printed Women Red, White Top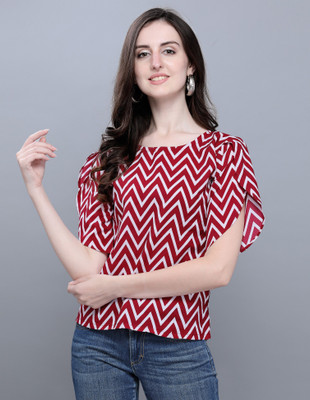 74% OFF
@ Flipkart
Check Price @ Amazon
Color:   Red, White
Size:   L
Price:   299.00
---
Similar Products
Selvia Casual Regular Sleeve Striped Women Multicolor Top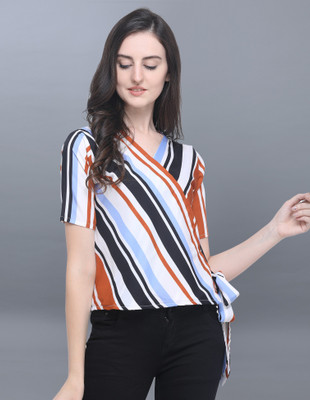 77% OFF
₹ 299.00 @ Flipkart
Check Price @ Amazon
Brand:   Selvia
Color:   Multicolor, White
Size:   S
Price:   299.00
---
ROYAL TAYLOR Regular Fit Women Blue Trousers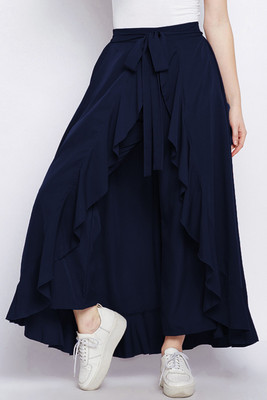 68% OFF
₹ 499.00 @ Flipkart
Check Price @ Amazon
A Simple, Fashion, Classic Wide-Leg Design makes ROYAl TAYLOR women Ruffle palazzo pants ideal for many. Very soft, Elegant, Comfortable exquisite waist design and various wearing style which made of 80%Cotton + 20%spandex, Stretchy and Light weight Material. The fancy style is greatly flaunted by the maxi-skirt overlay, cute bow-tie ribbon, High Split front and flowing ruffle accent. A tie-waist silhouette and loose fitted pants provide custom comfort. Enliven your wardrobe with this Ruffle Palazzo Skirt. Elastic Waistband allow for better fit .You can pair with tee, tank top, sweater etc.The rayon fibres are more slippy. ... Rayon is very similar to cotton, It is soft versatile and has drape, It is also more breathable than cotton. In terms of feel it mimics cottons texture however it may appear to be more silky looking than cotton. it is so comfortable and cooling to wear. Rayon feels smooth on your skin. It dries quickly and is another great wrinkle-resistant fabric. Rayon is an especially good fabric for sportswear summer dresses and skirts
Brand:   ROYAL TAYLOR
Color:   Blue
Size:   Free
Price:   499.00
---
Pixie Regular Fit Women Dark Blue, Black Trousers
55% OFF
₹ 583.00 @ Flipkart
Check Price @ Amazon
Waist belt is made up of high quality of elastic belt with addition 2 pocket and no zipper This jegging goes on the pair of long tunic ,crop top ,short top etc with the pair of casual shoes or high heel
Brand:   Pixie
Color:   Black, Navy Blue
Size:   Free
Price:   583.00
---
Selvia Casual Bell Sleeve Self Design Women Dark Blue Top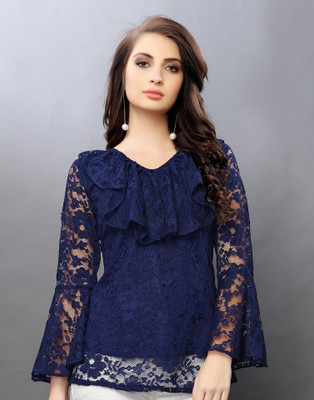 71% OFF
₹ 476.00 @ Flipkart
Check Price @ Amazon
Brand:   Selvia
Color:   Navy Blue
Size:   XL
Price:   476.00
---
Breezing Bird Casual 3/4 Sleeve Solid Women Blue Top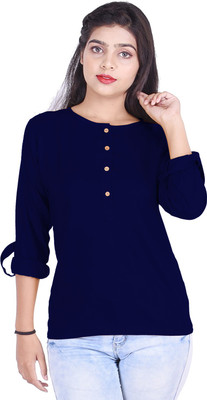 75% OFF
₹ 245.00 @ Flipkart
Check Price @ Amazon
WOMEN TOPS MATERIAL : Rayon, PRODUCT LENGTH : Regular Length,IN BOX : 1 Top Women Western Top,NECKLINE : Round Neck, SLEEVES : 3/4 Sleeve OCCASION : Casual & Festive, Party Wear, Disclaimer : There might be slight variation in the actual color of the product due to different screen resolutions.
Brand:   Breezing Bird
Color:   Navy
Size:   XS
Price:   245.00
---
AZMAA Casual Half Sleeve Solid Women Red Top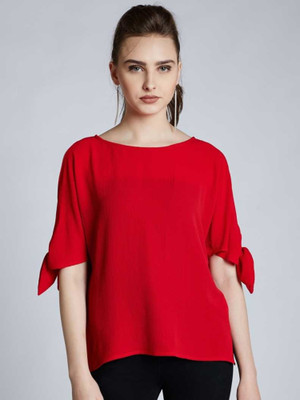 69% OFF
₹ 247.00 @ Flipkart
Check Price @ Amazon
beautiful top for women.
Brand:   AZMAA
Color:   Red
Size:   L
Price:   247.00
---
ROYAL TAYLOR Regular Fit Women Maroon Trousers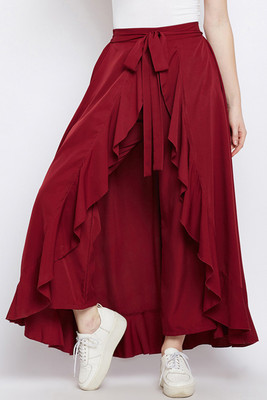 68% OFF
₹ 499.00 @ Flipkart
Check Price @ Amazon
A Simple, Fashion, Classic Wide-Leg Design makes ROYAl TAYLOR women Ruffle palazzo pants ideal for many. Very soft, Elegant, Comfortable exquisite waist design and various wearing style which made of 80%Cotton + 20%spandex, Stretchy and Light weight Material. The fancy style is greatly flaunted by the maxi-skirt overlay, cute bow-tie ribbon, High Split front and flowing ruffle accent. A tie-waist silhouette and loose fitted pants provide custom comfort. Enliven your wardrobe with this Ruffle Palazzo Skirt. Elastic Waistband allow for better fit .You can pair with tee, tank top, sweater etc.The rayon fibres are more slippy. ... Rayon is very similar to cotton, It is soft versatile and has drape, It is also more breathable than cotton. In terms of feel it mimics cottons texture however it may appear to be more silky looking than cotton. it is so comfortable and cooling to wear. Rayon feels smooth on your skin. It dries quickly and is another great wrinkle-resistant fabric. Rayon is an especially good fabric for sportswear summer dresses and skirts
Brand:   ROYAL TAYLOR
Color:   Maroon
Size:   Free
Price:   499.00
---
Selvia Casual Bell Sleeve Self Design Women White Top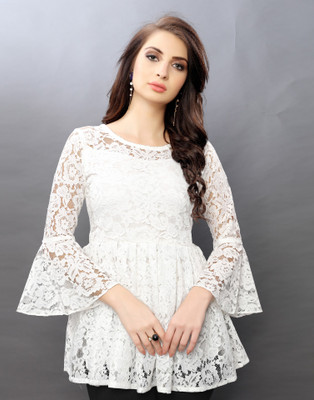 73% OFF
₹ 539.00 @ Flipkart
Check Price @ Amazon
Brand:   Selvia
Color:   White
Size:   M
Price:   539.00
---
LYRA Slim Fit Women White Trousers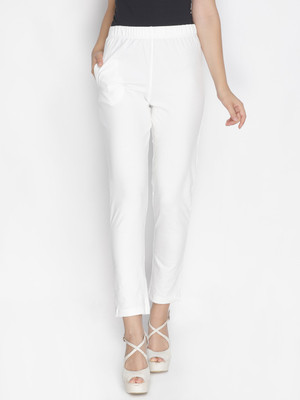 1% OFF
₹ 445.00 @ Flipkart
Check Price @ Amazon
Lyra introduces new Stylish Kurti Pant for women who loves to explore fashion.The pair which is designed to go perfectly with both Western Top and Kurtis has 1 side pocket for for more utility and comfort. Crafted with the finest knitted cotton stretch fabric, the beautiful Lyra Kurti Pants has soft elasticized waistband, tagless lable and tapered legs feature for comfortable fit.
Brand:   LYRA
Color:   Off White
Size:   Free
Price:   445.00
---