Inditradition Rope With Wooden Spreader Bars Cotton Hammock(Beige)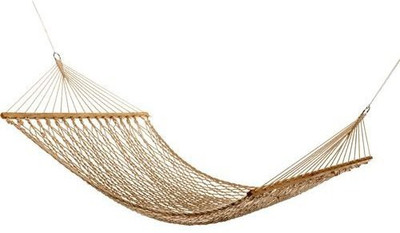 66% OFF
@ Flipkart
Check Price @ Amazon
Very Comfortable and Stylish Rope Hammock. This hammock is comfortable and high quality, it's designed to safely support a maximum capacity upto 120 KG This 1-person hammock features hardwood spreader bars with 100% cotton rope for extra enjoyment and relaxation. Includes O-rings for hanging on trees, patio, porch or indoors (does NOT include hanging chains) There is a long wooden bar at each end with drilled out holes spaced throughout for the support ropes to go through. Each rope is super thick and braided for maximum durability and support. The 20 ropes collect together and weave into a very pretty triangle pattern, which attaches to a ring and the chain-link can be used for hanging the hammock. (does NOT include hanging chains) This rope hammock can be hung indoor or outdoor, it's perfect for bedroom, living room, patio, backyard, pool or balcony when you reading, relaxing or sleeping. It offers many ways to lay or sit in it,with zero pressure on whole body. You can enjoy it with your family or your friends in the daytime and night. It also makes an awesome gift for anyone. Dimensions : Length - 77 CM x Breadth - 30 CM :: Full Length of Hammock - 100 CM :: Material - Cotton Rope :: Color - White (Note - Hammock Stand Showing in any image is for reference purpose only. This is only Rope Hammock. Stand needs to be purchased separately)
Color:   Beige
Price:   999.00
---
Similar Products
Luxafare KIds Cotton Swing Cotton Small Swing(Multicolor)
55% OFF
₹ 448.00 @ Flipkart
Check Price @ Amazon
Enjoy the cool breeze in you balcony or in the garden with the whole new range of Hammock and Swing brought to you by aryan jhula. It's new color and premium quality fabric will just make you sling in it. It premium quality ensure the comfort level. It is very easily transferable from one place to another.
Brand:   Luxafare
Color:   Multicolor
Price:   448.00
---
Swingzy Make In India, Cotton Hanging Swing Cotton, Wooden Small Swing(White)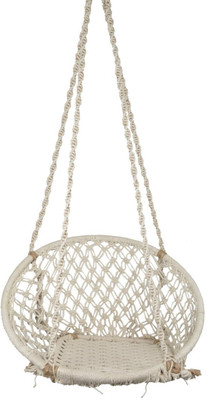 66% OFF
₹ 999.00 @ Flipkart
Check Price @ Amazon
ALL-IN-ONE HAMMOCK CHAIR KIT: Installing your hammock swing is a breeze. We've included everything you need to get started! Just drill a hole in your ceiling, insert the iron hooks, and hang the hammock. You'll be done in a few quick minutes. EXTRA LARGE, EXTRA COZY: This suspended chair will make you feel like you're sitting on a cloud. The jumbo 150 x 70 x 70 size offers plenty of room to relax. You'll also use a super-soft cushion for a heavenly experience. SAFE & STURDY: The Swingzy Hammock Chair is as tough as it is beautiful. The thick cotton ropes and premium iron chain are as strong as can be, supporting up to 120 Kgs of weight. The hanging hardware kit included is suitable for concrete ceiling & wood ceiling INDOOR USE: There's nothing better than balmy sunlight, a crisp breeze, and a comfy chair. That's why we've designed this hammock swing! Hang it up in the living room, in the bedroom, in the office, or anywhere else you please. HANDCRAFTED HAMMOCK: Give your home some luxurious charm with the Swingzy Hammock Chair! This stylish, whimsical hammock is handmade from 100% cotton. The classic woven-net design is oh-so comfortable and ultra-supportive, and the macramé details offer a modern twist to a classic.
Brand:   Swingzy
Color:   White
Price:   999.00
---
Smart Beans Hammock Red Without Accessories Cotton Small Swing(Red)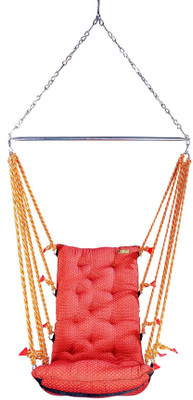 26% OFF
₹ 2,287.00 @ Flipkart
Check Price @ Amazon
Bring comfort & style to your outdoor & indoor space with Smart beans Royal Hammock Swing. Everyone needs an hammock to help you enjoy those lazy days & this stylish & colourful hammock by Smart Beans is the perfect choice. It adds a touch of style to your Home ,Indoor And Outdoor Space & provides extra fun for both kids & adults. Hang it in your verandah or garden and sip a drink or read a book as you sway with the breeze. Hammock is the product to enjoy for years as an incredible addition of relaxation to any place.
Brand:   Smart Beans
Color:   Red
Price:   2,287.00
---
Swingzy Indoor and Outdoor Baby Swing Chair Cotton Swing(Brown)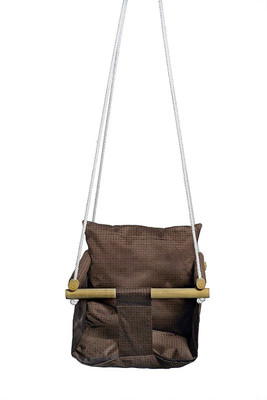 55% OFF
₹ 890.00 @ Flipkart
Check Price @ Amazon
Swingzy hammock hanging swing is durable, easy to carry, easy to install, and is multicolor. It is made of high-density cotton material to make it last longer. It is foldable and comes with a bag to make it portable. We are a professional outdoor, Indoor swings supplier, we provide a variety of swings for kids, adults, couples. We take pride in taking care of excellent customers. Ideal for young children learning how to swing. As they build core strength and get ready for a traditional swing, the toddler bucket swing will allow them to join in the fun early on!
Brand:   Swingzy
Color:   Brown
Price:   890.00
---
HKC HOUSE Cotton Swing(Red, Green)

54% OFF
₹ 3,199.00 @ Flipkart
Check Price @ Amazon
" HKC House " ALLOW YOUR KIDS TO PLAY AND RELAX SAFELY: Cheaply made hanging pods can prove extremely dangerous to use! This must have children hanging swing is made of weather resistant polyester and colorful cotton which can assure unmatched durability. Moreover, the 176lbs weight capacity and the sturdy straps promise to keep your babies safe and happy! * HAVE THE BEST OF TIMES INDOORS AND OUTDOORS: This incredible kids pod swing will provide you with countless possibilities! Whether you want to use it in your house and hang it from your ceiling, or you have been thinking about hanging it from a tree, creating a playing area in your patio, this nest swing will not let you down! The pod swing can be a perfect autism therapy swing and sensory relief swing. * EASY TO INSTALL AND USE: The hammock chair nook is different and quite comfortable to sit in while reading, watching TV or listening to music. It is an attractive piece to any child's room that is unique and space saving. * All ACCESSORIES INCLUDED: hanging tent, inflatable cushion, air pump, rope, hook, wall fixture, bolts, detailed instructions for safety installation and using. * FULL AMAZEYOU WARRANTY - Provides 100% no questions asked money back guarantee. If you're not completely satisfied with your Hanging Nest purchase simply let us know, and you'll be offered a FULL refund or replacement! Enjoy this absolutely RISK FREE purchase today by clicking the yellow 'Add to Cart button' above.
Brand:   HKC HOUSE
Color:   Red, Green
Price:   3,199.00
---
IRA Hammock Adult Chair Cotton Swing Cotton Swing(Green)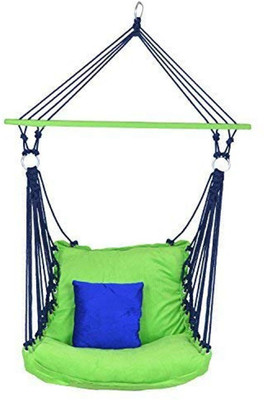 32% OFF
₹ 3,642.00 @ Flipkart
Check Price @ Amazon
Green velvet fabric original Swing from house of IRA Furniture products. Quality product also when not required to be used can be folded and kept aside.
Brand:   IRA
Color:   Green
Price:   3,642.00
---
Kaushalendra chair big Nylon Small Swing(Blue)

27% OFF
₹ 2,600.00 @ Flipkart
Check Price @ Amazon
This hammock swing chair from Kaushalendra you enjoy while reading a book, or sip on a cup of tea while watching the rains as you fill great yourself in the soft swings of this hammock. kaushalendra swings are the best and brand original swing . Useful for all age groups. This swing features a sturdy steel construction. It made with a nylon rope, as well as rope chains and hooks for a fuss-free installation. You could also easily disassemble and fold it when you want to move it from one place to another. It is designed to accommodate one person at a time and can be easily washed to maintain the basic hygiene. (1) High quality nylon rope hammock. (2) Single seat hammock can carry weight up to 100 kg. (3) Can be used anywhere indoor, outdoor, balcony, patio and more. (11) Made from nylon rope and base from metal bar. (4) Pre assembled ready to use product no need to any assembly. (5) Just a single hook needed in the ceiling and hang it. (6) Easy to wash with mild water. (7) Multi color nylon rope hammock chair swing. (8) The product dimension is 48x74x200 (LXWXH) in cm. (10) Best item for gift someone.
Brand:   Kaushalendra
Color:   Blue
Price:   2,600.00
---
Swingzy Cotton, Wooden Swing(Multicolor)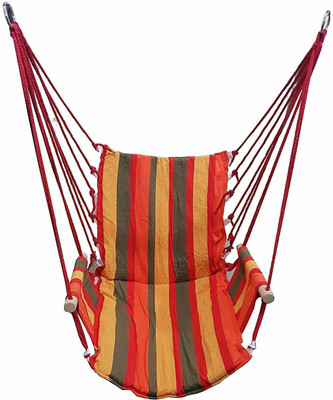 43% OFF
₹ 1,695.00 @ Flipkart
Check Price @ Amazon
When it's time to relax, there are few better ways than to sit in a comfortable chair and gently swing back and forth, letting motion and gravity soothe away the stress of everyday life. Swingzy offers the Hanging Rope Chair to do just that. Hang it anywhere, a porch, under a shady tree, by the pool, near the garden, or even in the house. Wherever you hang it, you'll be climbing into comfort, ready to experience a relaxing, stress-free time.
Brand:   Swingzy
Color:   Multicolor
Price:   1,695.00
---
Curio Centre Cotton Small Swing(White)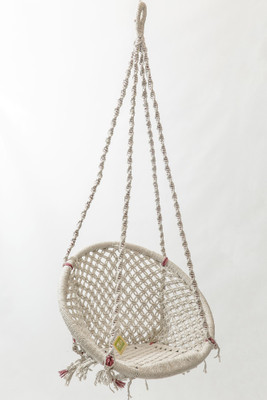 29% OFF
₹ 1,699.00 @ Flipkart
Check Price @ Amazon
this is a strong swing made up of pure cotton strings, it is very strong and durable to take weight of an adult easily. its beauty will add elegance to your house and joy for your family.
Brand:   Curio Centre
Color:   White
Price:   1,699.00
---