Zootkart Impossible Screen Guard for Micromax Canvas HD A116(Pack of 1)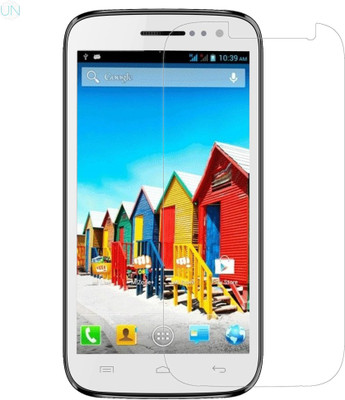 60% OFF
@ Flipkart
Check Price @ Amazon
Zootkart's Screen Protector has been specially made with scratch resistant material and rounded edges for a more precise fit. Due to the 0.23-0.33mm thickness and surface hardness of the Glass Screen Protector provides premium protection and no lose in touch screen sensitivity. Surface hardness Three times stronger than regular PET film. Even sharp objects such as knives and keys will not scratch the Glass Screen Protector. Oleo phobic Coating: The Glass Screen Protector has an oleo phobic coating that prevents fingerprints and other contaminants and makes the film easy to clean. Anti-Shatter Film: If broken, the Glass Screen Protector cracks into small pieces that are held within the film. They are not sharp, making it safer than other glass products. CAUTION *When removing for re-use, the adhesive properties might wear off to an extent where the screen protector will not adhere to the device. It is not recommended to reuse the Glass Screen Protector once it's been applied. *Using excessive force when installing or removing the screen protector may damage the product
Color:   Transparent
Price:   159.00
---
Similar Products
Zootkart Impossible Screen Guard for Micromax Canvas Blaze HD EG116(Pack of 1)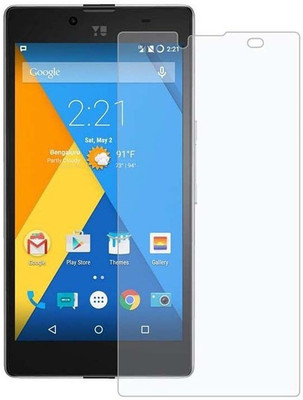 56% OFF
₹ 175.00 @ Flipkart
Check Price @ Amazon
Zootkart's Matte Screen Protector has been specially made with scratch resistant material and rounded edges for a more precise fit. Due to the Matte Finish and surface hardness of the Film, Screen Protector provides premium protection and no lose in touch screen sensitivity. Surface hardness Three times stronger than regular PET film. Even sharp objects such as knives and keys will not scratch the Glass Screen Protector. Oleo phobic Coating: The Glass Screen Protector has an oleo phobic coating that prevents fingerprints and other contaminants and makes the film easy to clean. Anti-Shatter Film: If broken, the Glass Screen Protector cracks into small pieces that are held within the film. They are not sharp, making it safer than other glass products. CAUTION *When removing for re-use, the adhesive properties might wear off to an extent where the screen protector will not adhere to the device. It is not recommended to reuse the Glass Screen Protector once it's been applied. *Using excessive force when installing or removing the screen protector may damage the product
Brand:   Zootkart
Color:   Transparent
Price:   175.00
---
MudShi Impossible Screen Guard for Micromax Canvas Blaze HD EG116(Pack of 1)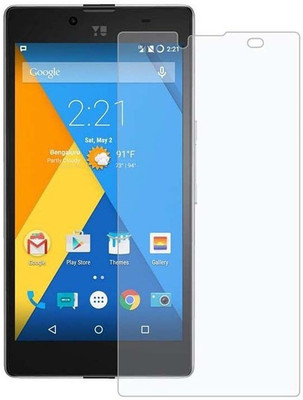 64% OFF
₹ 178.00 @ Flipkart
Check Price @ Amazon
Mudshi's Matte Screen Protector has been specially made with scratch resistant material and rounded edges for a more precise fit. Due to the Matte Finish and surface hardness of the Film, Screen Protector provides premium protection and no lose in touch screen sensitivity. Surface hardness Three times stronger than regular PET film. Even sharp objects such as knives and keys will not scratch the Glass Screen Protector. Oleo phobic Coating: The Glass Screen Protector has an oleo phobic coating that prevents fingerprints and other contaminants and makes the film easy to clean. Anti-Shatter Film: If broken, the Glass Screen Protector cracks into small pieces that are held within the film. They are not sharp, making it safer than other glass products. CAUTION *When removing for re-use, the adhesive properties might wear off to an extent where the screen protector will not adhere to the device. It is not recommended to reuse the Glass Screen Protector once it's been applied. *Using excessive force when installing or removing the screen protector may damage the product
Brand:   MudShi
Color:   Transparent
Price:   178.00
---
Zootkart Impossible Screen Guard for Micromax Canvas HD A116i(Pack of 1)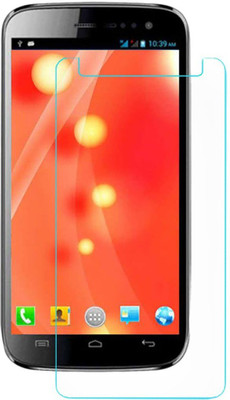 60% OFF
₹ 159.00 @ Flipkart
Check Price @ Amazon
Zootkart's Screen Protector has been specially made with scratch resistant material and rounded edges for a more precise fit. Due to the 0.23-0.33mm thickness and surface hardness of the Glass Screen Protector provides premium protection and no lose in touch screen sensitivity. Surface hardness Three times stronger than regular PET film. Even sharp objects such as knives and keys will not scratch the Glass Screen Protector. Oleo phobic Coating: The Glass Screen Protector has an oleo phobic coating that prevents fingerprints and other contaminants and makes the film easy to clean. Anti-Shatter Film: If broken, the Glass Screen Protector cracks into small pieces that are held within the film. They are not sharp, making it safer than other glass products. CAUTION *When removing for re-use, the adhesive properties might wear off to an extent where the screen protector will not adhere to the device. It is not recommended to reuse the Glass Screen Protector once it's been applied. *Using excessive force when installing or removing the screen protector may damage the product
Brand:   Zootkart
Color:   Transparent
Price:   159.00
---
Zootkart Impossible Screen Guard for Micromax Canvas HD A116(Pack of 2)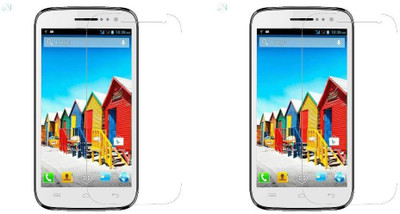 56% OFF
₹ 175.00 @ Flipkart
Check Price @ Amazon
Zootkart's Screen Protector has been specially made with scratch resistant material and rounded edges for a more precise fit. Due to the 0.23-0.33mm thickness and surface hardness of the Glass Screen Protector provides premium protection and no lose in touch screen sensitivity. Surface hardness Three times stronger than regular PET film. Even sharp objects such as knives and keys will not scratch the Glass Screen Protector. Oleo phobic Coating: The Glass Screen Protector has an oleo phobic coating that prevents fingerprints and other contaminants and makes the film easy to clean. Anti-Shatter Film: If broken, the Glass Screen Protector cracks into small pieces that are held within the film. They are not sharp, making it safer than other glass products. CAUTION *When removing for re-use, the adhesive properties might wear off to an extent where the screen protector will not adhere to the device. It is not recommended to reuse the Glass Screen Protector once it's been applied. *Using excessive force when installing or removing the screen protector may damage the product
Brand:   Zootkart
Color:   Transparent
Price:   175.00
---
MudShi Impossible Screen Guard for Micromax Canvas HD A116(Pack of 2)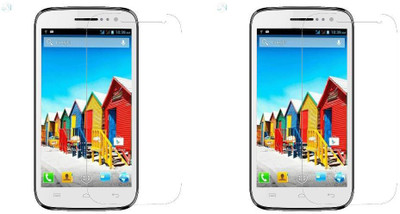 50% OFF
₹ 198.00 @ Flipkart
Check Price @ Amazon
Mudshi's Screen Protector has been specially made with scratch resistant material and rounded edges for a more precise fit. Due to the 0.23-0.33mm thickness and surface hardness of the Glass Screen Protector provides premium protection and no lose in touch screen sensitivity. Surface hardness Three times stronger than regular PET film. Even sharp objects such as knives and keys will not scratch the Glass Screen Protector. Oleo phobic Coating: The Glass Screen Protector has an oleo phobic coating that prevents fingerprints and other contaminants and makes the film easy to clean. Anti-Shatter Film: If broken, the Glass Screen Protector cracks into small pieces that are held within the film. They are not sharp, making it safer than other glass products. CAUTION *When removing for re-use, the adhesive properties might wear off to an extent where the screen protector will not adhere to the device. It is not recommended to reuse the Glass Screen Protector once it's been applied. *Using excessive force when installing or removing the screen protector may damage the product
Brand:   MudShi
Color:   Transparent
Price:   198.00
---
Zootkart Impossible Screen Guard for Micromax Canvas Blaze HD EG116(Pack of 2)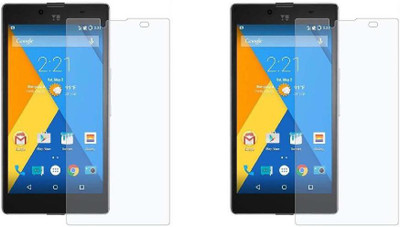 56% OFF
₹ 175.00 @ Flipkart
Check Price @ Amazon
Zootkart's Screen Protector has been specially made with scratch resistant material and rounded edges for a more precise fit. Due to the 0.23-0.33mm thickness and surface hardness of the Glass Screen Protector provides premium protection and no lose in touch screen sensitivity. Surface hardness Three times stronger than regular PET film. Even sharp objects such as knives and keys will not scratch the Glass Screen Protector. Oleo phobic Coating: The Glass Screen Protector has an oleo phobic coating that prevents fingerprints and other contaminants and makes the film easy to clean. Anti-Shatter Film: If broken, the Glass Screen Protector cracks into small pieces that are held within the film. They are not sharp, making it safer than other glass products. CAUTION *When removing for re-use, the adhesive properties might wear off to an extent where the screen protector will not adhere to the device. It is not recommended to reuse the Glass Screen Protector once it's been applied. *Using excessive force when installing or removing the screen protector may damage the product
Brand:   Zootkart
Color:   Transparent
Price:   175.00
---
MudShi Impossible Screen Guard for Micromax Canvas HD A116(Pack of 1)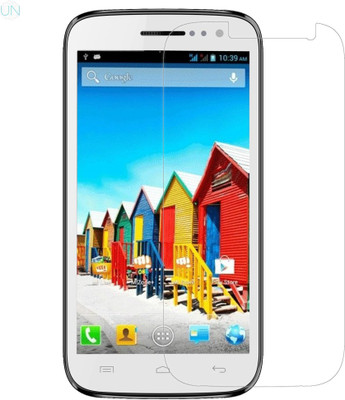 52% OFF
₹ 188.00 @ Flipkart
Check Price @ Amazon
Mudshi's Screen Protector has been specially made with scratch resistant material and rounded edges for a more precise fit. Due to the 0.23-0.33mm thickness and surface hardness of the Glass Screen Protector provides premium protection and no lose in touch screen sensitivity. Surface hardness Three times stronger than regular PET film. Even sharp objects such as knives and keys will not scratch the Glass Screen Protector. Oleo phobic Coating: The Glass Screen Protector has an oleo phobic coating that prevents fingerprints and other contaminants and makes the film easy to clean. Anti-Shatter Film: If broken, the Glass Screen Protector cracks into small pieces that are held within the film. They are not sharp, making it safer than other glass products. CAUTION *When removing for re-use, the adhesive properties might wear off to an extent where the screen protector will not adhere to the device. It is not recommended to reuse the Glass Screen Protector once it's been applied. *Using excessive force when installing or removing the screen protector may damage the product
Brand:   MudShi
Color:   Transparent
Price:   188.00
---
MudShi Impossible Screen Guard for Micromax-Canvas-Hd-A116(Pack of 1)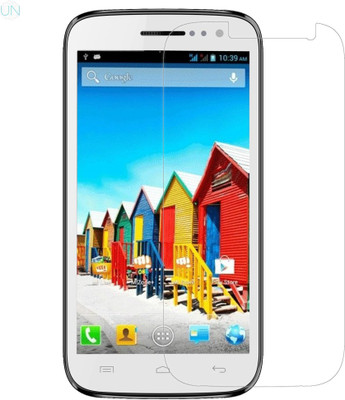 50% OFF
₹ 198.00 @ Flipkart
Check Price @ Amazon
High quality Super Glossy, Unbreakable and flexible screen protector. It is thinner and stronger than tempered. Fully transparent with no impact on visual display, It does not break. Latest technology in phone screen protectors - impossible glass screen protection. This is not a tempered glass. Rather this is an improved glass sheet that is unbreakbale and thinner than tempered glass. Scratch Proof and gives 100% protection to your screen. Don't go by the thickness of this product.
Brand:   MudShi
Color:   Transparent
Price:   198.00
---
MudShi Impossible Screen Guard for Micromax Canvas Blaze HD EG116(Pack of 2)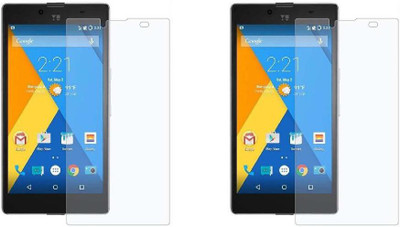 50% OFF
₹ 198.00 @ Flipkart
Check Price @ Amazon
Mudshi's Screen Protector has been specially made with scratch resistant material and rounded edges for a more precise fit. Due to the 0.23-0.33mm thickness and surface hardness of the Glass Screen Protector provides premium protection and no lose in touch screen sensitivity. Surface hardness Three times stronger than regular PET film. Even sharp objects such as knives and keys will not scratch the Glass Screen Protector. Oleo phobic Coating: The Glass Screen Protector has an oleo phobic coating that prevents fingerprints and other contaminants and makes the film easy to clean. Anti-Shatter Film: If broken, the Glass Screen Protector cracks into small pieces that are held within the film. They are not sharp, making it safer than other glass products. CAUTION *When removing for re-use, the adhesive properties might wear off to an extent where the screen protector will not adhere to the device. It is not recommended to reuse the Glass Screen Protector once it's been applied. *Using excessive force when installing or removing the screen protector may damage the product....
Brand:   MudShi
Color:   Transparent
Price:   198.00
---