Case Creation Edge To Edge Tempered Glass for Samsung Galaxy Note 8 2018(Pack of 1)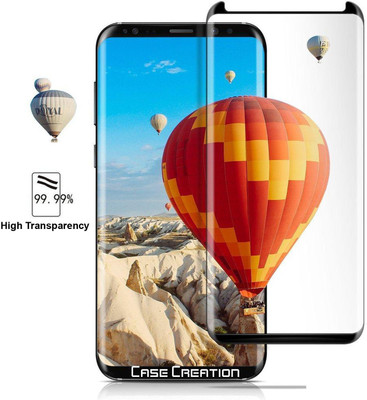 MRP - Rs. 2999
Price - Rs. 499
product description
Case Creation TM Full Screen Edge to Edge Adhesive 5D Tempered Glass 5D Arc Technology Advanced CNC cutting treatment, the edges are shaped into smooth circular arc provide a super touch feeling and great durability.The edges are shaped into smooth circular arc to make glass fit screen and curved edge perfectly, providing you super touch feeling and super durability.
Dust-free, fingerprint-free, bubble free, one-push super easy installation.
Specifically designed for iPhone Close to 100% transparency Optical grade transmittance and low reflection ensure crystal clear image.Enjoy the most out of retina display Superb Anti-Scratch Performance With special Heat treatment, hardness is up to 9H, which can effectively ease the impact force and protect screen from scratch of sharp objects, wear and drops.
Special Anti-Fingerprint Oleophobic Coating Oleophobic coating can effectively deduce fingerprint and smudge.
Product Features - Full coverage (Edge to Edge Adhesive protection) - 9H hardness (scratch resistance) - Rounded edges (less chipping or cracking) - Oleo phobic coated (AFP + oil free) - Thickness : 0.3 mm - High Clarity (HD screen) - Easy Installation kit provided Please contact us if you face any issue while installing the glass.
If required please seek professional help.
you may also like