KIRARO Screen Guard for Blackberry Q5(Pack of 2)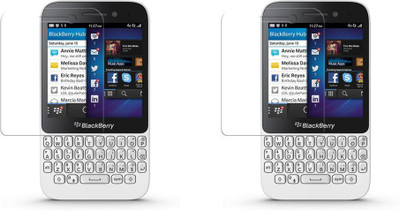 67% OFF
@ Flipkart
Check Price @ Amazon
Screen Protector has been specially made with scratch resistant material and rounded edges for a more precise fit. Due to the Glossy Finish and surface hardness of the Film, Screen Protector provides premium protection and no lose in touch screen sensitivity. Surface hardness Three times stronger than regular PET film. Even sharp objects such as knives and keys will not scratch the Glass Screen Protector. Oleo phobic Coating: The Glass Screen Protector has an oleo phobic coating that prevents fingerprints and other contaminants and makes the film easy to clean.
Color:   Transparent
Price:   229.00
---
Similar Products
Fasheen Tempered Glass Guard for BLACKBERRY Q5(Pack of 1)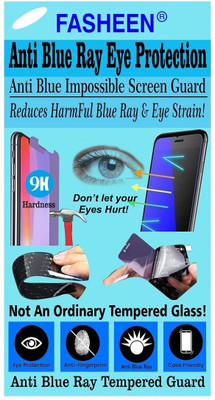 67% OFF
₹ 259.00 @ Flipkart
Check Price @ Amazon
Introduces Anti Blue Light Impossible Tempered Glass Screen Protector for your Smart Phone. Our Premium Anti Blue Ray Screen Protectors are designed to protect your Eyes from damage due to excess usage of smartphone . It also prevents your device screen against impact, scratches, dust and fingerprint smudges. Manufactured from a high quality chemically treated Pet Fiber Film , These screen protectors are lightweight, thin but most importantly, extremely protective.
Brand:   Fasheen
Color:   Blue
Price:   259.00
---
Dainty Tempered Glass Guard for Samsung Galaxy A30, Samsung Galaxy A30s, Samsung Galaxy A50, Samsung Galaxy A50s, Samsung Galaxy M30, Samsung Galaxy M30s, Samsung Galaxy A20(Pack of 1)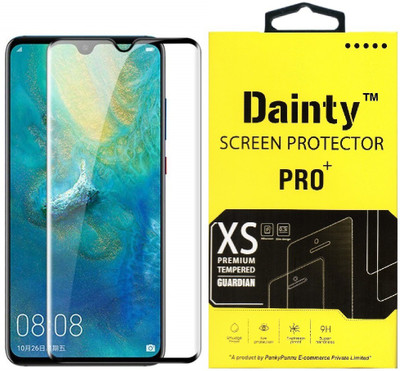 79% OFF
₹ 249.00 @ Flipkart
Check Price @ Amazon
FULL GLUE and NO DOTS, BUBBLES & RAINBOW EFFECT - It has full glue on the entire screen which leaves no dots, no rainbow effect and no bubbles post application of the tempered glass. The tempered glass has strong UV silicon adhesive on the full screen || PERFECT FIT & BLACK FULL GLASS - It is a 5D Black Colour Tempered Glass which covers the full screen of your mobile and provides edge to edge protection which even covers the curved sides of your mobile screen || 100% PROTECTION - It protects your phone from high impact drops, keys in your pockets, metal objects in your bags and other day to day scratches as it is a gorilla glass || CLEAN USAGE - It gives your phone screen protection from finger prints, oil stains, smudges and water drops thanks to the Oleo phobic coating that screen guard comes with. It results in clearer screen || EASY INSTALLATION - You can install the tempered glass screen protector yourself without any issue
Brand:   Dainty
Color:   Black
Price:   249.00
---
Dainty Edge To Edge Tempered Glass for Realme XT, Realme X2(Pack of 1)
79% OFF
₹ 249.00 @ Flipkart
Check Price @ Amazon
FULL GLUE and NO DOTS, BUBBLES & RAINBOW EFFECT - It has full glue on the entire screen which leaves no dots, no rainbow effect and no bubbles post application of the tempered glass. The tempered glass has strong UV silicon adhesive on the full screen || PERFECT FIT & BLACK FULL GLASS - It is a 5D Black Colour Tempered Glass which covers the full screen of your mobile and provides edge to edge protection which even covers the curved sides of your mobile screen || 100% PROTECTION - It protects your phone from high impact drops, keys in your pockets, metal objects in your bags and other day to day scratches as it is a gorilla glass || CLEAN USAGE - It gives your phone screen protection from finger prints, oil stains, smudges and water drops thanks to the Oleo phobic coating that screen guard comes with. It results in clearer screen || EASY INSTALLATION - You can install the tempered glass screen protector yourself without any issue
Brand:   Dainty
Color:   Black
Price:   249.00
---
Dainty Edge To Edge Tempered Glass for Mi Redmi Note 7, Mi Redmi Note 7 Pro, Mi Redmi Note 7S(Pack of 1)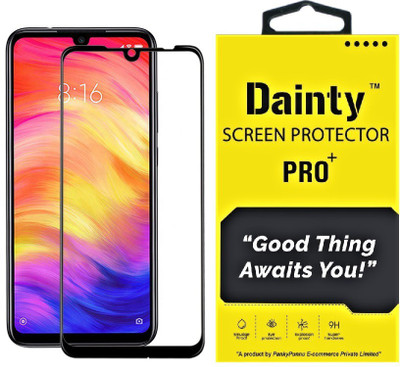 83% OFF
₹ 199.00 @ Flipkart
Check Price @ Amazon
FULL GLUE and NO DOTS, BUBBLES & RAINBOW EFFECT - It has full glue on the entire screen which leaves no dots, no rainbow effect and no bubbles post application of the tempered glass. The tempered glass has strong UV silicon adhesive on the full screen || PERFECT FIT & BLACK FULL GLASS - It is a 5D Black Colour Tempered Glass which covers the full screen of your mobile and provides edge to edge protection which even covers the curved sides of your mobile screen || 100% PROTECTION - It protects your phone from high impact drops, keys in your pockets, metal objects in your bags and other day to day scratches as it is a gorilla glass || CLEAN USAGE - It gives your phone screen protection from finger prints, oil stains, smudges and water drops thanks to the Oleo phobic coating that screen guard comes with. It results in clearer screen || EASY INSTALLATION - You can install the tempered glass screen protector yourself without any issue
Brand:   Dainty
Color:   Black
Price:   199.00
---
Tough Lee Edge To Edge Tempered Glass for Mi Redmi Note 8 Pro(Pack of 1)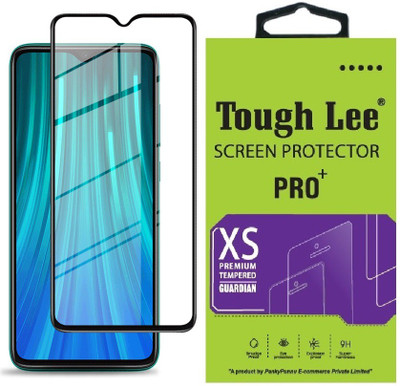 80% OFF
₹ 199.00 @ Flipkart
Check Price @ Amazon
FULL GLUE and NO DOTS, BUBBLES & RAINBOW EFFECT - It has full glue on the entire screen which leaves no dots, no rainbow effect and no bubbles post application of the tempered glass. The tempered glass has strong UV silicon adhesive on the full screen || PERFECT FIT & BLACK FULL GLASS - It is a 5D Black Colour Tempered Glass which covers the full screen of your mobile and provides edge to edge protection which even covers the curved sides of your mobile screen || 100% PROTECTION - It protects your phone from high impact drops, keys in your pockets, metal objects in your bags and other day to day scratches as it is a gorilla glass || CLEAN USAGE - It gives your phone screen protection from finger prints, oil stains, smudges and water drops thanks to the Oleo phobic coating that screen guard comes with. It results in clearer screen || EASY INSTALLATION - You can install the tempered glass screen protector yourself without any issue
Brand:   Tough Lee
Color:   Black
Price:   199.00
---
Dainty Edge To Edge Tempered Glass for Mi Redmi Note 8 Pro(Pack of 1)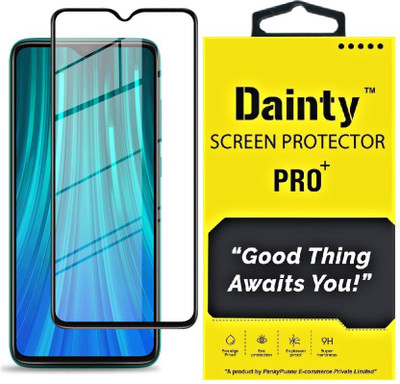 83% OFF
₹ 199.00 @ Flipkart
Check Price @ Amazon
FULL GLUE and NO DOTS, BUBBLES & RAINBOW EFFECT - It has full glue on the entire screen which leaves no dots, no rainbow effect and no bubbles post application of the tempered glass. The tempered glass has strong UV silicon adhesive on the full screen || PERFECT FIT & BLACK FULL GLASS - It is a 5D Black Colour Tempered Glass which covers the full screen of your mobile and provides edge to edge protection which even covers the curved sides of your mobile screen || 100% PROTECTION - It protects your phone from high impact drops, keys in your pockets, metal objects in your bags and other day to day scratches as it is a gorilla glass || CLEAN USAGE - It gives your phone screen protection from finger prints, oil stains, smudges and water drops thanks to the Oleo phobic coating that screen guard comes with. It results in clearer screen || EASY INSTALLATION - You can install the tempered glass screen protector yourself without any issue
Brand:   Dainty
Color:   Black
Price:   199.00
---
Temperia Edge To Edge Tempered Glass for Apple iPhone 11(Pack of 1)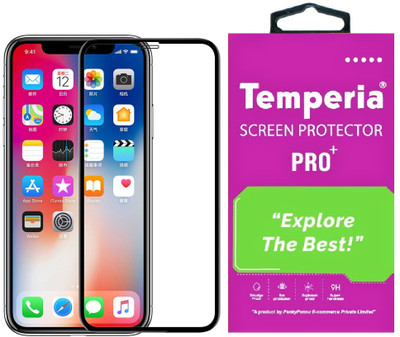 56% OFF
₹ 259.00 @ Flipkart
Check Price @ Amazon
FULL GLUE and NO DOTS, BUBBLES & RAINBOW EFFECT - It has full glue on the entire screen which leaves no dots, no rainbow effect and no bubbles post application of the tempered glass. The tempered glass has strong UV silicon adhesive on the full screen || PERFECT FIT & BLACK FULL GLASS - It is a 5D Black Colour Tempered Glass which covers the full screen of your mobile and provides edge to edge protection which even covers the curved sides of your mobile screen || 100% PROTECTION - It protects your phone from high impact drops, keys in your pockets, metal objects in your bags and other day to day scratches as it is a gorilla glass || CLEAN USAGE - It gives your phone screen protection from finger prints, oil stains, smudges and water drops thanks to the Oleo phobic coating that screen guard comes with. It results in clearer screen || EASY INSTALLATION - You can install the tempered glass screen protector yourself without any issue
Brand:   Temperia
Color:   Black
Price:   259.00
---
Tough Lee Edge To Edge Tempered Glass for Mi K20, Mi K20 Pro(Pack of 1)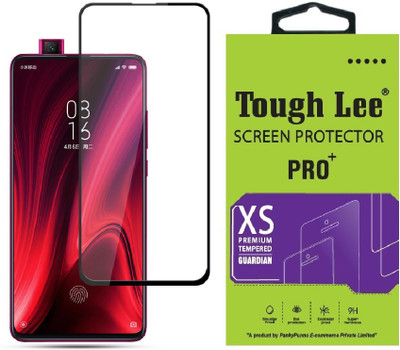 80% OFF
₹ 199.00 @ Flipkart
Check Price @ Amazon
FULL GLUE and NO DOTS, BUBBLES & RAINBOW EFFECT - It has full glue on the entire screen which leaves no dots, no rainbow effect and no bubbles post application of the tempered glass. The tempered glass has strong UV silicon adhesive on the full screen || PERFECT FIT & BLACK FULL GLASS - It is a 5D Black Colour Tempered Glass which covers the full screen of your mobile and provides edge to edge protection which even covers the curved sides of your mobile screen || 100% PROTECTION - It protects your phone from high impact drops, keys in your pockets, metal objects in your bags and other day to day scratches as it is a gorilla glass || CLEAN USAGE - It gives your phone screen protection from finger prints, oil stains, smudges and water drops thanks to the Oleo phobic coating that screen guard comes with. It results in clearer screen || EASY INSTALLATION - You can install the tempered glass screen protector yourself without any issue
Brand:   Tough Lee
Color:   Black
Price:   199.00
---
TELTREK Impossible Screen Guard for BLACKBERRY Q5(Pack of 1)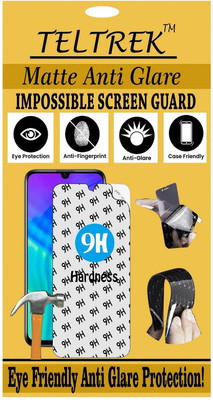 69% OFF
₹ 241.00 @ Flipkart
Check Price @ Amazon
Brand:   TELTREK
Color:   Transparent
Price:   241.00
---