ajd Wireless Bluetooth Neckband Headset ( Black ) Bluetooth Headset(Black, In the Ear)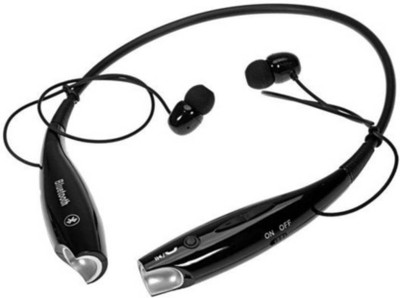 70% OFF
@ Flipkart
Check Price @ Amazon
AJD HBS-730 Wireless Bluetooth Earphone Headset Headphone For all Product Description Specifications: 100% brand new and high quality Magnetic suction design, easy to wear 3D stereo, Leisure listen to the music, Call Bluetooth Version: V4.0 Operating Distance: 10 Meter, Talking Time: 2hours, Standby Time: 180 hours, Charging Time: about 2 hours Noise Reduction: CVC 6.0 Compatible Bluetooth version: V4.0/V3.0/V2.0/V1.2/1.1 Function: Call and Listen Music Charging standard: Micro USB, DC-5V/700mA
Color:   Black
Price:   449.00
---
Similar Products
Brown Bee 100% Original Earphone For All Smart Phones Great Bass Wired Headset(Black, In the Ear)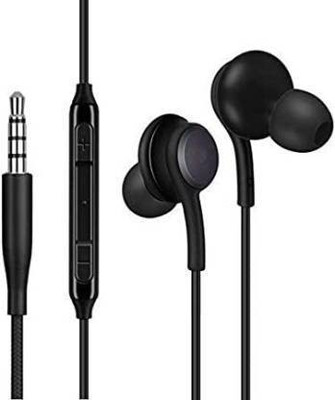 75% OFF
₹ 249.00 @ Flipkart
Check Price @ Amazon
BROWN BEE Provide You 100% Original Handsfree With Remote Note Enjoy your music and calls with our one of the most luxurious Hands Free in the international market. Introducing its elegant Luxury FlexGrip connection prevents cable damage Perfect headset for disturbance free experience Maximum comfort and super performance Excellent for interactive games Compatible with iPhone & All 3.5 mm audio jack devices, Speaker size: 13mm Freqency range: 18-20KHz Sensibility: 116dB at (1KHz, 0.5Vrms) Impedance: 32 ohms Cable lenght: 120cm Jack: 3.5 mm Microphone integrated
Brand:   Brown Bee
Color:   Black
Price:   249.00
---
WRADER Type C Earphones with Mic and Volume Control Wired Headset(White, In the Ear)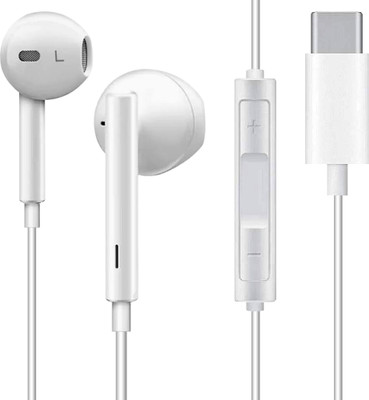 33% OFF
₹ 399.00 @ Flipkart
Check Price @ Amazon
Wrader Presents the Type C Earphone – This type C Wired Earphone comes with dynamic drivers that allow for greater dynamic range, excellent bass, and lower noise distortion. Signal Noise Ratio (SNR) 120dB. Total Harmonic Distortion (THD) 90dB. Active noise cancellation (ANC) feature. So many excellent parameters ensure an immersive & vivid gaming & music experience. These type C headphones also have Volume Low / High button, In-built Mic and Music Play Button. This is one of the generation's best type c wired earphones and especially designed for OnePlus Smartphones. Hi-Fi Stereo Sound Quality - The hi-fi stereo sound quality and certified DAC converter provides high-resolution audio, which can express the ultimate quality of music and the reproduction of the original sound. Because the chip is ultra-low power, compared to those with high power consumption, it can effectively extend the phone battery life without worrying about battery overload. Tangle Free Premium Quality Long Wire – These wired earphones come with premium quality long tangle free which allows you to use from far places and distinguish itself with the other conventional earphones. The apple shape design of the earphones can be easily fit in your ears and also provide ease of use. Perfect Fit For – It is perfectly designed for all the outdoor and indoor activities like running, jogging, walking, cycling, listening music and so on. And, it is compatible with all type C Mobiles like, OnePlus, OnePlus 5, OnePlus 5T, OnePlus 7, OnePlus 7T, OnePlus 8, OnePlus 8 Pro, Samsung, Lenovo, HTC, Motorola, Xiaomi, Sony, LG, OnePlus, Huawei, Micromax and more.
Brand:   WRADER
Color:   White
Price:   399.00
---
QBIT ESSENTIALS Original High Quality Earphone with Deep Bass and Mic Wired Headset(White, In the Ear)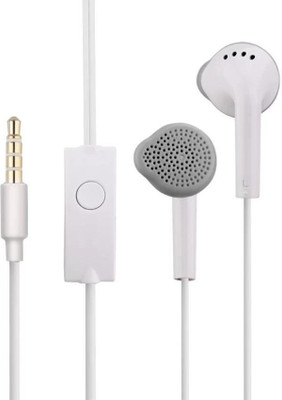 0% OFF
₹ 249.00 @ Flipkart
Check Price @ Amazon
This product has been subject to 69 stringent testing, including drop tests, temperature tests, tension tests, and button-pressing tests. The product is durable and meets European CE safety standards. Listen to your favorite music everywhere. These headphones feature multiple vent holes for a high- fidelity music and call experience. Comfier and more adaptable than other in-ear headphones thanks to their unique ergonomic design. Better mid- range performance Enhanced bass output. Responsive, easy-to-use button in- line control located on the cable allows you to control your music and handle phone calls without touching your phone. Depending on your settings, the function of button may differ. Ear canal shape analysis helps to deliver an optimal shape for the ear buds, making for a snug, comfortable fit.
Brand:   QBIT ESSENTIALS
Color:   White
Price:   249.00
---
Brown Bee Rich Bass Boom Quality Earphone Wired Headset(White, In the Ear)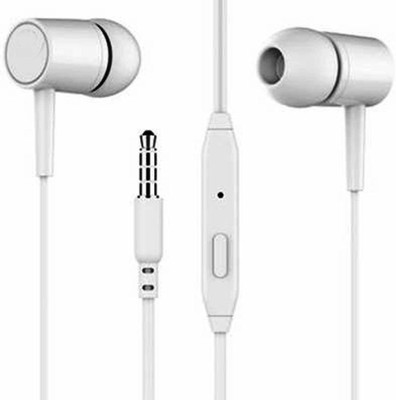 85% OFF
₹ 149.00 @ Flipkart
Check Price @ Amazon
BROWN BEE Provide You 100% Original Handsfree With Remote Note Enjoy your music and calls with our one of the most luxurious Hands Free in the international market. Introducing its elegant Luxury FlexGrip connection prevents cable damage Perfect headset for disturbance free experience Maximum comfort and super performance Excellent for interactive games Compatible with iPhone & All 3.5 mm audio jack devices, Speaker size: 13mm Freqency range: 18-20KHz Sensibility: 116dB at (1KHz, 0.5Vrms) Impedance: 32 ohms Cable lenght: 120cm Jack: 3.5 mm Microphone integrated
Brand:   Brown Bee
Color:   White
Price:   149.00
---
Brown Bee M9 Rich Bass Strome Quality Earphone Wired Headset(Black, In the Ear)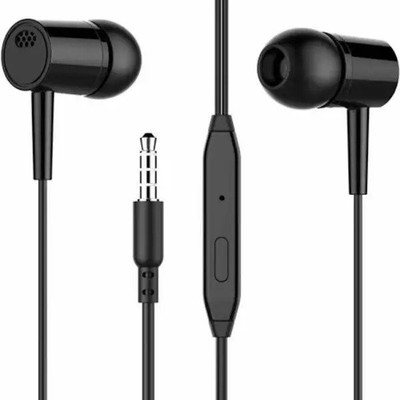 85% OFF
₹ 149.00 @ Flipkart
Check Price @ Amazon
BROWN BEE Provide You 100% Original Handsfree With Remote Note Enjoy your music and calls with our one of the most luxurious Hands Free in the international market. Introducing its elegant Luxury FlexGrip connection prevents cable damage Perfect headset for disturbance free experience Maximum comfort and super performance Excellent for interactive games Compatible with iPhone & All 3.5 mm audio jack devices, Speaker size: 13mm Freqency range: 18-20KHz Sensibility: 116dB at (1KHz, 0.5Vrms) Impedance: 32 ohms Cable lenght: 120cm Jack: 3.5 mm Microphone integrated
Brand:   Brown Bee
Color:   Black
Price:   149.00
---
hitvill A111 Wired Headset(Black, In the Ear)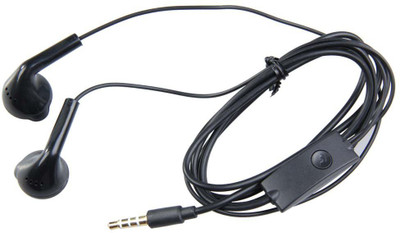 80% OFF
₹ 199.00 @ Flipkart
Check Price @ Amazon
Hitvill Provide You 100% Original Handsfree With Remote Note Enjoy your music and calls with our one of the most luxurious Hands Free in the international market. Introducing its elegant Luxury FlexGrip connection prevents cable damage Perfect headset for disturbance free experience Maximum comfort and super performance Excellent for interactive games Compatible with iPhone & All 3.5 mm audio jack devices, Speaker size: 13mm Freqency range: 18-20KHz Sensibility: 116dB at (1KHz, 0.5Vrms) Impedance: 32 ohms Cable lenght: 120cm Jack: 3.5 mm Microphone integrated
Brand:   hitvill
Color:   Black
Price:   199.00
---
Flaunt Market Original High Quality Earphone for Any Phone with Mic Wired Headset(Dark Black, In the Ear)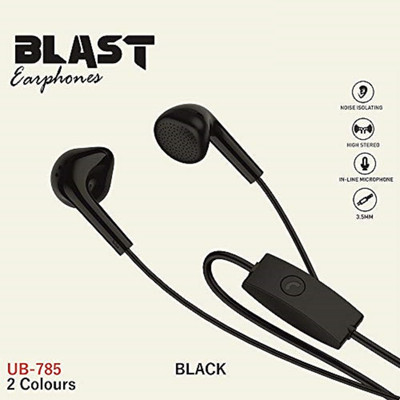 75% OFF
₹ 245.00 @ Flipkart
Check Price @ Amazon
Brand:   Flaunt Market
Color:   Dark Black
Price:   245.00
---
Mehan's In-Ear Hands-free Headphone with Mic and 3.5 mm Jack Wired Headset(White, In the Ear)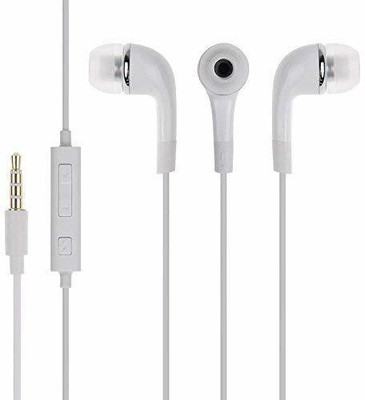 78% OFF
₹ 149.00 @ Flipkart
Check Price @ Amazon
High Definition Earphone offers play/ pause answer call skip Frequency response - 20Hz-20kHz Impedance - 32?±15% Driver unit - ?10mm Rated power - 5mW Mylar - 6u T.H.D.- ?0.1% Sensitivity - 105dB±3dB Connector - 3.5mm Cable Materials - TPE Cable Length - 1.2m Mic-Answer button - Yes Appearance Colors White Speaker Size - 10mm Function - Microphone, Noise Cancelling All with one Button. Classical earphone with excellent sound In-ear soft earbuds and high performance speaker Good for listening MP3/Music, watching DVD/movie Compatible with portable music players with 3.5mm jack Earphone, Earphone, Headphone With Mic, Earphone With Mic, 5 Earphones, Headphone With Mic built in mic Works as Hands free with most android, phones and other smart phones for crystal clear call quality Specifications: Earphone immersive sound and noise reduction - It produces clear mid-range frequencies while achieving powerful yet accurate bass Elegant with stylish design - Comes with stylish design and high-end sound quality, this earphones are designed for the tablets They work with all Androids, Tablets, MP3 players, and related devices Amazing sound & Execellent bass - High quality audio signal transmission ensure outstanding Hi-Fi performance
Brand:   Mehan's
Color:   White
Price:   149.00
---
hitvill 100% Original Earphone For All SmartPhones Active Bass Wired Headset(White, In the Ear)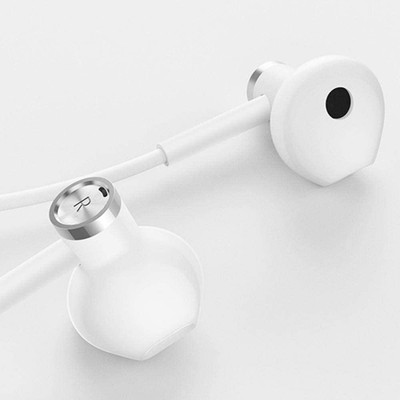 80% OFF
₹ 199.00 @ Flipkart
Check Price @ Amazon
Hitvill Provide You 100% Original Handsfree With Remote Note Enjoy your music and calls with our one of the most luxurious Hands Free in the international market. Introducing its elegant Luxury FlexGrip connection prevents cable damage Perfect headset for disturbance free experience Maximum comfort and super performance Excellent for interactive games Compatible with iPhone & All 3.5 mm audio jack devices, Speaker size: 13mm Freqency range: 18-20KHz Sensibility: 116dB at (1KHz, 0.5Vrms) Impedance: 32 ohms Cable lenght: 120cm Jack: 3.5 mm Microphone integrated
Brand:   hitvill
Color:   White
Price:   199.00
---