BLACK BIRD Blocks for Kids 3+ Years, Water Pipe Building Blocks, Easy to Make Classic Assembling Puzzle Block, Kids Learning And Educational Toys ,Building Blocks for Kids 3+ Years Kids Toy for Ages 3 4 5 6 7 8 9 10 Year Old Boys & Girls Toys(56+ Pcs)(Multicolor)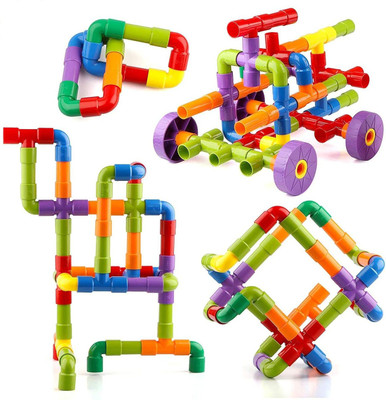 Check Price @ Amazon
Kids Pcs Pipe Educational Building Block Game for Kids Perfect gift for children to cultivate their creativity and cooperation skills. Children can use these blocks to build exciting robots, giraffe, reptile, house and more. Blocks are a benefit for the children because they encourage interaction and imagination. Smooth edge can protect the kids and easy for them to grasp it. building block set for kids, educational learning pipe block set for boys, building block for girls, science toys, activity cube set for kids Endless creative combinations teach spatial thinking. Enhance the children's ability, imagination and creativity, stimulate basic building techniques and inspired kids' creativity and imagination. Children receive creative stimulation by making their own designs with blocks. NOTE : For Larger and More Combinations as shown in the Picture You may have to purchase two or more sets.
Price:   349.00
---
Similar Products
BLACK BIRD Wooden Wiss Toy Blocks Toy for Kids with 4 Wooden Dice Toy Tumbling Tower 54 Pieces(Beige)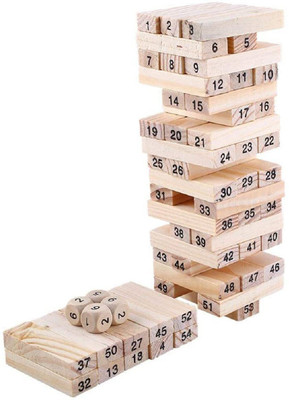 Check Price @ Amazon
Play time is going to be more fun filled and active with Wooden Blocks. This game is suitable for boys and girls of 5 years and older. This game is easy to understand and play, just build your tower with the help of these blocks. The game starts building a tower, place three wooden blocks at the right angle to each block. This game is also a source of inspiration for all those who love to create something unique out of simple articles. Wooden Blocks is going to be your kid's favorite board game. Let them gather all their friends and have a great time building new shapes out of the blocks.Wooden Blocks is a game that requires concentration and the ability to recognize the weaknesses and strengths of the structure. This physically and mentally challenging game requires players to remove blocks from the tower without toppling it over.
& Accessories
Sorted By Price
₹ 349.00
-
BLACK BIRD Blocks for Kids
₹ 499.00
-
BLACK BIRD Wooden Wiss Toy
Sorted By Brand
BLACK BIRD
-
BLACK BIRD Blocks for Kids
BLACK BIRD
-
BLACK BIRD Wooden Wiss Toy
Sorted By Discount
30%
-
BLACK BIRD Blocks for Kids
16%
-
BLACK BIRD Wooden Wiss Toy