qraa Charcoal Kit: Charcoal Scrub, Charcoal Face wash, Charcoal Peel-off Mask For Men-With Tea tree oil(Set of 3)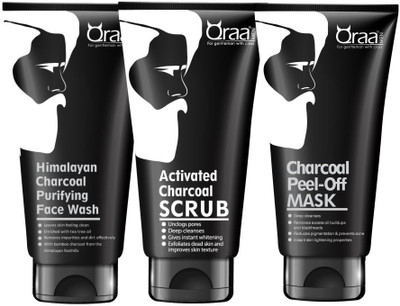 MRP - Rs. 780
Price - Rs. 599
product description
Detoxifying charcoal scrub delivers a deep-pore clean.
Natural charcoal draws out the dirt and excess oil that can clog pores.
Soothing, non-drying lather gently washes away impurities.
This face scrub is the weapon for dead cells and hard skin.
Provides deeply cleaned, tingly-smooth skin.
Polish your skin with the best charcoal scrub::Qraa Men Charcoal Peel-off Mask is with its super volcanic cluster capsules powerfully adsorbs sebum to intensively resolve pore concerns.As the capsule bursts, the mask exfoliates and removes dead skin cells.
The AHA ingredient chemically exfoliates and smoothes out skin.
The strong absorption of sebum and cooling effect of the charcoal refreshes the skin and contracts pores::Remove impurities and dirt effectively with our Himalayan Charcoal Purifying Facewash, formulated with bamboo charcoal from the Himalayan foothills.
Enriched with Community Trade tea tree oil and eucalyptus oil known for their purifying properties, this wash leaves skin feeling clean and reduces excess oils.
you may also like