Crysta Fashion CF-63 LED Digital Wrist Band Watch Digital Watch - For Boys & Girls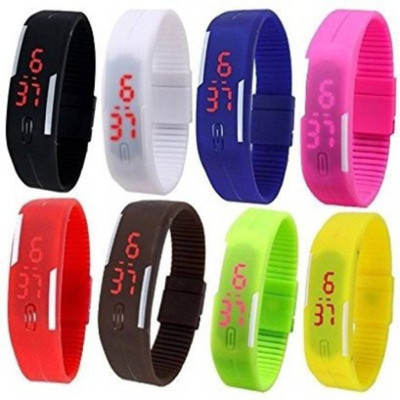 74% OFF
@ Flipkart
Check Price @ Amazon
Price:   632.00
---
Similar Products
real Silicone Led Magnet Band Combo of 3 White, red And Black Digital Watch - For Men & Women Silicone Led Magnet Band Combo of 3 White, red And Black Digital Watch - For Men & Women Digital Watch - For Boys & Girls
63% OFF
₹ 329.00 @ Flipkart
Check Price @ Amazon
Brand:   real
Price:   329.00
---
kids choice 4 Digital led Watch Band COMBO LOW PRICE DEFERENT Colour Mens Watch Womens Watch Boys Watch Girls Watch digital band Digital Watch - For Men & Women
72% OFF
₹ 349.00 @ Flipkart
Check Price @ Amazon
)New Model Royal Look Silicone LED Latest Technology Date/week Display Digital Official-Formal-Party Wear Good Look Watch For Boys & Girls
Brand:   kids choice
Price:   349.00
---
real Silicone Led Magnet Band Combo of 3 yellow, red And Black Digital Watch - For Men & Women Silicone Led Magnet Band Combo of 3 yellow , red And Black Digital Watch - For Men & Women Digital Watch - For Boys & Girls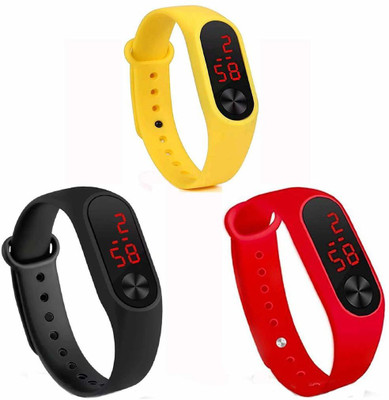 61% OFF
₹ 349.00 @ Flipkart
Check Price @ Amazon
Brand:   real
Price:   349.00
---
Heeva New Stylish 4 Pice Most Beautiful Analog Watch For Girl For-Women Analog Watch - For Girls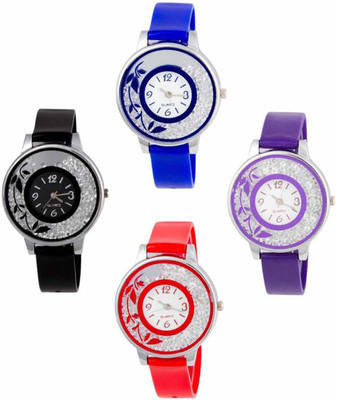 72% OFF
₹ 405.00 @ Flipkart
Check Price @ Amazon
This exclusive watch comes with trendy designer look. This watch is highly recommended for new generation of India.
Brand:   Heeva
Price:   405.00
---
GOA FASHION 4 Digital Colored led Watch Band COMBO LOW PRICE combo of 4 colored led watches Analog-Digital Watch - For Boys & Girls
57% OFF
₹ 299.00 @ Flipkart
Check Price @ Amazon
this watches is made by GOA FASHION HOUSE.New Model Royal Look Silicone LED Latest Technology Date/week Display Digital Official-Formal-Party Wear Good Look Watch For Boys & Girls
Brand:   GOA FASHION
Price:   299.00
---
Fashion Gateway LED Digital band watch PK-177 (for all age group) Digital Watch - For Boys & Girls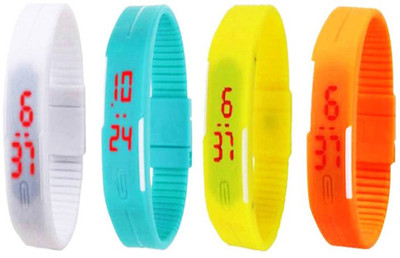 80% OFF
₹ 399.00 @ Flipkart
Check Price @ Amazon
Fashion Gateway LED Rubber Magnet Watch Displaying Time and date via LED digital screen, with large font for easy reading. This watch is designed with stylish and exquisite appearance, Suitable for both Women and Men,Girls and Boys. Silicon strap design, it is soft and comfortable to wear, Whether in sports or casual. With its elegant and contemporary design, it is very popular. A perfect gift for friends, families, lover, co-workers or yourself. Additional RED LED function to show the time clearly in dark areas. For Time Setting Adjustment :- Click The Button, Time Number Appears, Press The Button Probably About Four Seconds, When The Red Numbers Start Blinking, It Enter The Set Up Mode. Then Slowly Press The Button To Adjust The Time Digits. After Setting The Current Item, Press The Button Again Probably About Four Seconds To Enter Next Setting. Order Of Setting Values Are : Hours, Minutes, Year and Month. Set The Time And Do Not Press The Button To Save The Settings. Information About Size :- If The Bracelet Is Too Long For Your Wrist, You Can Remove (By Cutting It With Scissors) The Extra Small Units From Both The Ends In The Band is To Make It Fit For You. Locks On Both The Ends Are Removed And Replaced.
Brand:   Fashion Gateway
Price:   399.00
---
Heeva Best Selling Collor Fool Combo Analog Watch For Girl For-Girls Analog Watch - For Girls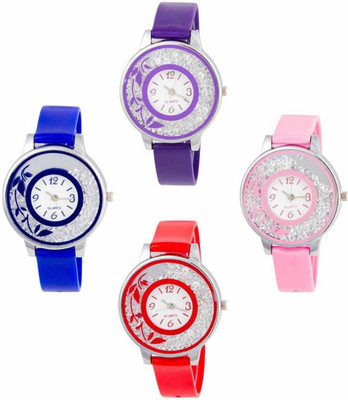 65% OFF
₹ 412.00 @ Flipkart
Check Price @ Amazon
This Watch Offers The Priceless Looks And Class You Always Wanted. This Watch Offers True Craftsmanship That Only People With A Distinct Taste Can Identify. This Watch Is Designed Using Technology And Innovation, All Of Which Is Wrapped Up In Eye-catchy Dials Encased In quality Case That Can Be Beautifully Placed On Your Wrist Using Its Comfortable And Luxuriously Finished Leather Strap/Matel/Rubber or bracelets . Being Battery Powered, This Watch Offers Amazing Long Life And Durability That You Would Look For. We Are Sure That This Watch Is Going To Be Your Favorite For All Those Business Meetings, Events, Outings And Special Occasions Because It's Not A Watch, It's Your Identity.
Brand:   Heeva
Price:   412.00
---
jai malhar enterprise Led Combo Watch For Unisex Digital Watch - For Boys & Girls Digital Watch - For Boys & Girls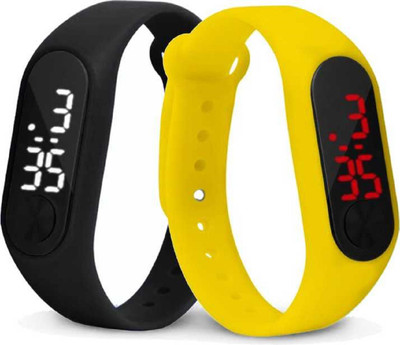 66% OFF
₹ 199.00 @ Flipkart
Check Price @ Amazon
Movement: Digital Style: Sport Surface Material: Acrylic Display: Digital Strap Material: Silicone Shows time digital numbers Looks very smart on wearing. Digital Watch Message Display: Show time or date or year 12h or 24h(a.m or p.m) conversion 3sec.automatically stop showing Battery specificatio lithium battery (if the lights dimmed of led display,please replace the new battery) This watch is not water proof. Now get yourself in the center of attentions among all your peers! Great for gift or for your personal watch collections.
Brand:   jai malhar enterprise
Price:   199.00
---
Fashion Gateway White Light Blue Yellow and Orange Led Magnet Band (pakc of 4) Digital Watch - For Boys & Girls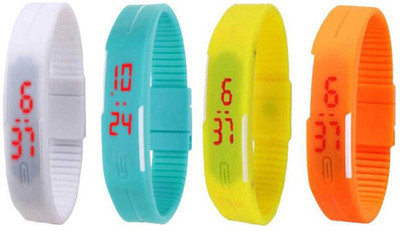 55% OFF
₹ 355.00 @ Flipkart
Check Price @ Amazon
If you're a fan of all kind of futuristic-looking things, you'll love this sleek digital men's watch. The best thing about is that it's as good for your formal wear accessory as it is a casual and sporty one. Smart design, with quality to boost Equipped with features such as the shock and scratch-resistant functions, this magnet type rubber strap watch is design and quality packed into one neat timepiece. Features:- • Strap Type : Magnet • Strap dimension in MM : 15 MM • Gender : Kids, Girls, Boys, Men and Women • Display : Digital • Dial Shape : Rectangular • Dial Dimension in MM : 19 MM
Brand:   Fashion Gateway
Price:   355.00
---