DreamPalace India GYM GLOVES | GYM GLOVE | LEATHER GYM GLOVES | MEN GYM GLOVES | Gym & Fitness Gloves(Blue)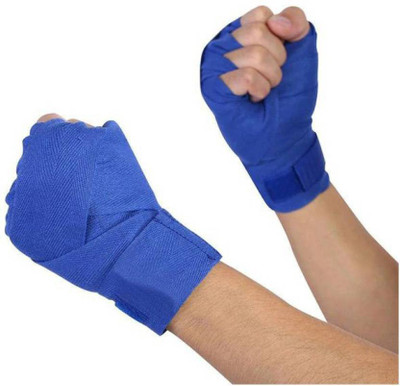 MRP - Rs. 599
Price - Rs. 160
product description
Practice your jabs, uppercuts and hooks in the gym wearing this Everlast Hand Wraps that is designed for working out with heavy punching bags.
Thumb Strap A thumb loop lets you secure this hand wrap to your thumb so that you can wrap it over your wrists and knuckles conveniently.
Finish off the wrapping by strapping on the Velcro and you can don your boxing gloves.
Comfort and Safety These hand wraps are made of nylon-polyester blend to ensure that your wrists and knuckles are protected while you engage in heavy punching sessions.
This material also offers optimum comfort with its breathability by keeping your hands dry and cool.
Hygienic These hand wraps have undergone EverFresh anti-microbial treatment that keeps microbial growth and odour at bay so that you can practice hygienically.
you may also like