PRIMROSE Maharaja High Back Chair Solid Wood Living Room Chair(Finish Color - Purple)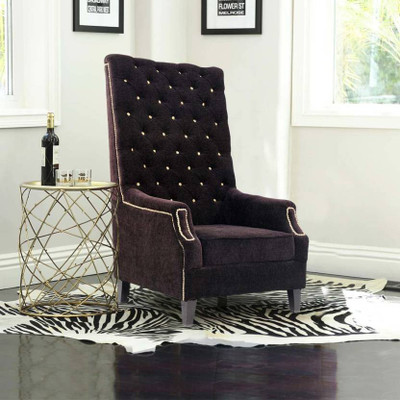 38% OFF
@ Flipkart
Check Price @ Amazon
PRIMROSE Maharaja High Back Chair. Feel like a king with the extraordinary style and comfort of this chair. Structure made from Plywood and reinforced with Termite Resistant Neem Wood. High Density foam used for seating and back rest. Super Soft molfino fabric. Hand made to perfection by experience team of carpenters and upholstery workers. Brass coated metal nails used to give that priceless feel of aesthetic. Jazz up your living room with this Princely Maharaja High Back Chair. A must have for your living room. 3 Years Warranty on this super cool high back chair from PRIMROSE. Available in over 20 colour options of Molfino fabric.
Price:   18,560.00
---
Similar Products
Fort Maharaja Chair Leatherette Office Executive Chair(Brown)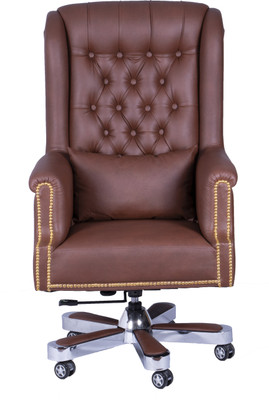 7% OFF
₹ 29,999.00 @ Flipkart
Check Price @ Amazon
The ultimate Luxury Executive Chair. The Chair is made up in Solid Wood Frame, which gives it a Unique Selling Proposition, ahead of the Cheap Competitive Items. The Chair Frame, Chair Base & Handles are made up of Extra Thick Sold Wood. Noble Enterprises is committed to Design & Develop Luxury Furniture for Young Aspiring Entrepreneurs Requirements. Every Prodcust is designed keeping the User / customer at the Center Point along with Pricing. With More than 2000 Designs in Furniture Industry, Noble Enterprises leads in In House Designing and Production, ahead of its competitors in India.
Brand:   Fort
Price:   29,999.00
---
MRC Executive Chairs Maharaja063 Leather Office Executive Chair(Black)
0% OFF
₹ 12,999.00 @ Flipkart
Check Price @ Amazon
Stylish Handle With Soft Padding An Ergonomically curved armrest filled with soft padding allows you to have great comfort while typing or resting the arms on the chair. Dual Color Elegant Look Thick cushion padding with High-Quality upholstery for your superior comfort. An excellent chair for workplaces like home, office & Conference Room. Human Spine is not straight, hence humans need a chair whose back is designed as per the shape of the spine. Ergonomic back shape provides necessary support which increases maximum comfort even for long seating sessions. The chair swivels 360 degrees for multi-tasking convenience. Also has a strong built Metal Base with Chrome finish which allows smooth-rolling with 5 PU castors that make it incredibly easy to move around.
Brand:   MRC Executive Chairs
Price:   12,999.00
---
AAKRITI ART CREATIONS Maharaja Chair Solid Wood Living Room Chair(Finish Color - Brown)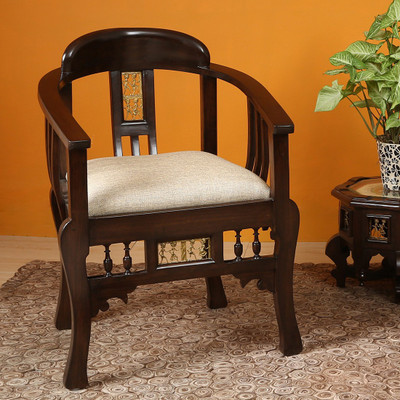 12% OFF
₹ 23,099.00 @ Flipkart
Check Price @ Amazon
Traditional Chair is finely crafted in seasoned premium Teak Wood, adorned subtly by handcrafted Dhokra frames. Artistic and comfortable, its simply beautiful.
Brand:   AAKRITI ART CREATIONS
Price:   23,099.00
---