Smiledrive Samsung Galaxy S5 18x Optical Zoom Lens Kit With Universal Mobile Tripod Mobile Phone Lens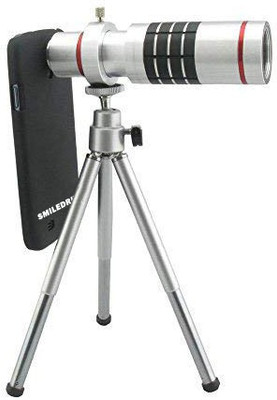 67% OFF
@ Flipkart
Check Price @ Amazon
Go to a cricket or football or tennis match and capture amazing details. Go to a wildlife sanctuary and capture rare birds. Your phone can now taken on a DSLR ZOOM camera. Put it on a tripod (included in the pack) and you are ready to click some unbelievable 18x closer to action picturesThis is a zoom lens set compatible with Samsung S5. Each lens set contains 18x the zoom lens, matte black case that allows you to firmly fix the Samsung S5, and a mini mobile tripod that help you get clear photos. Besides, the considerate cleaning cloth lets you clean the lens at any time.
Price:   1,619.00
---
Similar Products
EWELL 18X Manual Focus ZOOM Monocular Telephoto Cell Phone Lens Black-b Mobile Phone Lens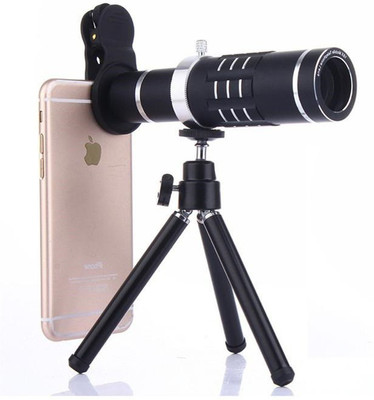 50% OFF
₹ 994.00 @ Flipkart
Check Price @ Amazon
18X FIXED ZOOM TELESCOPE+ADJUSTABLE
Brand:   EWELL
Price:   994.00
---
Pacificdeals Camera Lens For Samsung Galaxy Note 5 - Blue Color Mobile Phone Lens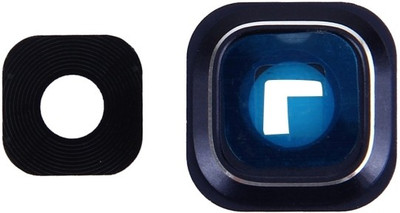 77% OFF
₹ 180.00 @ Flipkart
Check Price @ Amazon
Brand:   Pacificdeals
Price:   180.00
---
ROAR BWJ_618B_clip Mobile Phone Lens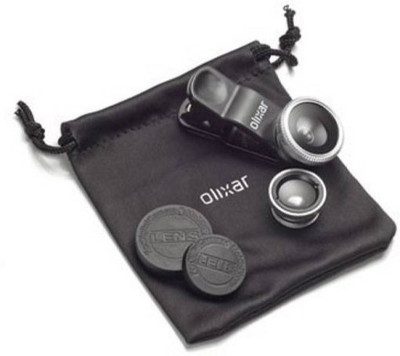 70% OFF
₹ 299.00 @ Flipkart
Check Price @ Amazon
Brand:   ROAR
Price:   299.00
---
blue seed 12X Optical Zoom with Tripod Mobile Phone Telephoto Telescope Lens Compatible for iPhone Samsung HTC Nokia Sony Mobile Phone Lens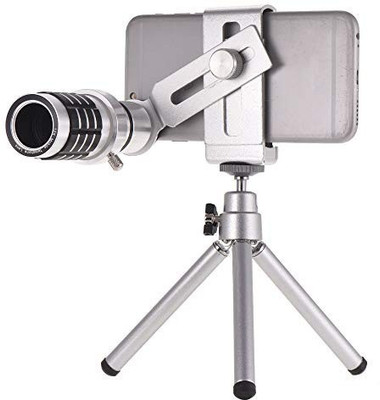 43% OFF
₹ 1,134.00 @ Flipkart
Check Price @ Amazon
Extend your Mobile Camera Lenses power up to 12 times with this 12X lens kit. This mobile camera lens is universal and works perfectly with any Smartphones including iPhones, Samsung, Oppo, Walton, HTC, Sony, LG and so on. Enjoy the telescopic view with your existing smartphone. This Camera lens is very useful and portable. You can carry this mobile lens anywhere. This camera lens just fits perfectly in your pocket.
Brand:   blue seed
Price:   1,134.00
---
Smiledrive 12x Optical Zoom Lens With Mobile Tripod S5 Mobile Phone Lens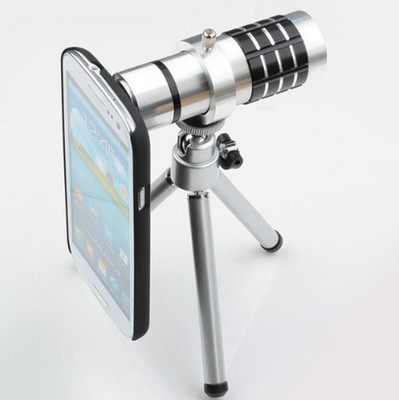 58% OFF
₹ 1,249.00 @ Flipkart
Check Price @ Amazon
Click amazing pictures of far off objects with this 12x zoom lens kit. Comes with a back case that perfectly fits with your Samsung S5. You can then simply fix the lens on camera window of the back cover and for excellent resuts, attach the mobile tripod (part of the kit) to the lens ring.This is a zoom lens set compatible with Samsung S5. Each lens set contains 12x the zoom lens, matte black case that allows you to firmly fix the Samsung S5, and a mini mobile tripod that help you get clear photos. Besides, the considerate cleaning cloth lets you clean the lens at any time.Specification: * Minimum focus distance: 3M * Magnification: 12X * Objective lens diameter: 21mm * Exit pupil: 3mm * Eye relief : 9.6mm * Accessory ONLY, phone not includedPackage contents: * 1x Long Focal Telephoto Lens * 1x Mini Tripod * 1x Cleaning Cloth * 1x Samsung S5 Back Case* 1x Pouch
Brand:   Smiledrive
Price:   1,249.00
---
KG Collection 1 Fisheye Lens, 1 Macro Lens, 1 Wide-angle Lens, 1 Plastic Clip, 2 Lens Cap, 1 Carry Pouch Mobile Phone Lens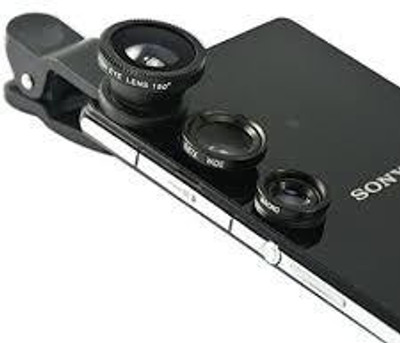 83% OFF
₹ 171.00 @ Flipkart
Check Price @ Amazon
Fish-eye, Macro and Wide Angle Lenses Give an Array of Shooting Options to Help Enhance Mobile Photography, Fish-eye Lens: (Fish-eye Lens Works Like an Ultra Wide-angle Lens, Phone Lens will Capture Rounded Images Instead of Square Ones, Brings Widest View Upto 180°), Wide-angle Lens: Wide-angle Lens (0.67x) Allows to Capture too Large a Scene, Stretch the Limits of Lens to Capture Cityscapes, Large Group Shots and More, Increases 49% View Angle, Macro Lens: Macro Lens will Enable to Take Super Clear Images of Close Objects and Pick Up All Small Details Usually Miss, Focus Distance between 1.5 - 2.3 cm, High Clarity, Strong: Made of Top-grade Aluminum, Compatible with: Smart Phones, iPhone, iPad, iPod, Android Tablets, Tablet PC, Laptops, Pocket-sized Photography Powerhouse, Universal Design of the Kit Allows to Use it Easily with a Multitude of Different Portable Devices, Can Always Take Great Shots, Universal Lens Clip: Lens Included in the Set can be Used with a Wide Range of Cell Phones and Mobile Devices Including iPhone 6, 6+, 5, 5C, 5S, 4, 3 Samsung Galaxy S5, S4, S3, iPad 2, 3, 4, Air, Velvet Carrying Bag Included: Keep Lenses Clean and Safe, Micro Fibre Cloth Included to Clean Lenses, Wide-angle and Macro Lenses are in a 2 in 1 Set: 2 Small Lenses are Screwed Together for Easy Storage, Simply Attach Both Lenses to the Case Provided (To Use the Wide-angle), Simply Unscrew the Wide-angle Lens (To Use the Macro Lens)
Brand:   KG Collection
Price:   171.00
---
Pacificdeals Camera Lens For Samsung Galaxy S5 - Silver / White Mobile Phone Lens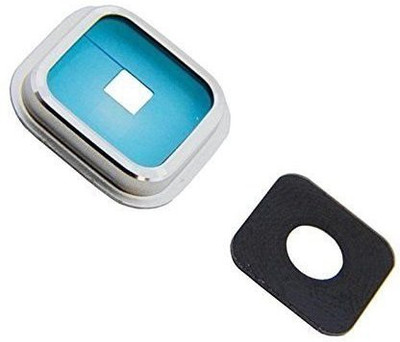 66% OFF
₹ 269.00 @ Flipkart
Check Price @ Amazon
New Replacement part for Samsung Galaxy S5, Top quality Camera Lens replacement part, It is highly recommended that the replacing work will be done by professional repairer or buyer is good recognized of assembly knowledge before purchase. Color: Silver / White
Brand:   Pacificdeals
Price:   269.00
---
EWELL Telescope Lens 14X Kit For All Mobile Camera| DSLR Blur Background Effect -B Mobile Phone Lens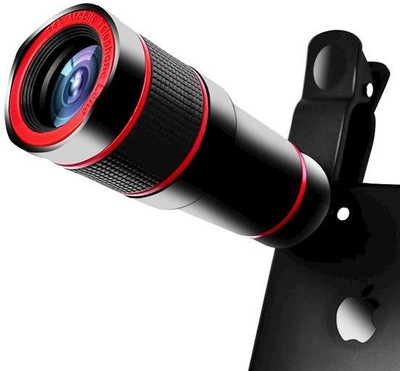 63% OFF
₹ 728.00 @ Flipkart
Check Price @ Amazon
14X FIXED ZOOM TELESCOPE+ADJUSTABLE
Brand:   EWELL
Price:   728.00
---
ROAR OBF_600B_clip mobile phone lens Mobile Phone Lens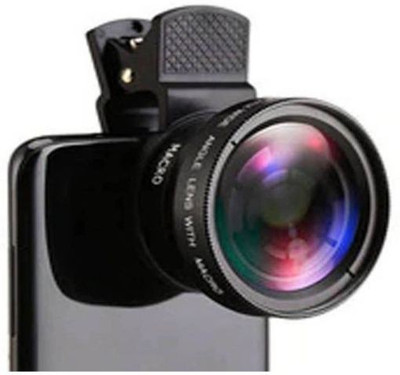 70% OFF
₹ 299.00 @ Flipkart
Check Price @ Amazon
Brand:   ROAR
Price:   299.00
---