Smiledrive Waterproof DSLR Backpack Camera Bag, Lens Accessories Carry Case for Nikon, Canon, Olympus, Pentax & Others-Ideal for Professional Photographers (Orange) Camera Bag(Black)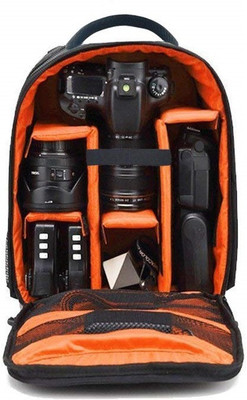 70% OFF
@ Flipkart
Check Price @ Amazon
Made of top-quality materials, this 'Made in India' DSLR camera backpack lets you conveniently pack your camera and its gear, and comfortably carry them around with you. The bag features multiple mesh pockets for cables and chargers, adjustable padding which you can use to arrange your camera and its accessories as you please, and a waterproof cover to protect your equipment from the rain.
Price:   899.00
---
Similar Products
Smiledrive DSLR Camera Backpack Bag with Laptop Compartment & Well Padded Adjustable Grids for Lenses & Accessories-Made in India Camera Bag(Black)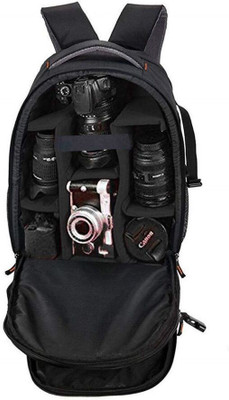 24% OFF
₹ 1,899.00 @ Flipkart
Check Price @ Amazon
Smiledrive Waterproof high-quality camera backpack comes with Padded Dividers for DSLR cameras, large lenses & other accessories. If you are a professional photographer who has to travel with all the camera equipment, then Smiledrive Waterproof DSLR Backpack is a perfect camera bag for you. Carry your World with this heavy duty Camera Bag also comes with Laptop Compartment. It is waterproof, so even if you are out and about, this will protect & carry your expensive equipment. Key Features: 1) PROFESSIONAL CAMERA BACKPACK WITH LAPTOP COMPARTMENT: Carry Dslr/Slr camera, lens, tripod, flash light & other Accessories. Comes with Laptop Compartment that can hold upto 15.6". This hiking camera backpack is 18"x13"x9" and yet lightweight, allows you to carry all kinds of equipment 2) WELL PADDED DSLR CAMERA BAG TO PROTECT ALL KINDS OF EQUIPMENTS: You can make space according to your Camera & its equipments. You can also use this bag as a regular Backpack as you can also remove all the padded dividers and carry your stuff. 3) DURABLE WATER RESISTANT MATERIAL WITH PERFECT PROTECTION & BACK ERGONOMIC COMFORT: Made of high-quality water resistant nylon and polyester, durable metal zippers, this bag lets you carry your expensive equipment safely in all weathers. It comes with Back Ergonomics design for comfortable carrying and safety & has the rubber base which protects the bag from getting slipped 4) SUPER LOAD BEARING FEATURES WITH MESH POCKETS ON EXTERIOR FOR TRIPOD OR TRAVEL BOTTLE: This Bag comes with Hard Fibre protected outer body that can carry loads of weight & has strong tripod straps that are strong enough to hold a tripod securely & firmly 5) COMPATIBLE WITH ALL TOP DSLR/SLR MODELS & PHOTOGRAPHIC EQUIPMENT: Compatible with Canon, Nikon, Sony, Olympus, Pentax and other DSLRs and photographic equipment.
Brand:   Smiledrive
Price:   1,899.00
---
Smiledrive DSLR Camera Laptop Bag Backpack with Padded Adjustable Grids for Lenses, Accessories-Includes Waterproof Cover-Made in India Camera Bag(Black)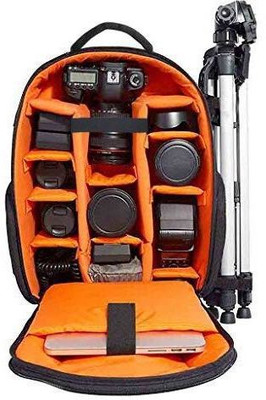 30% OFF
₹ 1,399.00 @ Flipkart
Check Price @ Amazon
Key Features: 1 ) PROFESSIONAL CAMERA BACKPACK WITH LAPTOP COMPARTMENT: Carry Dslr/Slr camera, lens, tripod, flash light & other Accessories. Comes with Laptop Compartment that can hold upto 14". This hiking camera backpack is 16.5"x13"x7" and yet lightweight (950grams), allows you to carry all kinds of equipment 2) WELL PADDED DSLR CAMERA BAG TO PROTECT ALL KINDS OF EQUIPMENTS: You can make space according to your Camera & its equipments. You can also use this bag as a regular Backpack as you can also remove all the padded dividers and carry your stuff. 3) 100% MADE IN INDIA PRODUCT WITH DURABLE WATER RESISTANT MATERIAL WITH PERFECT PROTECTION & BACK ERGONOMIC COMFORT: This Product is Made-in India with high-quality water resistant nylon and polyester, durable metal zippers, this bag lets you carry your expensive equipment safely in all weathers. It comes with Back Ergonomics design for comfortable carrying and safety & has the rubber base which protects the bag from getting slipped 4) SUPER LOAD BEARING FEATURES WITH EXTERNAL 2 ZIPPER ENCLOSURE FOR WATERPROOF COVER & OTHER ACCESOORIES. MESH POCKETS & STRAP ON EXTERIOR TO CARRY TRIPOD OR TRAVEL BOTTLE: This Bag comes with Hard Fibre protected outer body that can carry loads of weight & has strong tripod straps that are strong enough to hold a tripod securely & firmly
Brand:   Smiledrive
Price:   1,399.00
---