Trendmakerz Stainless Steel Hand Blender Mixer Froth Whisker Latte Maker for Milk Coffee Egg Beater Juice (9 Inches) 50 W Hand Blender(Silver)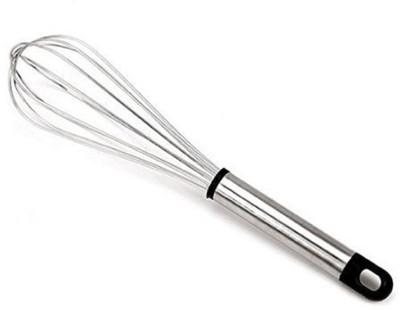 21% OFF
@ Flipkart
Check Price @ Amazon
Use for Beater :Beating (Cream,Eggs,etc),Liquidizing(Tomato Soup, Dal etc),Churring(Milk Shake,Lassi Butter Milk etc.) ?Smoothly rotating gears are enclosed for protection and easy clean-up Non-slip grips on turning knob and contoured handle Non electrical, ?Handy and easy to operate Sturdy stainless steel Beaters can be removed easily for cleaning Beaters are elevated and continue to work while device rests on bottom of bowl Perfect for eggs, light batters, whipped cream and more Base detaches from top and is dishwasher safe. ?Made with 100% S.S. And Heavy Plastic Material. It is very useful during Electricity Failure and Travelling. Application: To Thrash Curd, Dal, Buttermilk And Many More.
Color:   Silver
Price:   235.00
---
Similar Products
SEASPIRIT Hand Blender for Egg & Cream Beater, Milkshake, Lassi, Butter Milk Mixer Beater 50 W Hand Blender(Red)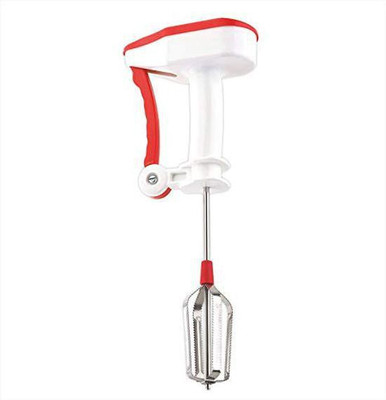 62% OFF
₹ 339.00 @ Flipkart
Check Price @ Amazon
Mixer Buttermilk Lassi Milk Churning This is your classic, hand beater. Even in our heavily electrified kitchens there is a place for this humble tool.Rather than pulling out your electric mixer to do a small job, use our hand beater for beating eggs, mixing puddings and custards, and beating light batters. It's quick, easy to use and easy to clean. Of course, it is dishwasher safe.
Brand:   SEASPIRIT
Color:   Red
Price:   339.00
---
Royaldeals Hand Mixer BO-6629 400 W Hand Blender(Black)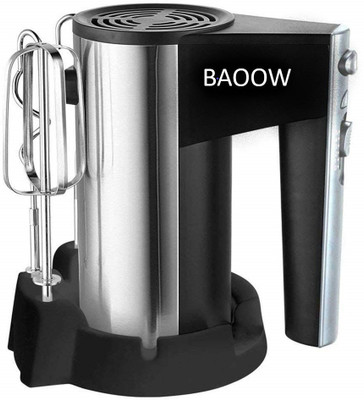 15% OFF
₹ 1,699.00 @ Flipkart
Check Price @ Amazon
This is a good starting speed for mixing dry foods. best speed to start mixing liquid ingredients, salad dressings. For mixing cakes, cookies and breads. For creaming butter and sugar, beating uncooked candy, desserts, etc. For beating eggs, cooking icings, whipping potatoes. Whipping cream. Etc To prevent motor overheating does not work continuously longer then 10 minutes and obligatory stop mixer for less than 10 min, letting it cool to room temperature. Powerful electric hand mixer - High powered, lightweight, handheld mixer for kitchen with 300-watt copper motor and 5 levels of turbo speed.Different speeds can make different delicious. 2-X Beaters+2-X Dough Hooks - egg-beater+ dough mixer 2 in 1, the stainless steel beaters and dough hooks can work for hot or cool food without any problem, prevent from fouling, corrosion. Easy grip ergonomic handle - Compact free plastic body with ergonomically designed light weight handle for maximum comfort makes hand mixer easy to hold and maneuver in mixing bowl or large cup. Full-Size Storage Case - The hard-shell storage case keeps the mixer and all its attachments in one spot. Pure copper and high torque motor
Brand:   Royaldeals
Color:   Black
Price:   1,699.00
---
ShoppoWorld SW-9872 50 W Hand Blender(White color)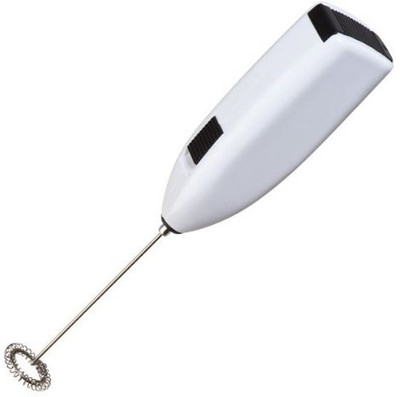 65% OFF
₹ 349.00 @ Flipkart
Check Price @ Amazon
Electric Foam Hand Blender Frother is a wonderful device to help you make a cup of coffee with lots of Froth. It Froths, Stirrs, Mixes and add that extra Zing to your drink.Also used for Whisking, Shaking and Frother. Great for home crack eggs, Use for making Cappuccino, Latte macchiato, White coffee and Milk shake, let you feel at home just like at the CCD. Sturdy handle provides comfortable and firm grip Contemporary European design. Easy to Operate and very convenient Take the hot or cold milk in a cup and plunge the frother half way down and power it on. Just keep moving the frother up and down. When you have the desired amount of foam turn off the frother and your professional style foamed milk is ready for your drink. Easy to Clean The drink mixer can be easily cleaned by rinsing the whisking head and shaft under the faucet.
Brand:   ShoppoWorld
Color:   White color
Price:   349.00
---
GEDIYA BROTHER'S Mini Coffee Milk Egg Beater Mixer Shaker Home Kitchen Whisk Froth Handheld Electric Mixer Hand Blender (multicolor) 100 W Hand Blender(Multicolor)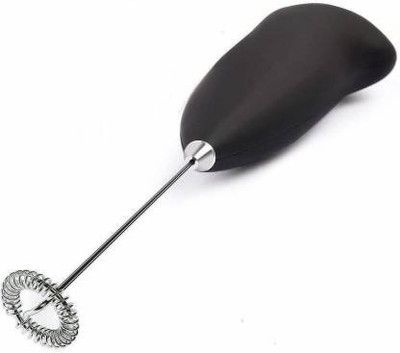 77% OFF
₹ 229.00 @ Flipkart
Check Price @ Amazon
Non-Stick, Flexible And Easy To Handle. Simple On/Off Button For Easy Operation. gg Beater Will Not Damage Cookware Or Bowls. Easy To Clean With A Damp Cloth. Powered By 2 Aa Batteries (Not Included). Stainless Steel Spring And The Body Is Made Of Plastic. Make Your Milk All Frothy, Great For Making Cappuccino, White Coffee And Milk Shake At Home. Can Be Also Used For Crack Egg, Quickly Mush Eggs Without Spilt Around. Material : Plastic + Stainless Steel. Size : 21 X 5 X 3Cm. Color: We Will Send It Randomly Referring To Our Stock. Note: Due To The Difference Between Different Monitors, The Picture May Not Reflect The Actual Color Of The Item.
Brand:   GEDIYA BROTHER'S
Color:   Multicolor
Price:   229.00
---
Tangerine TAN-110-HB-10 0 W Hand Blender(Multicolor)

42% OFF
₹ 179.00 @ Flipkart
Check Price @ Amazon
No Electricity Needed, Smooth Working, Best Performance, Ideal For Beating Liquidizing Churning Tomato Soup, Dal, Milk Shake, Lassi, Butter Milk, Cream, Eggs Etc.
Brand:   Tangerine
Color:   Multicolor
Price:   179.00
---
SPIRITUAL HOUSE SH-16 3 W Hand Blender(Multicolor)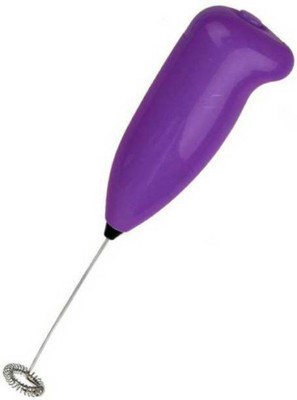 64% OFF
₹ 232.00 @ Flipkart
Check Price @ Amazon
"Spiritual House"Flexible and easy to handle. Simple on/off button for easy operation. Egg beater will not damage cookware or bowls. Easy to clean with a damp cloth. Stainless steel spring and the body is made of abs plastic. Batteries(Not Included)
Brand:   SPIRITUAL HOUSE
Color:   Multicolor
Price:   232.00
---
Swarish SL977LassiHandBeater 0 W Hand Blender(Multicolor)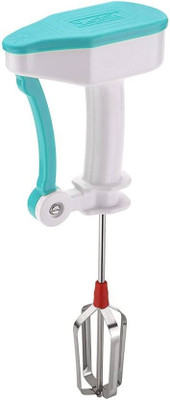 86% OFF
₹ 125.00 @ Flipkart
Check Price @ Amazon
Beating: cream,Eggs etc. Liquidizing:Tomato Soup,Dal Etc. Churning: Milk Shake, lassi ,Butter Milk Etc. 100% Stainless Steel Wire Blade ABS plastic Material For Extra Durability Easy to Grip Quick to Clean Easy to Store Multipurpose blade By using power free hand blander not only you can bland the things but also it gives you an exercise to your finger. By Using power free hand blander not only you can bland the things but also it gives you an exercise to your finger.? By Using power free hand blander not only you can bland the things but also it gives you an exercise to your finger. ? 100% Stainless Steel wire Blade. ? Abs Plastic Material For Extra Durability ? Heavy Gear System . ? Easy to Grip ? Convenient to Use. ? Quick to clean. ? Easy to Store . ? Multipurpose Blade
Brand:   Swarish
Color:   Multicolor
Price:   125.00
---
Plenzo Egg Beater Lassi Butter Milk Maker Mixer Power Free Hand Blender 0 W Hand Blender(Multicolor)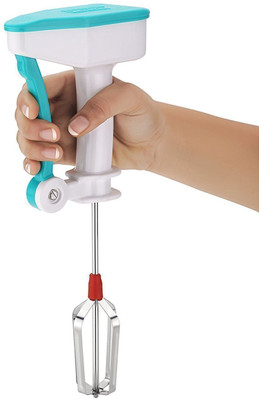 55% OFF
₹ 110.00 @ Flipkart
Check Price @ Amazon
? By Using power free hand blander not only you can bland the things but also it gives you an exercise to your finger. ? 100% Stainless Steel wire Blade. ? Abs Plastic Material For Extra Durability ? Heavy Gear System . ? Easy to Grip ? Convenient to Use. ? Quick to clean. ? Easy to Store . ? Multipurpose Blade
Brand:   Plenzo
Color:   Multicolor
Price:   110.00
---
Krishna Coffee/Milk/Egg Beater Mixer Shaker (Black) COLOR 3 Hand Blender(Black)

86% OFF
₹ 120.00 @ Flipkart
Check Price @ Amazon
Flexible and easy to h
Brand:   Krishna
Color:   Black
Price:   120.00
---