NICE Wall Charger Accessory Combo for Xiaomi Redmi 4A, Xiaomi Redmi Note 4, Vivo V5, Samsung Galaxy J7 Prime, Xiaomi Redmi 3S Prime, Samsung Galaxy J2 2016, Vivo V5 Plus, Lenovo K6 Power, Gionee A1, Lenovo K5 Note, Samsung Galaxy A9 Pro, Vivo Y53, Oppo F3, Lenovo K6 Note, Oppo A37, Oppo A57, Vivo Y6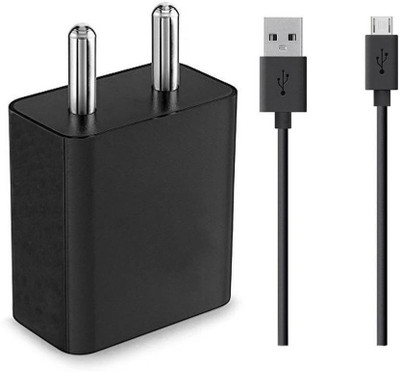 Check Price @ Amazon
Color:   Black
Price:   325.00
---
Similar Products
Prifakt Wall Charger Accessory Combo for Realme 3i, Realme 3 Pro, Realme C2, Vivo V15 Pro, Oppo A5s, Realme 3, Oppo F11 Pro,And Realme all smart phones.(White)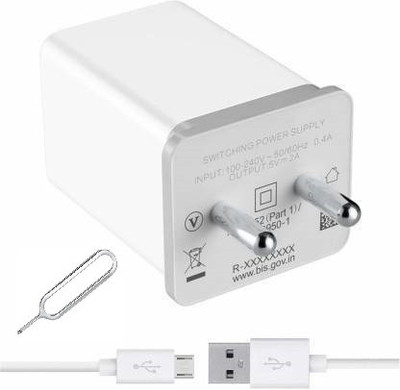 Check Price @ Amazon
PicPok Wall Charger Accessory Combo for For Oppo F5 , A3s, f5, A37 , A57 , F1s,f1s / f3 / f3 plus / f5 / f5 youth / f7 / a83 / a37f / a37 / a71 / a57, F1S, F1 PLUS, FIND 7/ 9, F3, A59S, R9S, and all android smartphones(White)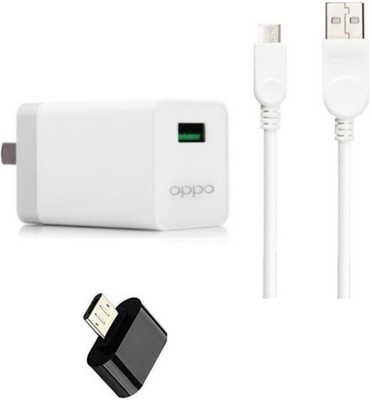 Check Price @ Amazon
FYN Store Wall Charger Accessory Combo for Oppo F9 F9 Pro F7 F5 F3 F3 Plus A71 A71K A83 A5 A3s A37F F1s / F3/Plus, F5/Youth, F7, A83, A37f, A37, A71, A57 And All Smart Phone Charger (White)(White)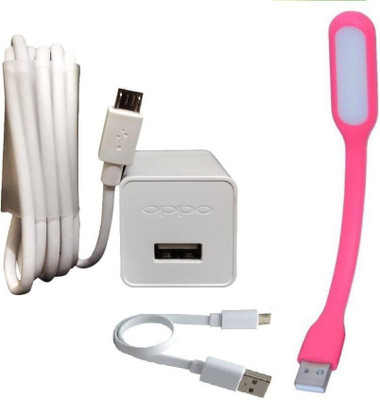 Check Price @ Amazon
OOP Wall Charger Accessory Combo for Realme 3i, Realme 3 Pro, Realme C2, Vivo V15 Pro, Oppo A5s, Xiaomi Redmi 7, Realme 3, Oppo F11 Pro,And Realme all smart phones. (White)(White)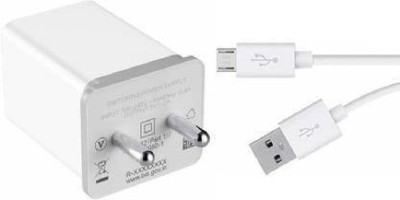 Check Price @ Amazon
FYN Store Wall Charger Accessory Combo for oppo mobile phone charger, oppo f1 s, oppo f3, oppo f5, oppo A37Buy With Best Seller Garg Associates(White)(White)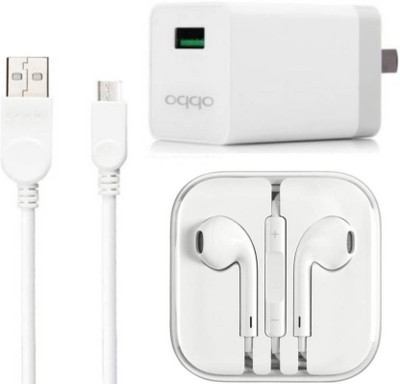 Check Price @ Amazon
ShopsGeniune Wall Charger Accessory Combo for Xiaomi Redmi 6A Plus, Samsung Galaxy A7 (2018) / A 7, Realme 3i, Samsung Galaxy A10, Samsung Galaxy On8, Samsung Galaxy On5, Alcatel 3T 10, Samsung Galaxy J6+ / J 6 Plus, Xiaomi Redmi 4, realme 1, realme 2, realme 2 pro, realme 3, realme 3 pro, realme 3i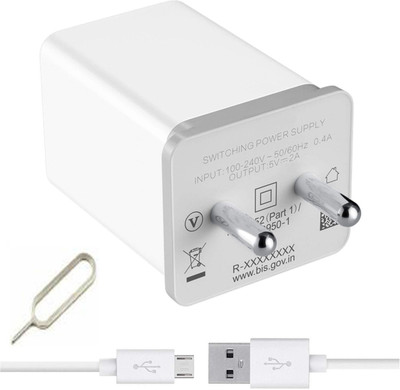 Check Price @ Amazon
Certified 2.4 Ampere Dual charger for your mobile phone. Get good charging speeds like original charger or more paying in a few hundreds rather than paying in thousands. Why pay more when you can get the same quality spending much less. Durable charger with sim adapter. With the help of sim adapter you can convert your sim in different sizes.
OTD Wall Charger Accessory Combo for Realme 2, Realme C1, Realme U1, OPPO F9 Pro, Xiaomi Redmi 6 Pro, Samsung Galaxy A7, Asus Zenfone Max Pro M2, OPPO F9, Samsung Galaxy On8, Asus Zenfone Lite L1, Xiaomi Redmi Y2, OPPO A3s, Vivo V11, Vivo Y93, Xiaomi Redmi 6(Multicolor)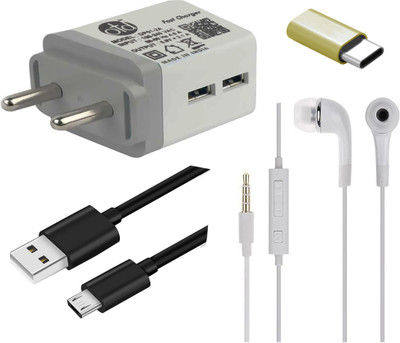 Check Price @ Amazon
With this OTD FAST charger gives you more powerful charging as compared to normal chargers. OTD QUICK chargers are made of PC ABS PLASTIC that gives it a strong sturdy built. OTD charger comes with a built-in capacity to overcome the small voltage fluctuations. Our chargers are designed to provide charging with efficiency so that your phone battery lasts much longer. With up to 2 times more charging and half the time as taken by a normal charger:: OTD 12W chargers won't overheat your mobile phone. Our FAST charger comes with a compatible TPU Material Strong USB Cable with Charging and DATA Transfer Capacity. One can charge as well transfer your Data with our fast USB cable that are included in the box. Please refer to the alternate images, for complete information regarding this product.
SabSure Wall Charger Accessory Combo for OPPO F7 Youth Realme 1, A3 , F7, R15 Pro, R15, A1 A71 (2018) A83 F5 Youth F5, R11s Plus, R11s, A77 R11 R11 Plus A77 A71 A39 F3 F3 Plus A57 F1s R9s Plus R9s A37 A59 R9 Plus Neo 7 A33 A53 Opoo F1 Opo F1 Plus R7s(White)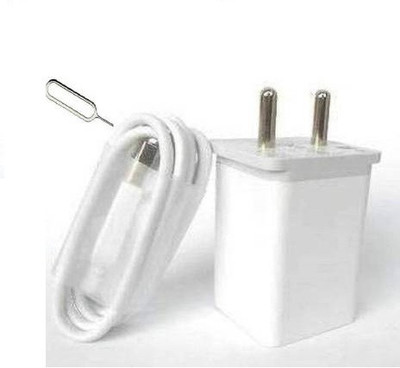 Check Price @ Amazon
Hunky Wall Charger Accessory Combo for Xiaomi Redmi Note 5 Pro , Xiaomi Redmi Note 4 , Samsung Galaxy J6 , Vivo V7 Plus, Lenovo K8 Note , Vivo V9, Xiaomi Redmi 5A, Samsung Galaxy J7 Prime, Oppo F7, Xiaomi Redmi Y1 , Honor 9 Lite, Samsung Galaxy J7 Max, Oppo A83(White)
Check Price @ Amazon
Mobiles Accessories Combos & Accessories
Sorted By Price
₹ 325.00
-
NICE Wall Charger Accessory Combo
₹ 379.00
-
Prifakt Wall Charger Accessory Combo
₹ 299.00
-
PicPok Wall Charger Accessory Combo
₹ 369.00
-
FYN Store Wall Charger Accessory
₹ 260.00
-
OOP Wall Charger Accessory Combo
₹ 369.00
-
FYN Store Wall Charger Accessory
₹ 298.00
-
ShopsGeniune Wall Charger Accessory Combo
₹ 399.00
-
OTD Wall Charger Accessory Combo
₹ 239.00
-
SabSure Wall Charger Accessory Combo
₹ 379.00
-
Hunky Wall Charger Accessory Combo
Sorted By Brand
NICE
-
NICE Wall Charger Accessory Combo
Prifakt
-
Prifakt Wall Charger Accessory Combo
PicPok
-
PicPok Wall Charger Accessory Combo
FYN Store
-
FYN Store Wall Charger Accessory
OOP
-
OOP Wall Charger Accessory Combo
FYN Store
-
FYN Store Wall Charger Accessory
ShopsGeniune
-
ShopsGeniune Wall Charger Accessory Combo
OTD
-
OTD Wall Charger Accessory Combo
SabSure
-
SabSure Wall Charger Accessory Combo
Hunky
-
Hunky Wall Charger Accessory Combo
Sorted By Discount
82%
-
NICE Wall Charger Accessory Combo
65%
-
Prifakt Wall Charger Accessory Combo
62%
-
PicPok Wall Charger Accessory Combo
58%
-
FYN Store Wall Charger Accessory
73%
-
OOP Wall Charger Accessory Combo
63%
-
FYN Store Wall Charger Accessory
70%
-
ShopsGeniune Wall Charger Accessory Combo
60%
-
OTD Wall Charger Accessory Combo
76%
-
SabSure Wall Charger Accessory Combo
70%
-
Hunky Wall Charger Accessory Combo