FOSSIL Daisy Daisy Analog Watch - For Women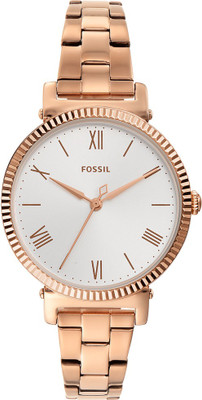 Check Price @ Amazon
This is an example of beauty coupled with class, this Fossil analog watch for women exhibits grandeur that would totally go well in today's time. It has a silver sunray analog dial, three rose-gold hand movements, knurled bezel and matching three-link bracelet strap completes the look. The Fossil 'Daisy Series' watch set exudes feminine style.
Price:   3,899.00
---
Similar Products
FOSSIL Decker Analog Watch - For Men(End of Season Style)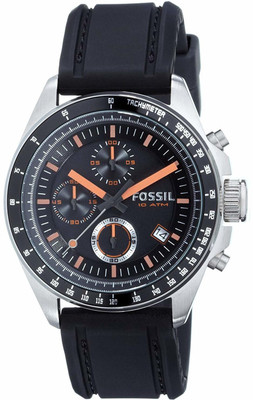 Check Price @ Amazon
A skilled craftsmanship is behind the creation of this Analog Watch from Fossil and the inherit value of the precious metal that goes into this, ensures incomparable durability and precision. The Decker series from Fossil is for all those men who want to flaunt their personal style. This Analog Watch is perfect for every occasion, be it formal or casual. You can team this watch with your formal trousers and a linen shirt to get that professional look. Also, the quartz mechanism ensures to keep you on time for every social event as electro oscillations of the quartz regulate the timekeeping of the watch. Body and Design Furnished with a round dial, this Decker Analog Watch makes your wrist look appealing. This watch is crafted with a silicone strap that keeps your skin safe during any climatic condition. Also, this watch is durable and rust resistant as the stainless steel case protects the internal components of the watch. The buckle clasp holds the watch firmly so that it does not slip off from your wrist. You can easily view time within a blink of an eye, as this watch offers impeccable clarity. Function and Other Features This Analog Watch is equipped with the chronograph function that helps you keep a track of lapsed time. You can set an accurate start and stop time during your morning workout sessions. While you go jet skiing you need not worry about the water splashes damaging this watch, as it is water-resistant up to a depth of 100 m. This watch come with a date display, allowing you to view the date in just a cursory glance.
FOSSIL Briggs Analog Watch - For Men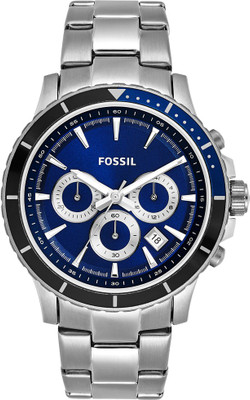 Check Price @ Amazon
Make a bold fashion statement with this watch from Fossil. With a stainless steel case and strap, this sophisticated timepiece is as tough as is stylish. Thanks to the three-fold clasp and push button, fastening the watch around your wrist is effortless. Don't worry about wearing this watch on rainy days as this watch is water-resistant (up to a depth of 100 m).
FOSSIL DECKER Analog Watch - For Men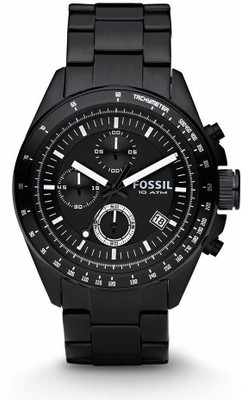 Check Price @ Amazon
FOSSIL KARLI Analog Watch - For Women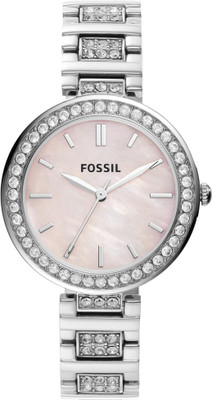 Check Price @ Amazon
FOSSIL Other - Mens Other - Mens Analog Watch - For Men
Check Price @ Amazon
Very few watches have the potential to captivate you in the very first glance. With a minimalistic approach, this Fossil chronograph watch features a black sunray dial which draws attention to it's refined construction, like it's elegantly vaulted hands and black stainless steel bracelet secured by a single pusher foldover clasp. It is designed to raise your 'class' standard in any formal meeting.
FOSSIL Flynn Flynn Analog Watch - For Men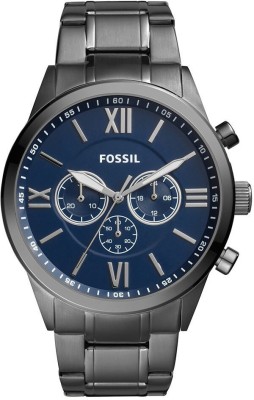 Check Price @ Amazon
Designs that are sophisticated is always preferred, get the best with our Flynn chronograph watch boasting a striking steel bracelet. Featuring a navy-blue dial with roman numeral and stick indices, three-hand movement which makes it perfect for any formal or casual event.
FOSSIL FLYNN Analog Watch - For Men
Check Price @ Amazon
Analog watches with a leather strap never go out of style. Ideal for swimmers and athletes, this stylish analog watch from Fossil comes with a water resistance of 50 mm. You'd never have to think about switches watches while training and while going out, as this elegantly designed watch from Fossil brings the best of both worlds, combining style and technology.
FOSSIL RHETT Analog Watch - For Men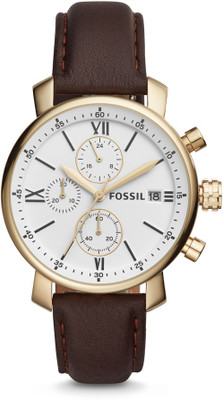 Check Price @ Amazon
FOSSIL Stella Stella Analog Watch - For Women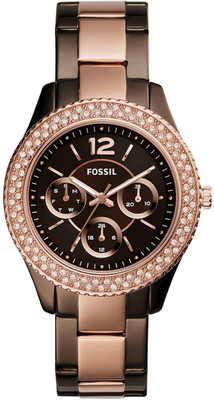 Check Price @ Amazon
Effortlessly easy, our new Stella plays with shades of color in a whole new light. The mixture of dark brown and rose gold-tone stainless steel creates glints of interest to your arm party, while shimmery crystals and a rose dial add the perfect amount of shine.
Wrist Watches & Accessories
Sorted By Price
₹ 3,899.00
-
FOSSIL Daisy Daisy Analog Watch
₹ 3,849.00
-
FOSSIL Decker Analog Watch
₹ 4,049.00
-
FOSSIL Briggs Analog Watch
₹ 4,299.00
-
FOSSIL DECKER Analog Watch
₹ 3,449.00
-
FOSSIL KARLI Analog Watch
₹ 5,749.00
-
FOSSIL Other - Mens Other
₹ 5,749.00
-
FOSSIL Flynn Flynn Analog Watch
₹ 4,299.00
-
FOSSIL FLYNN Analog Watch
₹ 4,299.00
-
FOSSIL RHETT Analog Watch
₹ 4,249.00
-
FOSSIL Stella Stella Analog Watch
Sorted By Brand
FOSSIL
-
FOSSIL Daisy Daisy Analog Watch
FOSSIL
-
FOSSIL Decker Analog Watch
FOSSIL
-
FOSSIL Briggs Analog Watch
FOSSIL
-
FOSSIL DECKER Analog Watch
FOSSIL
-
FOSSIL KARLI Analog Watch
FOSSIL
-
FOSSIL Other - Mens Other
FOSSIL
-
FOSSIL Flynn Flynn Analog Watch
FOSSIL
-
FOSSIL FLYNN Analog Watch
FOSSIL
-
FOSSIL RHETT Analog Watch
FOSSIL
-
FOSSIL Stella Stella Analog Watch
Sorted By Discount
56%
-
FOSSIL Daisy Daisy Analog Watch
57%
-
FOSSIL Decker Analog Watch
57%
-
FOSSIL Briggs Analog Watch
56%
-
FOSSIL DECKER Analog Watch
56%
-
FOSSIL KARLI Analog Watch
57%
-
FOSSIL Other - Mens Other
57%
-
FOSSIL Flynn Flynn Analog Watch
56%
-
FOSSIL FLYNN Analog Watch
56%
-
FOSSIL RHETT Analog Watch
57%
-
FOSSIL Stella Stella Analog Watch