Zahuu Radiation Free Wired Receiver Retro Phone Headphone Wired Headset with Mic(Orange, Over the Ear)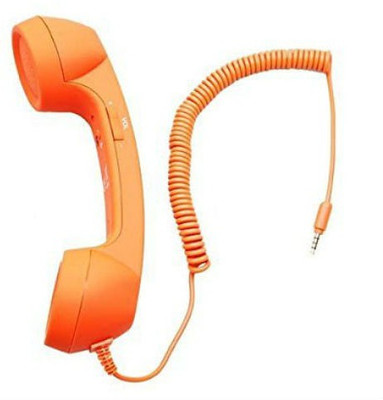 MRP - Rs. 2499
Price - Rs. 1499
product description
Radiation Free Wired Receiver Retro Phone Headphone.
The new Retro Handset reduce mobile phone radiation by a minimum of 96%, or even up to 100% for many mobile phones! To use the Retro Handset you will simply plug into your mobile device.
Elegantly designed with superior quality speakers and microphone that deliver crystal clear sound and clarity.
Join the fashion and calls from your Smartphone full color the most fun.
This headset retro style Pop pigtail serves you now to talk to your Smart Phone.
It incorporates a speaker and microphone quality, compatible with any model.
With a USB adapter (not included) you can also use it on your computer or tablet systems with VoIP A must for lovers of the latest gadget trends, and an original way to make more comfortable your calls.
A radiation free handset which saves you from the harmful radiations caused by mobile phone calls.
It is easy to use and a must for those who remain most of the times on phone calls.
It allows you to enjoy the traditional style of talking on the phone.
It eliminates a huge percentage of absorbed phone radiation.
It has a spring retractable cord handset design, answer call button and volume control.
Coming with a 3.5mm headphone jack,it supports mostly all mobile phone models.
you may also like