Case Creation Tempered Glass Guard for Samsung Galaxy Note 3(Pack of 1)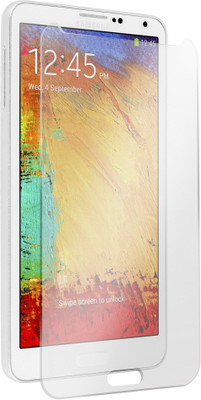 MRP - Rs. 1999
Price - Rs. 549
product description
Case Creation TM Matte screen protectors are often called \"Anti-Glare\" screen protectors.In the situation, the matte still has an edge over the glossy in terms of glare reduction.There are two aspects of image quality, clarity and contrast.
In this category, matte screen protectors typically suffer less contrast, less brightness, and grainy image.Many of you might not know, a matte screen protector is also more resistive to scratches.
A matte surface is just not as easy to get dirty as a plain (glossy) surface.
The best protection for your device available to date.
Feel and purity of real glass.
No clarity/resolution loss with exceptional impact and scratch resistance.Superb reduction of mirror-like reflection for improved viewing in bright light.
A smooth touch-screen feel.
Exceptional resistance to fingerprints and smudges.The Matte tempered glass is very reliable as it protect the whole phone experience without worrying about your phone screen and internal damage due to any sort of dropping and tempered glass is very useful in today modern times where there are so risk and chances of phone getting damaged by any means like slipping out of pockets when you are entering a vehicle or dropping your phone while doing some play and many other genuine reasons where the phone gets damaged.Matte finish screenguards excel at outdoor use but they will not be a good fit for you if watch a lot of movies, and browse image heavy websites.
The anti-glare finish transmits less than light than the glossy finish, and hence affects the color gamut and sharpness slightly.
you may also like