Amkette Evo Elite Wired PC and PS3 with Xinput and Dinput Support USB Gamepad(Concrete Grey, For PS3, PC)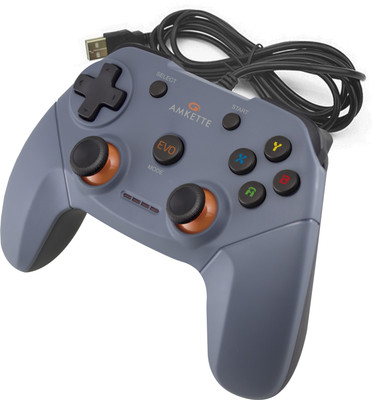 MRP - Rs. 1299
Price - Rs. 890
product description
At AMKETTE we want to provide the best to the customer within the reasonable price range.
So we designed a gamepad that could fulfill the needs of hardcore gamers without compromising the quality of the product, while keeping the price sweet.
The EVO ELITE WIRED GAMEPAD is a perfect companion for you, whether you are playing games on a console like PS3 or on your laptop/Desktop.
The standard USB output can connect to your devices in the matter of seconds.
The design of the gamepad was optimized to deliver hours of comfortable game play.
Including a robust and ergonomically astute design & a texture that downplays moisture, it makes evo elite gamepad your perfect companion for gaming.
The 8 way floating D-Pad, 360 degree concave thumbsticks & analog shoulder buttons offer PRECISE, ACCURATE and RESPONSIVE feedback.
The Dual rumble motors offers immersive effect you so crave.
Just donâÂÂt forget to enjoy your way to the top of the scoring charts..
The extra long 1.8 meter cable helps you relax at a comfortable distance from your monitor/laptop/desktop, so you can enjoy your game without compromising with your comfort.
you may also like