RR Design Edge To Edge Tempered Glass for Mi Redmi Note 6 Pro(Pack of 1)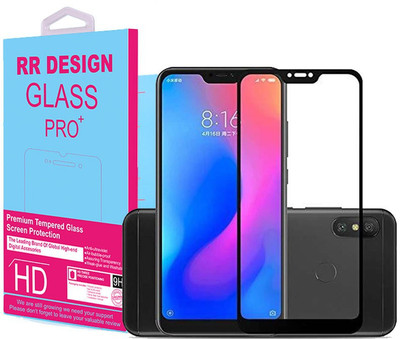 MRP - Rs. 699
Price - Rs. 207
product description
RR DESIGN Premium Anti-Fingerprint Tempered Glass Screen Protector.
RR DESIGN Tempered glass Provide enhanced impact resistance and reduce the chances of screen damage, the 9H hardness can effectively protect your screen from scratches and external shocks, the tempered glass is only 0.3mm*2.5D thick which has excellent light transmittance, Surface is anti-oil processing (Oleophobic coating), so fingerprints and oil is not easy to stay surface, easy to clean, anti-shatter & anti-scratch; 9H hardness factor, tempered glass, ultra durable, bubble-free and perfect cutouts to ensure easy installation / remove.
Explosion-proof, shock-proof, pressure-resistant and anti-scratch functions all-in-one to protect your device perfectly.It's Processed by German imported high-precision CNC numerical control machine,Fine milling by carved technology,Arc edge accuracy is only 0.1mm,The curved surface completely bonds with iPhone's screen.Anti-fingerprint, Oil Resistance,Anti acid and alkali.9H surface hardness, scratch-resistant.Film remains unchanged even ruptures.
No debris.Light transmittance is up to 99.9%, Keeps the screen clarity.Adsorbs quickly.
Can be repeatedly used after washing.So superior 3D tempered film,With such excellent iPhone,Like a match made in heaven,Provides you perfect experience.
Tips: The thickness of this product mentioned in the description and picture refers only to the thickness of the glass.
AB glue is not included in the thickness.The Tempered Glass is designed to provide maximum protection from scratches, drops and crash landings.it is crafted to cover the entire screen from edge to edge with a unique flex bend assured not to peel or curl.
The Tempered Glass is built with laser cut tempered glass with rounded, polished edges.
The Tempered Glass Pro+ can offer High Definition clarity and precise touchscreen experience.
Additionally, it comes with the Oleophobic Coating that defies oil smudges and fingerprint.
The Screen protector is lab tested and Qc passed in 3 levels before package.
you may also like
Screen Protectors
From Amazon