Mobile Miracle Tempered Glass Guard for Sony Xperia L(Pack of 1)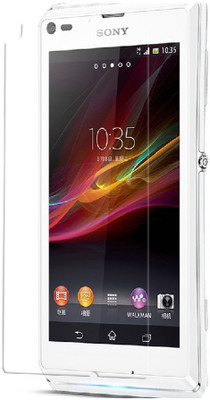 83% OFF
₹ 169.00 @ Flipkart
Color:   Transparent
Price:   169.00
---
Similar Products
Case Creation Tempered Glass Guard for Sony Xperia L1 G3312(Pack of 1)
75% OFF
₹ 241.00 @ Flipkart
If anyother seller selling products in this Brand Name "Case Creation TM" That means that product is not of "Case Creation TM" Brand Product. You can report to Amazon About this. Forged from tempered glass,these screen protectors undergo a hit from a hammer before they are approved to protect your precious device. In addition to their impressive impact strength,the tempered glass screen protectors resist scratches and display none of the finger distortion or drag that often comes with cheap plastic screen protectors. Even with this brawny engineering,the Tempered Glass remains nearly invisible and leaves no sticky residue or any marks behind if you decide to remove it. Premium tempered glass is shatter-proof meaning it won't splinter into sharp fragments,making it safer than regular glass. To top it all off,this screen protector has an oleophobic coating that makes it resistant to fingerprints,Caution: product must be installed in a dust-free environment; applying excessive force during installation or removal may damage the Tempered Glass. Phone models shown in the pictures are for illustration purpose only
Brand:   Case Creation
Color:   Pro Shield Glass
Price:   241.00
---
MRNKA Tempered Glass Guard for Sony Xperia L2 (Pack Of 1)(Pack of 1)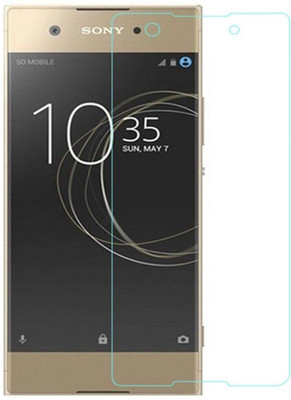 78% OFF
₹ 109.00 @ Flipkart
Brand:   MRNKA
Color:   Transparent
Price:   109.00
---
NE Mobiles Tempered Glass Guard for Sony Xperia L(Pack of 1)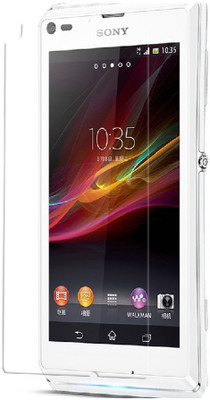 81% OFF
₹ 169.00 @ Flipkart
Brand:   NE Mobiles
Color:   Transparent
Price:   169.00
---
JAPNESE PRO Tempered Glass Guard for SONY XPERIA L (C2104)(Pack of 1)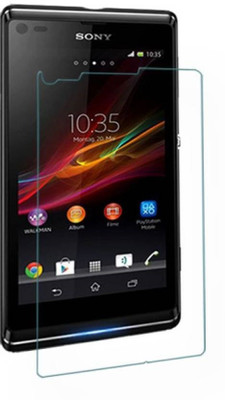 84% OFF
₹ 159.00 @ Flipkart
Japnese Pro™ is a chemically strengthened 9H hardness screen glass that is three times stronger than traditional PET film. The thermal resistance screen protector is engineered with strength and safety in mind while maintaining the display quality of your device with clear visibility. NOTE : For best results, apply in a dust free environment.
Brand:   JAPNESE PRO
Color:   Transparent
Price:   159.00
---
SRT Tempered Glass Guard for Sony Xperia L1(Pack of 1)
78% OFF
₹ 149.00 @ Flipkart
SRT 2.5D Curve Edge HD Ultra Clear Tempered Glass will prevent from scratches on your device screen without sacrificing visibility. Its dust repelling, reduces glare, smudges and improves clarity. It uses a static adhesive that will not leave a residue when removed, and makes installation error-proof. The screen glass guard also comes along with a microfiber cleaning cloth, allowing you to remove dust or debris from your screen before applying the Screen Protector. The bubble-free application makes SRT screen guards an ultimate solution for making your device screen brilliant and scratch-free.
Brand:   SRT
Color:   Transparent
Price:   149.00
---
Mobile Shringar Tempered Glass Guard for Sony Xperia L(Pack of 1)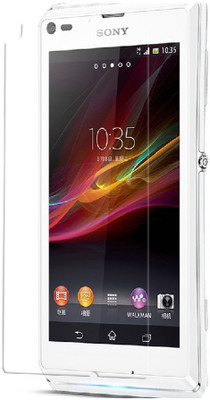 83% OFF
₹ 169.00 @ Flipkart
Brand:   Mobile Shringar
Color:   Transparent
Price:   169.00
---
Mobile Crazy Tempered Glass Guard for Sony Xperia L(Pack of 1)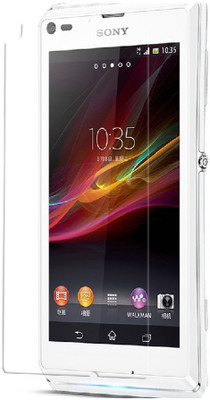 81% OFF
₹ 169.00 @ Flipkart
Brand:   Mobile Crazy
Color:   Transparent
Price:   169.00
---
RM WORLD Tempered Glass Guard for Sony Xperia L1(Pack of 1)
78% OFF
₹ 108.00 @ Flipkart
Brand:   RM WORLD
Color:   Transparent
Price:   108.00
---
Pixelcare Tempered Glass Guard for Sony Xperia L(Pack of 1)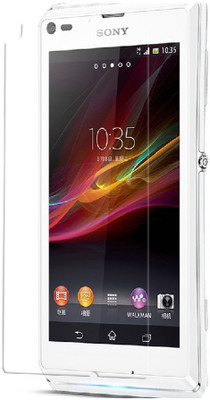 83% OFF
₹ 169.00 @ Flipkart
Brand:   Pixelcare
Color:   Transparent
Price:   169.00
---