DIY Crafts A535 https://www.dropbox.com/sh/bjkwaza58pwewuy/AABjQMQ1wRdS6NhVC5Vdzkt_a/B076DQZKXB6.jpg?dl=0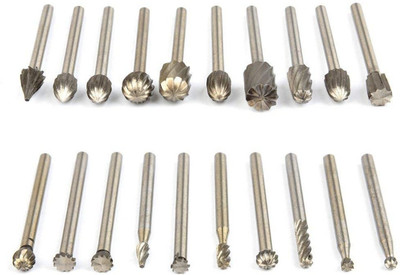 MRP - Rs. 4799
Price - Rs. 4299
product description
Designed for Die Grinder, Dremmel Tool or Rotary Drill which can go along with 1/8\" shank carbide burs.
* Sharp and sturdy, processing all kinds of metal and non-metal.
The machining hardness can reach to HRC70.
* Shank: 1/8 inch(3mm), Length:8/5 inch(40mm).
* Speed is generally 6000-50000 rev / min.
* Cutting burs are larger than normal ones which makes it easier to do the wood job of carving.
* Rapid chip removal, high precision machining materials, such as wood carving, glass fiber, plastic, aluminum, etc.
* For jewelers, lapidary use, hobbies, crafts, craft modeling, home repair, diyer.
* Package includes: 20 Tungsten steel Solid Burrs.
* Compatibility: smaller rotary tools such as those made by Dremel.
Drill Bit Sets
From Amazon