Case Designer Edge To Edge Tempered Glass for Vivo V15 Pro 6.39-Inch(Pack of 1)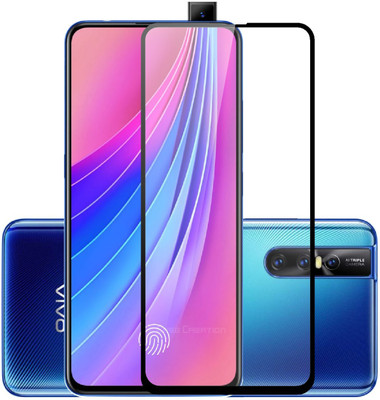 MRP - Rs. 1999
Price - Rs. 449
product description
\"Case Designer Full Glue Body GLASS SPECIFICATIONS :- 1) FULL 5D BODY Edge to Edge Adhesive COVERAGE -Case Designer Tempered Glass Supports full Edge to Edge Adhesive Screen Protection Providing Superior Coverage to Smart Phone Mobile Screen.
2) 5D CURVED ROUND EDGES - Case Designer Tempered Glass has Premium 5D Curved Round Edges to give smooth experience around the Edge of your Smart Phone .
3) 5D TOUCH COMPATIBLE -Case Designer Tempered Glass exhibits high touch sensitivity & smoothness and excellent interoperability with 5D Touch Sensors.
4)ANTI SCRATCH -Case Designer Tempered Glass with Nano Primer coating provides excellent adhesive strengthening, surface hardness and chemical resistance to scratches and corrosion.Shock ResistantCase Designer Glass exhibit high shock resistance and 9H hardness.
5) The Nano coated primer provides increased shock resistance function.
6) HD CLARITY -Case Designer Tempered Glass exhibit 100% transparency and retains the clarity & experience of original glass.
7) WATER & OIL REPELLENT-Hydrophobic Nano coating provides superb Water & Oil repellent properties.
Easy to clean performance and Anti smudge.
8)ANTI-FINGERPRINT -Case Designer Tempered Glass is coated with Nano primer to provide Anti Fingerprint and Fouling.
The screen looks new and refreshing always\"
you may also like