Golden Sand Tempered Glass Guard for Mi Redmi 3S, Mi Redmi 3S Prime(Pack of 1)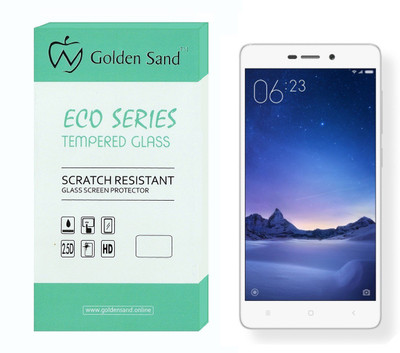 MRP - Rs. 699
Price - Rs. 249
product description
Golden Sand Presents to You its Eco Series Tempered Glass Which Provides Great Protection To Your Phone With Its Unrivalled Quality And Features At Unbeatable Prices Authorised Seller: We4u Product Description• 2.5d, 0.3mm: Normal Tempered Glass Is Flat From Sides And Feels Like A Rock Edge Which Hurts Fingers And Degrades User Experience.
With Precise Cnc Cutting Technology And Perfect Size For Your Phone Our Eco Series Tempered Glass Is Very Slim (0.3mm) And Curved From Sides (2.5d) For Smoothest Experience And Makes You Feel You Are Not Using A Tempered Even When You Are.
• High Quality Glass, Silicone Adsorption: High Quality Glass And Silicone Adsorption Gives Natural Glass Feel And Bubble Free Application.
It Provides Flawless Accuracy With No Interference In Touch Responsiveness.
• 45 Degree Flexible, High Buffering: Buffering Means Reducing The Impact Of The Shock.
Our Tempered Glass Is Flexible To 45 Degree And Buffers The Impact Of Shock To Screen On Falling To Prevent Its Breakage.
• 9h Scratch Protection: Our Eco Series Tempered Glass Not Only Protects Your Phone From Scratches But Also Protects Itself.
Hence, Provides Higher Durability And Increased Longetivity.
• Oleophobic Coating Membrane: What Is Better Than A Screen Guard With Water And Sweat Resistance.
Oleophobic Membrane Gives Smoother Long Term Usage, Less Smudges, Reduced Finger Prints And Does Not Let Sweat To Stick On The Tempered Glass.
It Is Very Easy To Clean With A Normal Cotton Cloth.
• Anti Shock: Our Tempered Glass Is Treated In Heat For 3 Hours Which Increases Its Capacity To Handle Shocks.
you may also like