FOSSIL Carlie Mini Analog Watch - For Women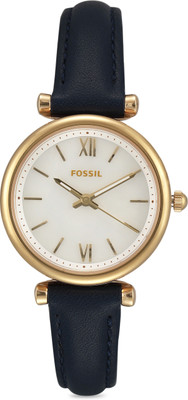 Check Price @ Amazon
Designs that are sophisticated is always preferred and this Fossil analogue watch is especially made for women with a class. The newcomer Carlie Mini takes a turn for the sophisticated, incorporating a rich navy blue leather strap with a sleek stainless steel case. Featuring a white mother-of-pearl dial with roman numeral and stick indices, three-hand movement makes it perfect for any formal or casual event.
Price:   5,196.00
---
Similar Products
FOSSIL COMMUTER Analog Watch - For Men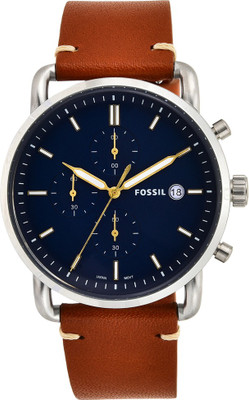 Check Price @ Amazon
This uber cool men's watch has a blue dial with silver and gold bordered toned hour and minute hands coupled with a brown leather strap with a prong strap buckle. The dial has three sub dials, minute markings on its perimeter and also displays the date, with two crowns on one of its side. The design of the dial adds to the simplicity of the leather strap making it a perfect choice for you.
Brand:   FOSSIL
Price:   8,995.00
---
& Accessories
Sorted By Price
₹ 5,196.00
-
FOSSIL Carlie Mini Analog Watch
₹ 8,995.00
-
FOSSIL COMMUTER Analog Watch
Sorted By Brand
FOSSIL
-
FOSSIL Carlie Mini Analog Watch
FOSSIL
-
FOSSIL COMMUTER Analog Watch
Sorted By Discount
25%
-
FOSSIL Carlie Mini Analog Watch
0%
-
FOSSIL COMMUTER Analog Watch