PARKER Jotter Standard CT Ball Pen(Black)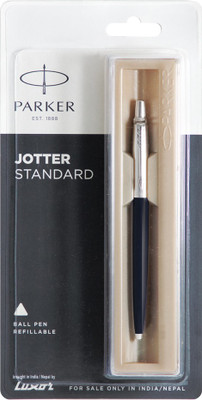 Check Price @ Amazon
Incorporating classic design for a sophisticated presentation, Parker presents this Jotter Standard CT Ball Pen which looks stylish and elegant. Button Action When the push button on the top is pressed, the refill slides out of its body so that you can write and when again pressed, it goes back in. Standard Ballpoint Refill Fitting This ballpoint pen is incorporated with the finest quality and standard refill that can be neatly fitted. Gloss-matte Finish The body of this ball pen comes with a gloss-matte finish which lends a dash of elegance and class to your look. Swiss Waterproof Ink The standard refill is enriched with Swiss ink that is water resistant. Smudge Proof And Blot Proof The rich ink used in this ball classic pen is smudge proof and blot proof thus, helping you to present an impressive and neat handwriting.
Color:   Black
Price:   185.00
---
Similar Products
PARKER Classic Gold Ball Pen(Blue)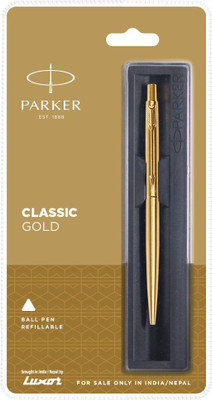 Check Price @ Amazon
Gold plated stainless steel cap and barrel with matching gold plated clip. cap action fitted with ball point refill.
cello Butterflow Simply Ball Pen Jar Ball Pen(Pack of 25, Blue)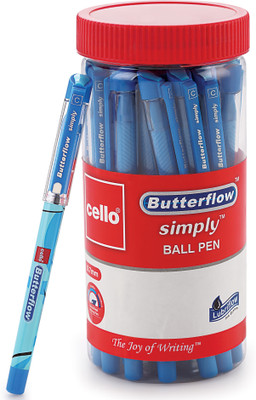 Check Price @ Amazon
Cello presents a unique new jar pack of its smoothest Ball Pen - Butterflow Simply. The Butterflow Simply Jar contains 25 pc Butterflow Simply Ball pen (blue ink). Butterflow offers the smoothest writing experience with its lubriflow ink system. The Elasto grip ensures comfortable writing. Butterflow Simply is suitable for home, school, or office use. A collectible jar is included with the pens for easy storage.
PARKER vector standard roller pen + ball pen Pen Gift Set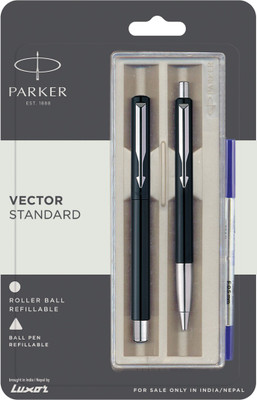 Check Price @ Amazon
Crafted exquisitely for the discerning individual, the Standard CT Pen Set is an excellent addition to your writing portfolio and enhances your calligraphic skills by several notches. Gloss finish The pens boast of a fine gloss touch that lend oodles of allure and dazzle to their body. ABS plastic body Made of the finest ABS plastic, the pen is both durable and long-lasting and withstands regular usage. Cap on & off mechanism & Push Mechanism One of these pens is designed with an effective cap off and on mechanism and other is equipped with a convenient push mechanism for easy use. Stainless Steel Nib  Featuring a well-done stainless steel nib, the pen offers the writer, an effortless writing experience, lending joy and flow with every word that is penned. Twin-Channeled ink feed The inclusion of the twin-channeled ink feed ensures the smooth flow of ink without any snags.
FLAIR Hotline Fineliner Pen(Pack of 10, Multicolor)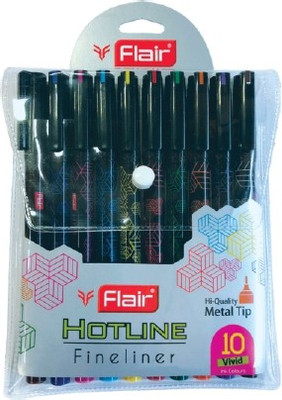 Check Price @ Amazon
Bring your writing, doodling, and drafting to life with the vibrant colors of Fineliner pens. Available in a variety of vibrant, eye-catching colors, these pens combine the precision of a ballpoint pen with the distinctiveness of a doodling pen. The 0.4mm high quality metal tip creates precise lines and is perfectly suited for use with templates, rulers, and other straight edges.This pen set places a beautiful array of colors, including blue, light blue, red, green, brown, purple, yellow, orange, pink, and black at your fingertips. Fineliner Pens feature bold, water-based inks that wont bleed through paper.
cello Faster Grip Ball Pen(Pack of 60, Multicolor)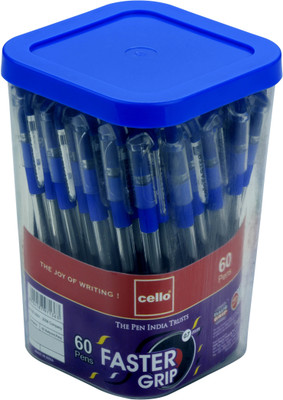 Check Price @ Amazon
grip ball pen has Fast-flo tip which allows you to write faster. The Elasto Grip makes it comfortable to keep writing while writing faster.
Pilot V7 Hi - Techpoint Pen (Pack of 3)(Pack of 3, Blue, Black)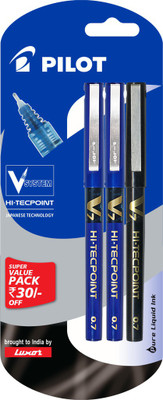 Check Price @ Amazon
Experience the luxury of fine, liquid ink flowing faultlessly on paper with the excellent quality Fineliner Pen that comes in a pack of three. Japanese Ink The inclusion of Japanese ink provides the assurance of high standards of writing experience. Liquid Ink The free-flowing aspect of the liquid ink turns writing into a pleasurable experience. Fine needlepoint tip The fine needlepoint tip offers precision writing and is excellent for fine lines and outlines. Reliable V-System for controlling ink flow The V-system provides controlled and reliable flow of ink so that your writing is snag-free and there is no excess wastage. Made from 71% recycled plastic Pitching in for the preservation of our ecosystem, the pen's body comprises of 71 per cent recycled plastic.
cello Gripper Ball Pen(Pack of 25, Blue)
Check Price @ Amazon
Exam season or no exam season, writing and taking notes should not stop throughout the academic year. And with our Ball Pen with its Elasto Grip, no amount of writing will tire you. Easy to use and light to carry, it is just what you need for a comfortable writing experience.Set of 25 ball pensSwiss metal clip made up of 0.5 mm nickel silverTransparent barrel, cap and clipInclusive of reusable plastic jarEasy to use and light to carry blue ball pen has Elasto grip for a comfortable writing experience
cello Deco Gel Pen(Pack of 25, Blue)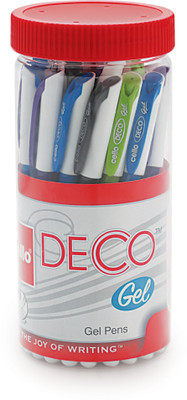 Check Price @ Amazon
Exam season can turn out to be a high pressure situation for many students. From taking down notes of every possible subject to mock tests to filling page after page in an exam, its clear that a lot of writing is done. And for all your writing requirements, Gel Pens serve as the perfect partner with their imported and waterproof ink.Waterproof ink for smudge free and smooth writingFine writing with 0.6mm tip, no blotting5 attractive body colorsCurated for fast and effortless writingSuitable for all ages
PILOT Frixion Clicker Roller Ball Pen(Blue)

Check Price @ Amazon
Erasable & retractable pens !! Write ,Delete ,Repeat, without damaging documents.No wear or tear !Revolutionary metamocolor ink technology - thermo-sensitive Gel ink disappears with friction using rubber tail plug on the pen,with no debris (ink disappears at about 60�C and recovering temperature is around -10�C).Frixion ball can write repeatedly on the same spot with the same pen.Rubberized grip to ensure comfortable writing.Ideal for Sudoku,Puzzles, crosswords and everyday writing.�Strickly not recomended for signatures,examination papers,cheques or official documents where writing needs to be of a permanent nature. Tip size :- 0.7 mm Fine tip
Roller Ball Pens & Accessories
Sorted By Price
₹ 185.00
-
PARKER Jotter Standard CT Ball
₹ 371.00
-
PARKER Classic Gold Ball Pen(Blue)
₹ 165.00
-
cello Butterflow Simply Ball Pen
₹ 360.00
-
PARKER vector standard roller pen
₹ 85.00
-
FLAIR Hotline Fineliner Pen(Pack of
₹ 288.00
-
cello Faster Grip Ball Pen(Pack
₹ 135.00
-
Pilot V7 Hi - Techpoint
₹ 140.00
-
cello Gripper Ball Pen(Pack of
₹ 128.00
-
cello Deco Gel Pen(Pack of
₹ 80.00
-
PILOT Frixion Clicker Roller Ball
Sorted By Brand
PARKER
-
PARKER Jotter Standard CT Ball
PARKER
-
PARKER Classic Gold Ball Pen(Blue)
cello
-
cello Butterflow Simply Ball Pen
PARKER
-
PARKER vector standard roller pen
FLAIR
-
FLAIR Hotline Fineliner Pen(Pack of
cello
-
cello Faster Grip Ball Pen(Pack
PILOT
-
Pilot V7 Hi - Techpoint
cello
-
cello Gripper Ball Pen(Pack of
cello
-
cello Deco Gel Pen(Pack of
PILOT
-
PILOT Frixion Clicker Roller Ball
Sorted By Discount
26%
-
PARKER Jotter Standard CT Ball
30%
-
PARKER Classic Gold Ball Pen(Blue)
40%
-
cello Butterflow Simply Ball Pen
25%
-
PARKER vector standard roller pen
15%
-
FLAIR Hotline Fineliner Pen(Pack of
20%
-
cello Faster Grip Ball Pen(Pack
25%
-
Pilot V7 Hi - Techpoint
30%
-
cello Gripper Ball Pen(Pack of
14%
-
cello Deco Gel Pen(Pack of
20%
-
PILOT Frixion Clicker Roller Ball