CLOMANA Camera Lens shape Cup Coffee Tea Leakproof Thermos Stainless Steel, Plastic Mug 25 Coffee Maker(Multicolor)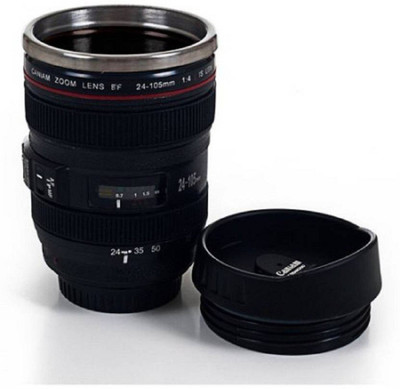 MRP - Rs. 599
Price - Rs. 307
product description
Nice Feel, Great Look This premium self-stirring coffee mug looks great all the way, and feels even better on any kitchen ecosystem.
The power-on button is conveniently located at the top of the hold-handle, so you can easily turn the propeller on.
It not just brings the benefits of instant stirring action to your coffee making moments, but also comes with an airtight lid equipped with a small drinking hole.
Easy and Convenient Operation Easy Operation While this coffee mug looks great on any kitchen counter board and/or coffee table, its essence is to make work easier.
Simply press the self-stirring button on the mug and the propeller at the bottom will spin into action, mixing the solute and solvent particles into a lovely froth.
No sweat, no hassle, just a product that makes stirring beverages a whole lot easier! If you love to sip at your coffee while you spin out of your home in the morning rush, this is the perfect accessory to have in our kitchen.
What's more, this is considered the best beverage-mug for 'lazy people'.
If you consider the hassle of washing spoons, stirring beverages and then washing again to be quite a bother, this coffee mug simply does the work for you.
All you need to do is to pour in your coffee (or any other beverage for that matter) and then press a button.
Does everything within seconds.
All is perfect for you to enjoy life with automatic coffee mug.
you may also like