Case Creation Front and Back Screen Guard for Xiaomi Redmi Note 9 Pro(Pack of 2)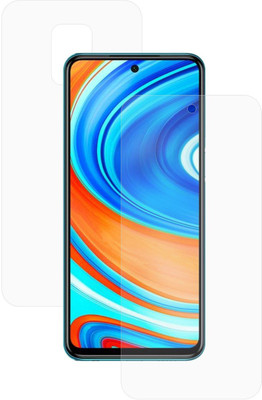 78% OFF
@ Flipkart
Check Price @ Amazon
The Case Creation Smart Screen Protector is specifically designed using precise laser cutting technology to offer maximum full body coverage.Material flexibility allows total coverage even on curved devices.Self-Healing, flexible, tough, military-grade thermoplastic urethane, designed to absorb impact.Case Creation Full cover edge to edge body guard is resistant against scratches, punctures, UV light and will not yellow.Easy, error-proof, and bubble-free installation.Liquid solution allows adjustments during installation.Significantly reduces dust, oil and fingerprint smudges.Optically transparent, virtually invisible, and HD Clear screen protector with smooth glass-like surface and "True Touch" feel.A great alternative to a typical "static cling" PET screen protector for your smart phone.The revolutionary and most effective way to keep your favorite mobile device protected is with Case Creation Shield premium HD crystal clear for your smart phone screen protector + Back Skin Cover.
Color:   Transparent
Price:   439.00
---
Similar Products
Case Creation Edge To Edge Tempered Glass for Vivo V5(Pack of 1)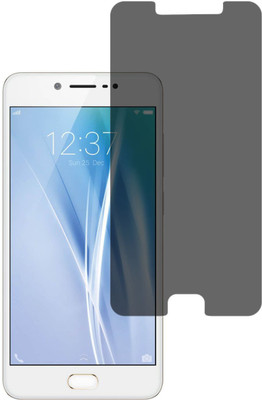 83% OFF
₹ 499.00 @ Flipkart
Check Price @ Amazon
1.ANTISPY - No need to turn down the brightness to get the better effect of privacy, the screen will become invisible when the view angle exceeds 30 degrees.[PLEASE NOTE: Privacy filter may reduce display brightness] 2.cASE FRIENDLY:-Edge to edge screen protector will peel off easily when its in phone cases,we made the privacy screen protector a little smaller than the screen ,it will be a small gap around the phone and compatible with most phone cases. 3.SCRATCH TERMINATOR :- 9H Hardness makes it difficult to scratch, even with a knife, keys, or other sharp objects. Three times stronger than regular PET plastic film screen protectors. 4.EASY INSTALLATION :- The back side is covered with a strong adhesive for easy installation. 5.SENSITIVE TOUCHING :- Ultra thin thickness and smooth surface protect your Phone without affecting your screens quality image or touch sensitivity. 6. WATERPROOF AND OIL-PROOF :- Oleophobic Coating: The protector has an oleophobic coating that prevents water and other contaminants plus makes the film easy to clean. Extends the life of your Phone screen. 7. Package Includes - 1 _ Privacy Tempered Glass Screen Protector 1 _ Alcohol Wipes 1 x Dust Removal Stickers 1 x Microfiber Cleaning Cloths
Brand:   Case Creation
Color:   Privacy Black
Price:   499.00
---
Case Creation Back Screen Guard for Samsung Galaxy A8 Plus(Pack of 1)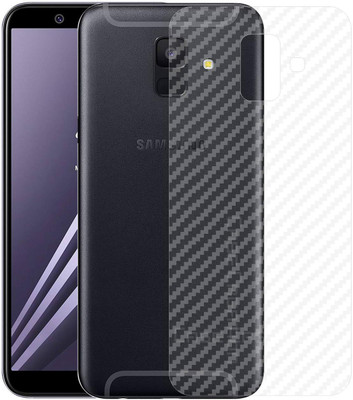 64% OFF
₹ 179.00 @ Flipkart
Check Price @ Amazon
Case Creation Shock-absorbing,Skid-proof,Anti-scratch,Anti-fingerprint 3D Carbon Fiber Skin High Quality Back paste Sticker Back Protective Film Protection Smart Rear Guard 2018.Use High Quality Durable anti-corrosion material, offers tough, durable, transparent surface while keeping the back cover clean and unscratched.Attaches smoothly with self-adhering surface, leaves no residue when remove.3D Skin Sticker is constructed from flexible Soft Guard and with 360 Protection, this professional design gives a fashion look and sleek texture,providing a Smooth feel and superior protection for your phone.Safeguard your smartphone,with our exclusive carbon fiber skin, precision-cut to give you smooth none-slip protection.The unique texture on the back Adds beautify to your Phone and Textured pattern helps in reducing the chances of it slipping out of your hand.Protects your phone's back cover against dusts,scratches,scraping, fingerprint.Attaches smoothly with self-adhering surface,leaves no residue when remove.
Brand:   Case Creation
Color:   HD Clear Back Shield Matte Finish
Price:   179.00
---
Case Creation Tempered Glass Guard for Apple iPhone 6+ 2017(Pack of 2)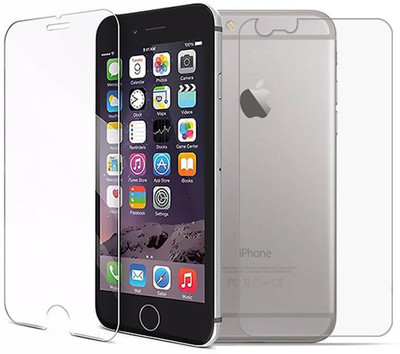 80% OFF
₹ 599.00 @ Flipkart
Check Price @ Amazon
Apple iPhone Tempered Glass,Case Creation TM 2 in 1 Front Back New Branded Ballistic Nano Technology Curve Tempered Glass Flexible Glass Screen Cover Guard For Apple iPhone -Crystal Clear Case Creation TM Premium GLASS Protectors are the latest in state-of-the-art screen protection technology. Highly durable and scratch resistant/chip resistant,this strong 9H (hardness level) protector will guarantee your cell phone the best protection against drops,bumps,scratches and normal wear and tear. Get all the protection without any bulk Glass protectors are a mere .33mm thin making them ultra-light weight to allow for a 'delicate touch' style screen protector that promises not to interfere with the sensitivity of your touchscreen. To top it all off the GLASS protectors are designed to be 99.99% transparent to promote an optimal,natural,crystal clear viewing experience.Simply align the protector with your device and a simple swipe of your finger adheres the protector to your screen-High Definition clear screen protector with 99% clarity keeps the screen looking like new -Anti-oil coating,avoid smudges and reduce the fingerprints Anti-oil coating,avoid smudges and reduce the fingerprints -provides a natural screen experience.Adds Extra Protection Which Prevents Your Smartphone Screen From Scratches And Also From Any Sudden Mishaps.Utilising a unique,multi-layered design and polished with maximum clarity,rounded edges you are completely covered against scratches and drops with Case Creation TM ( TM )Ballistic Glass.Compliment the visuals of your Phone Smartphone display,while providing superior protection against scratches and drops.
Brand:   Case Creation
Color:   Crystal Clear Finish
Price:   599.00
---