Lappymaster 10400 mAh Power Bank (Power Bank With High Capacity and A Grade Original Cell)(Grey, Lithium-ion)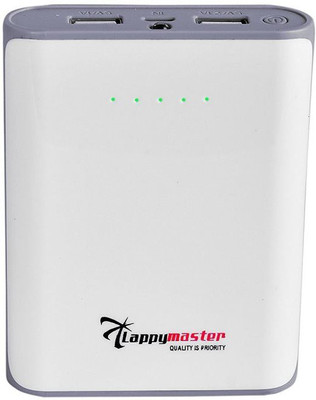 MRP - Rs. 1099
Price - Rs. 599
product description
Lappymaster 10400mAh power Bank is a high quality product manufactured by using best quality components and parts including high capacity original A grade Cell Lithium ?Ion.
This Power Bank Support various models of smart phones manufactured by various companies including Samsung, Apple, Blackberry, Sony, Microsoft etc.
Few Important Features of this power Bank are: Two USB output port can charge two phones together at the same time.
Ultra bright LED Torch.
Works for longer hours and can charge mobile multiple times faster.
High Efficiency of Power Conversion and Electricity Saving function.
Environmental friendly.
Protection from Overcharge and over discharge.
Protection from Short Circuit .Light weight and beautiful design, easy to carry.
Both 1A/2A output charging point given by in this product 1 Meter long cable for easy and comfort for charging.
2mm thickness of the cable with high quality material used for faster data and charging speed.