aarnaa Enamel Keari Alloy Drops & Danglers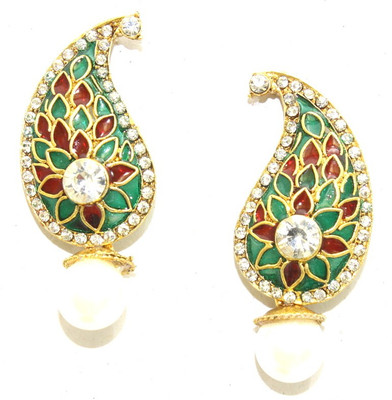 Check Price @ Amazon
LA Trendz Welcomes you to the world of designer jewellery, it modest beginning a decade ago, rare pieces of ornamentation world class craftmanship, women who wear jewellery prasub will never fails to meet your expectations by Quality, trust, tradition and happiness
Color:   Multicolor
Price:   319.00
---
Similar Products
Shining Jewel Brass Jewel Set(Gold)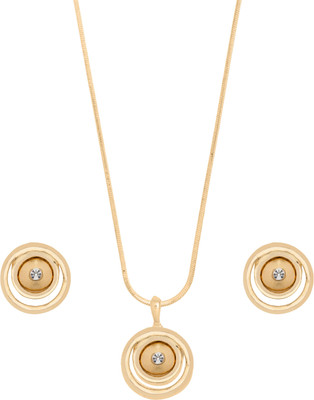 Check Price @ Amazon
Delicate Pendant Set accompanies with Chain and earringsImported quality and best quality of plating and finishing in its categoryCan be worn in office, parties, meetings and functionsSimple and elegant designing making it ideal for gifting and using it Daily
PIAH Brass Gold-plated Bracelet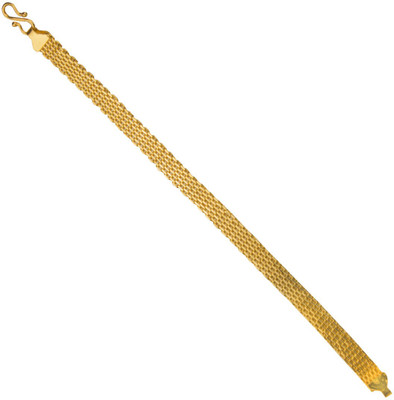 Check Price @ Amazon
Piah Fashion welcomes you to the world of fashion jewellery 1.Metal-Brass 2.Colour-Gold 3.Main Stone-N/A 4.Dimension-Bracelet-L-19.5 cm,W-0.8 cm,H-0.3 cm, 5.Weight- 13 gram, 6.Plating-GoldPlating, 7.Product Type-Mens Bracelet
aarnaa Blue Rani Enamel Alloy Drops & Danglers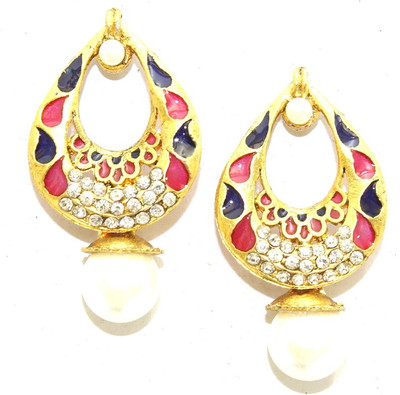 Check Price @ Amazon
LA Trendz Welcomes you to the world of designer jewellery, it modest beginning a decade ago, rare pieces of ornamentation world class craftmanship, women who wear jewellery prasub will never fails to meet your expectations by Quality, trust, tradition and happiness
memoir Brass Jewel Set(Gold, Silver)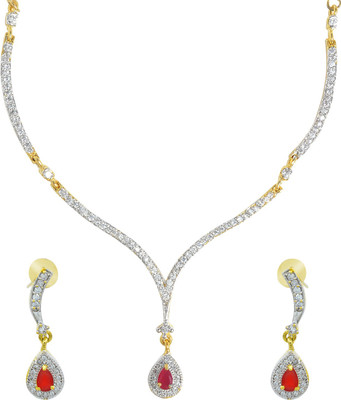 Check Price @ Amazon
Its an inhouse design, which is created for Women, who love to wear colourful Diamond Jewellery. This is one set, which is boiund to find a cherished place in your wardrobe, White and Golden colour, not only look rich, but also match well, with most dresses in your wardrobe. A superfine making and classy piece of Jewellery, which is made with best materials, stones, and components.
aarnaa Blue And Marron Gold Plated Earing Alloy Drops & Danglers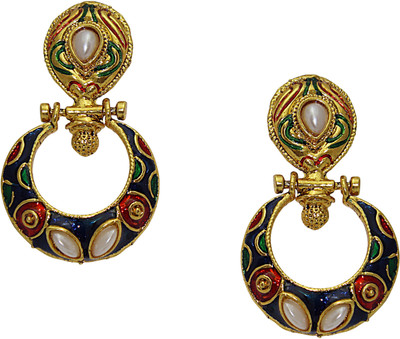 Check Price @ Amazon
LA Trendz Welcomes you to the world of designer jewellery, it modest beginning a decade ago, rare pieces of ornamentation world class craftmanship, women who wear jewellery prasub will never fails to meet your expectations by Quality, trust, tradition and happiness
piah fashion Brass Jewel Set(Maroon)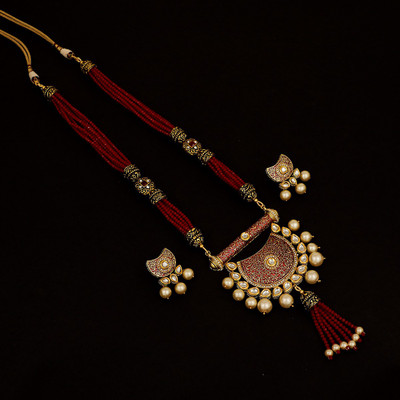 Check Price @ Amazon
Brass Gold-plated meenakri Jewellery Set for girls and womens 1.Metal- brass 2.colur-gold &marron 3.nk L:-37.5cm,W:-5.9 cm 4.Weight:-205 Gram
memoir Brass Jewel Set(Silver)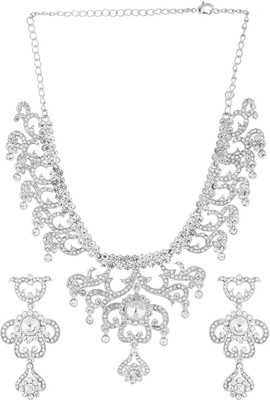 Check Price @ Amazon
Dive into the magical temptation of this stunning necklace set that will make you shine with its sparkling CZ embellishments. Mesmerize everyone with the majestic charm of this unique ornament.
kartik gems RUDRAKSHA CHAIN (100% ORIGINAL) Gold-plated Alloy Pendant Set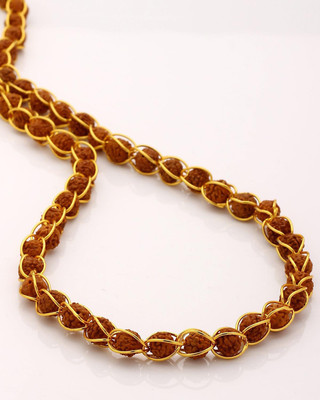 Check Price @ Amazon
Rudraksha Mala is Available at Various Prices Online. However Quality of Gold Plating and Length Varies. We Assure You the Best Value for the Quality We Provide. S-hook locking mechanism, so that you can open and add pendant to the mala, if required.Avoid contact with talc, perfumes and water for longer lasting shine. Best Product and price for you in this category. Buy and Feel the Quality Peace of Mind.
Shining Jewel Brass Jewel Set(Gold)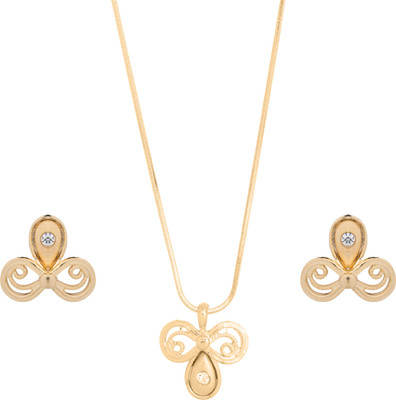 Check Price @ Amazon
Delicate Floral Pendant Set accompanies with Chain and earringsImported quality and best quality of plating and finishing in its categoryCan be worn in office, parties, meetings and functionsSimple and elegant designing making it ideal for gifting and using it Daily
Jewellery Sets & Accessories
Sorted By Price
₹ 319.00
-
aarnaa Enamel Keari Alloy Drops
₹ 256.00
-
Shining Jewel Brass Jewel Set(Gold)
₹ 139.00
-
PIAH Brass Gold-plated Bracelet
₹ 299.00
-
aarnaa Blue Rani Enamel Alloy
₹ 889.00
-
memoir Brass Jewel Set(Gold, Silver)
₹ 339.00
-
aarnaa Blue And Marron Gold
₹ 1,086.00
-
piah fashion Brass Jewel Set(Maroon)
₹ 1,839.00
-
memoir Brass Jewel Set(Silver)
₹ 74.00
-
kartik gems RUDRAKSHA CHAIN (100%
₹ 256.00
-
Shining Jewel Brass Jewel Set(Gold)
Sorted By Brand
aarnaa
-
aarnaa Enamel Keari Alloy Drops
Shining Jewel
-
Shining Jewel Brass Jewel Set(Gold)
PIAH
-
PIAH Brass Gold-plated Bracelet
aarnaa
-
aarnaa Blue Rani Enamel Alloy
memoir
-
memoir Brass Jewel Set(Gold, Silver)
aarnaa
-
aarnaa Blue And Marron Gold
piah fashion
-
piah fashion Brass Jewel Set(Maroon)
memoir
-
memoir Brass Jewel Set(Silver)
kartik gems
-
kartik gems RUDRAKSHA CHAIN (100%
Shining Jewel
-
Shining Jewel Brass Jewel Set(Gold)
Sorted By Discount
64%
-
aarnaa Enamel Keari Alloy Drops
87%
-
Shining Jewel Brass Jewel Set(Gold)
89%
-
PIAH Brass Gold-plated Bracelet
66%
-
aarnaa Blue Rani Enamel Alloy
55%
-
memoir Brass Jewel Set(Gold, Silver)
77%
-
aarnaa Blue And Marron Gold
84%
-
piah fashion Brass Jewel Set(Maroon)
38%
-
memoir Brass Jewel Set(Silver)
91%
-
kartik gems RUDRAKSHA CHAIN (100%
87%
-
Shining Jewel Brass Jewel Set(Gold)