boAt Stone 190F 5 W Bluetooth Speaker(Red, Stereo Channel)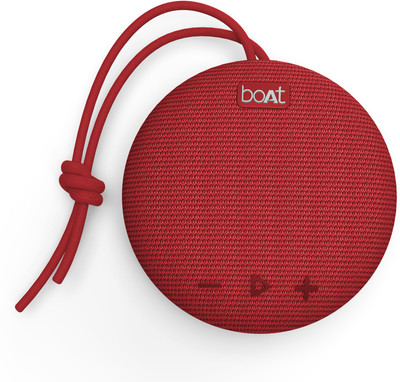 66% OFF
@ Flipkart
Check Price @ Amazon
These Sennheiser Bluetooth headphones will help motivate you to complete various tasks with ease. They give you an engaging sound experience with their deep bass feature. Thanks to their long-lasting battery life and fast USB-C charging, you can enjoy using them for a long time without worrying about running out of charge.
Color:   Red
Price:   999.00
---
Similar Products
Philips BT40 Portable Bluetooth Speaker(Black, Mono Channel)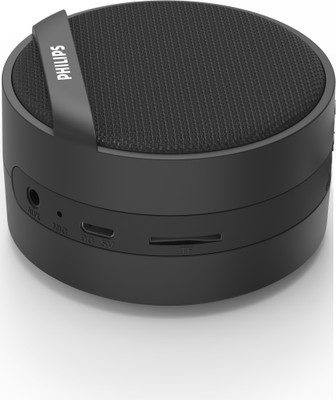 45% OFF
₹ 1,099.00 @ Flipkart
Check Price @ Amazon
Brand:   Philips
Color:   Black
Price:   1,099.00
---
PALCO PAL4444 25 W AV Power Amplifier(Black)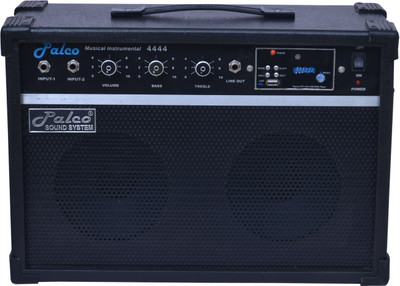 3% OFF
₹ 2,695.00 @ Flipkart
Check Price @ Amazon
This product has amazing features, it has two inputs provided and one line out jack is there. Three tone controls are provided to adjust volume, bass and treble of the system. The two speakers of six inches are provided which makes it sound loud and clear. Through the 2 inputs we can amplify any sound comes through guitar, keyboard and mic as well as. Through line out option, the sound of amplifier can be given to some other system also. It produces the output of 25 watts and it is driven by 220V ac supply. There is battery point provided at the back side of amplifier where there is provision to attach 12V DC battery externally.Along with these features it also has one necessary features which fulfills most of us needs i.e. it has USB, FM,MP3 features. The USB, FM Panel is provided at the top right side of the product. The remote control is also provide along with the product. Apart from these features the body design is very good, the whole body is made of wood material and at the outer body black color coating is provided which makes it looks very attractive.
Brand:   PALCO
Price:   2,695.00
---
Dulcet DC-A60X 2 Channel High Power Stereo Amplifier with Big LED Display/Bluetooth/MIC Input/USB/SD Card Slot/FM Radio/AUX Input/Remote Control & Built-in Equalizer with Bass, Treble & Balance Control 240 W AV Power Amplifier(Black)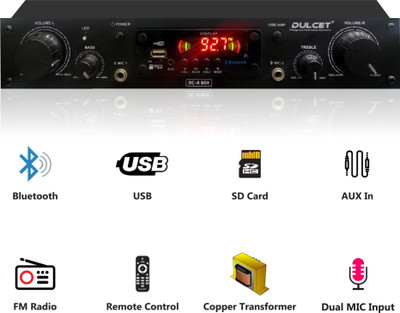 55% OFF
₹ 2,190.00 @ Flipkart
Check Price @ Amazon
Enhance your Entertainment Experience with Dulcet DC-A60X High Power Amplifier that supports various external sources inputs like FM/Radio, USB, AUX, SD Card, MIC & Built-in bluetooth offers a wide range of audio playback options along with a wide range of Bluetooth enabled devices compatibility moreover the 6 RCA Socket input enable you to easily connect it with DVD, TV, Mobile, Home Theater or Laptops that makes it a perfect choice for all your Entertainment needs. It's timeless design gives an understated luxury feel that will last in form and function for years to come with it's simple operations & versatile connection options makes it suitable for all small occasions at Home, Office, Factory, Schools, Satsang Bhawan, Mosque, Temple, Gurudwara, Church, Coaching Centre or any other public place. You can easily connect 4 Speakers/Woofers of 8" to 10" inches each with 4/8 Ohms in its 2 Slots. At Dulcet we only Use very High Quality Parts that are carefully selected and tested to handle demanding audio signal condition & each detail of this Amplifier is optimized for maximum power, minimal interference & precise audio reproduction. Its Heavy Duty Metal Chassis protects the amplifier from external damage for years to come. The 100% Copper Transformer is positioned near the amplifier circuit for peak power supply which ensures improved sound & power handling. The Built-in short circuit and overload protection circuitry ensures the safety between all connected electronic equipment and speakers. It comes with Elegant Rotary Knobs for Bass, Treble, Balance & Master Volume Control that gives you the control to Customize the sound output according to your own preference & the Wireless Remote Control makes it easier to be in Control of your Entertainment as all the functions of the Amplifier can be Controlled by the Remote itself. Also, It's Made in India & comes with a 12 Months Warranty that insures if something goes wrong with the Amplifier within 12 Months of the Purchase date. We will get it repaired or replaced (if necessary) for FREE. For Any Other Product Related Doubts or Queries you can raise a Support Ticket to our Dedicated Customer Support Help-desk at Dulcet.Freshdesk.com or feel free to reach out to us on WhatsApp or Call at our Official Customer Support Number +91-8882-630-630 from 10 am to 6 pm Monday to Saturday & our team of experts will do whatever they can to resolve your concerns within the Quickest Time Possible.
Brand:   Dulcet
Price:   2,190.00
---
Disco Jhankar Express Music 3333 10 W AV Power Amplifier(Black)

18% OFF
₹ 899.00 @ Flipkart
Check Price @ Amazon
In search of a Compact amplifier with a Bass, Treble Control? Your search ends here with Disco Jhankar Express Music 3333 Amplifier. A Compact Amplifier with all features that can be seen on a professional amplifier. Connect up to two 4 or 6 inch speakers for a 20 w output. A great product for people with less budget.
Brand:   Disco Jhankar
Price:   899.00
---
boAt Stone Grenade 5 W Portable Bluetooth Speaker(Charcoal Black, Mono Channel)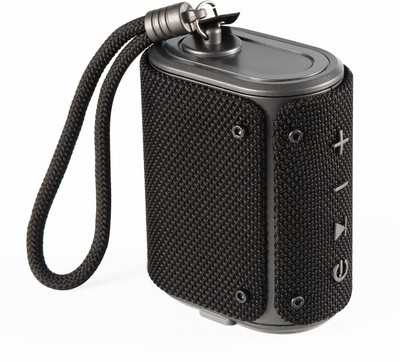 62% OFF
₹ 1,499.00 @ Flipkart
Check Price @ Amazon
Listen to music in stellar quality with this boAt speaker. With a multitude of features, such as 7-hours of playback time, water-resistant, and easy access control, this speaker ensures a fulfilling aural experience.
Brand:   boAt
Color:   Charcoal Black
Price:   1,499.00
---
Mi Compact 2 W Bluetooth Speaker(White, Mono Channel)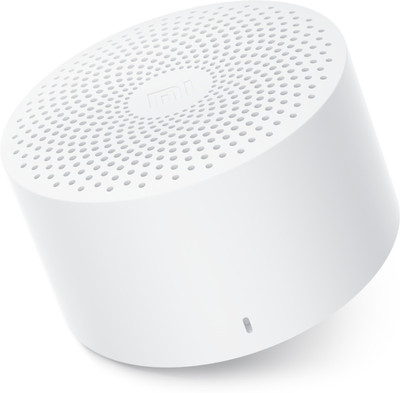 11% OFF
₹ 799.00 @ Flipkart
Check Price @ Amazon
Brand:   Mi
Color:   White
Price:   799.00
---
M Mod Con 999 Bluetooth AUX USB 158 W AV Control Amplifier(Multicolor)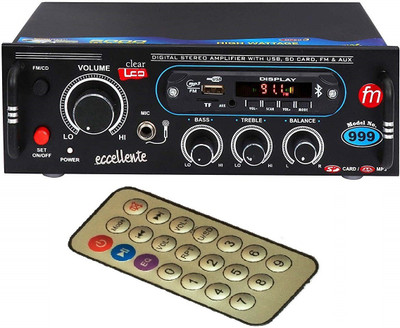 60% OFF
₹ 1,199.00 @ Flipkart
Check Price @ Amazon
The Amplifier Led Light Display. The product supports all Bluetooth Device;Tablets, Mobile, TV, LED Smart TV, Desktop, Laptop. You can connect it through Bluetooth, AUX line, FM Radio, Pendrive, USB
Brand:   M Mod Con
Price:   1,199.00
---
JBL Tuner Portable Bluetooth Speaker(Black, Stereo Channel)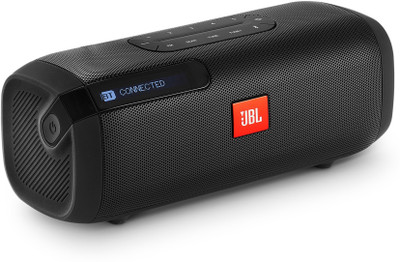 47% OFF
₹ 3,699.00 @ Flipkart
Check Price @ Amazon
Bring home this speaker from JBL and blast your favourite tunes without any hassle. This speaker is Bluetooth-enabled (4.1) and it packs a 2000-mAh in-built battery that offers up to 8 hours of playback time, so you can keep the spirit of the party alive for a long time.
Brand:   JBL
Color:   Black
Price:   3,699.00
---
Ahuja SSB-80DFM with Bluetooth 80 W AV Power Amplifier(Black)

6% OFF
₹ 8,999.00 @ Flipkart
Check Price @ Amazon
Ahuja SSB-80DFM high performance amplifier with Bluetooth, USB option, FM and Remote
Brand:   Ahuja
Price:   8,999.00
---