Vatsin Nano Glass for Samsung Galaxy Note 20 Ultra(Pack of 2)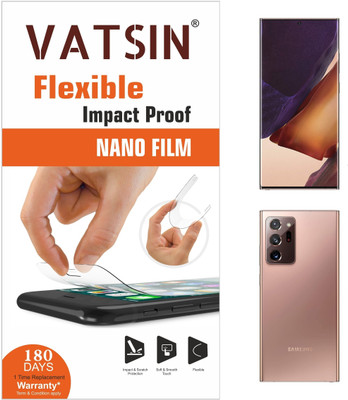 43% OFF
@ Flipkart
Check Price @ Amazon
9H Screen Protector has been specially made with scratch resistant material and rounded edges for a more precise fit. Due to the Glossy Finish and surface hardness of the Film, Screen Protector provides premium protection and no lose in touch screen sensitivity. Surface hardness Three times stronger than regular PET film. Even sharp objects such as knives and keys will not scratch the Glass Screen Protector. Oleo phobic Coating: The Glass Screen Protector has an oleo phobic coating that prevents fingerprints and other contaminants and makes the film easy to clean. Anti-Shatter Film: If broken, the Glass Screen Protector cracks into small pieces that are held within the film. They are not sharp, making it safer than other glass products. CAUTION *When removing for re-use, the adhesive properties might wear off to an extent where the screen protector will not adhere to the device. It is not recommended to reuse the Glass Screen Protector once it's been applied. *Using excessive force when installing or removing the screen protector may damage the product
Color:   Transparent
Price:   899.00
---
Similar Products
Ultimate Edge To Edge Tempered Glass for Vivo X50 Pro(Pack of 1)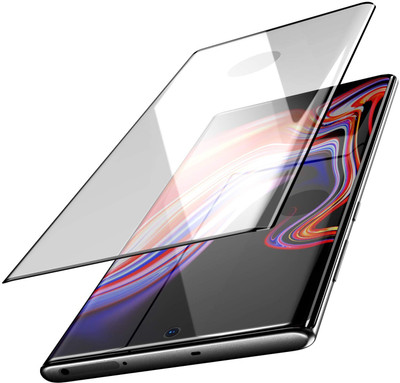 38% OFF
₹ 799.00 @ Flipkart
Check Price @ Amazon
Ultimate Scratch Protection: Premium tempered glass effectively resists scratches thanks to its 9H hardness rating(harder than a knife)2. HD Clarity: 99% transparency and oleophobic anti-smudge coating maintain your devices original high-definition viewing experience and high-sensitivity touch response. 3. Each screen protector has an 8H to 9H hardness rating, providing you outstanding protection from knives, scrapes, cracks, keys and general wear and tear. 4. Ultra Easy: Super easy to install. No bubbles, No fuzz 5. 100% touch sensitivity It owns super high transmittance and high restoring the original color of screen. It supports anti-glare coating to prevent glare derivative. Used tempered glass, its hardness up to 9H; scratch-resistant flowers and blowout.
Brand:   Ultimate
Color:   Transparent
Price:   799.00
---
Signature EL Edge To Edge Tempered Glass for Reno 4 Pro - Made specially to suit Reno 4 Pro, ,Unique and Perfect(Pack of 1)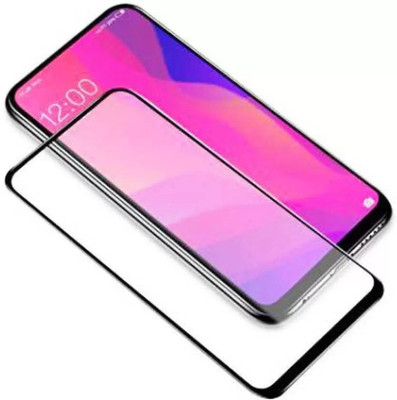 38% OFF
₹ 799.00 @ Flipkart
Check Price @ Amazon
Brand:   Signature EL
Color:   Black
Price:   799.00
---
Scratchgard Nano Glass for Samsung Galaxy Note 10(Pack of 1)
5% OFF
₹ 949.00 @ Flipkart
Check Price @ Amazon
THIS IS NOT TEMPERED GLASS High-Definition Extreme all body Protection 7X shatter protection of your original screen, a shock-resistant impact cushioned layer, and advanced clarity and a virtually indestructible Military Grade thermoplastic film for both the display and phone body. Kurve is flexible and contours to round edge displays offering complete screen and body coverage providing maximum protection.
Brand:   Scratchgard
Color:   Clear
Price:   949.00
---
XTRENGTH Edge To Edge Tempered Glass for Apple iPhone 11(Pack of 1)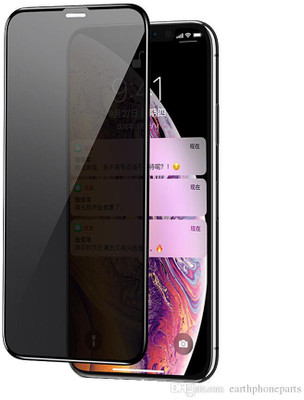 0% OFF
₹ 999.00 @ Flipkart
Check Price @ Amazon
NEW TECHNOLOGY! XTRENGTH Bring you the ROLLS ROYCE OF Screen Protectors which is Fully Adhesive and Highly Durable the world's most premium Tempered Glass Screen Protector available.Are you looking to protect your expensive smart-phone display screen? Then you are at right page, because we provided a insurance policy in the form of smooth clear tempered glass which is better than any Screen Guard and Tempered Glass you had ever you used in the past.
Brand:   XTRENGTH
Color:   Black
Price:   999.00
---
DOB Edge To Edge Tempered Glass for Apple iPhone X(Pack of 1)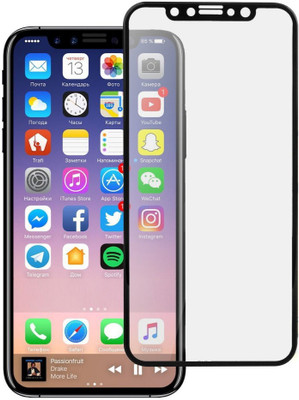 45% OFF
₹ 1,099.00 @ Flipkart
Check Price @ Amazon
HD Tempered Glass (Shatter Proof 0.3mm 2.5D Round Edge) Anti Oil Glass Screen Protector Scratch Guard With Electroplating Coating. Material: Japanese Asahi glass. Super HD 98%-99% Transparency Highly Sensitive Touch. Super Scratch-Resistance Wear-Resistance. Shatter Proof Explosion Proof Super Protection. 2.5D Smooth Round Edges. Antistatic Adsorption and Automatic Bonding with the screen. Completely Bubble Free if Installed in Dust free environment. Anti-Fingerprint Anti-oil easy to apply and easy to remove. Electroplating Polish to Keep the Long-lasting Finish and touch sense. No harm to Mobile touch and sense. It has zero gaps between the Mobile screen and Glass Protector. With Retail Packaging.What is In the Box:1 x HD Tempered Glass.2 x Dust Removal Sticker.1 x Cleaning Microfiber Cloth.
Brand:   DOB
Color:   Black
Price:   1,099.00
---
Dainty Edge To Edge Tempered Glass for Samsung Galaxy Note 20(Pack of 1)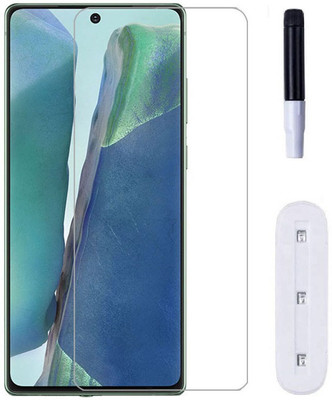 0% OFF
₹ 1,199.00 @ Flipkart
Check Price @ Amazon
UV TECHNOLOGY SCREEN GUARD - It is a UV Technology Border Less Temper Glass which has full glue and full edge to edge coverage. The Glass is installed with the help of UV light & UV silicon adhesive. PACKAGE CONTAINS: 1 UV Tempered Glass, 1 UV Glue, 1 UV Light, 1 Alignment Sticket, 1 Dry & Wet Wipes FINGERPRINT & FRONT CAMERA COMPATIBLE : The Screen Protector is speically designed to be fully compatible with Fingerprint Sensor. You won't feel any difference while using the Mobile with this Glass on. It is also full compatible with front camera. The camer quality remains intact with this glass PEACE OF MIND: Now, you don't have to worry about the Mobile Screen when putting your mobile on table, surface, pockets, keys etc. as the temper glass will protect it FEATURES: 11D Gorilla Guard, Bubble proof Screen Guard, Scratch Resistant Temper Glass, Anti fingerprint Screen Protector, Anti-glare Screenguard, Anti-shatter Origianl Tempered Glass, Touch sensitive ORIGINAL QUALITY: The temper glass does not interferes with your screen quality and the retains the original quality touch feeling and usage experience
Brand:   Dainty
Color:   Transparent
Price:   1,199.00
---
Nillkin Tempered Glass Guard for Samsung Galaxy A21s(Pack of 1)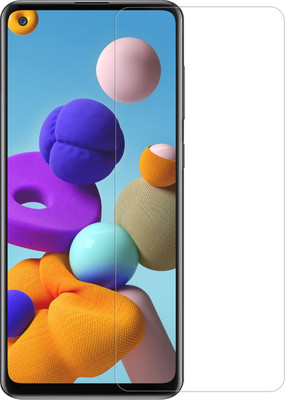 46% OFF
₹ 809.00 @ Flipkart
Check Price @ Amazon
NILLKIN Amazing H Anti-explosion Tempered Glass. Made from Japan imported AGC glass. Hardness up to 9H after 4 hours of high temperature tempering. With excellent defensive performance. Anti-explosion, scratch and impact resistant. Processed by advanced technology. CNC cutting technology and 2.5D edging process. Perfectly fit your device. Nano oleophobic coating provides better anti-fingerprint performance. Anti-glare and filtrate UV. Only 0.33mm thin. Ultra-clear and thin. Easy to apply and bubble-free.
Brand:   Nillkin
Color:   Transparent
Price:   809.00
---
Vatsin Nano Glass for Samsung Galaxy S10(Pack of 2)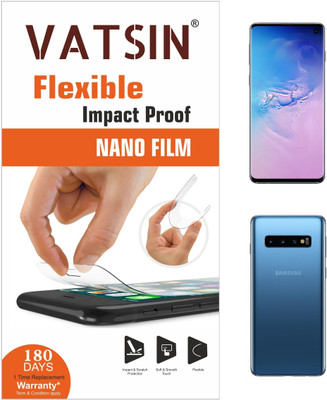 43% OFF
₹ 899.00 @ Flipkart
Check Price @ Amazon
9H Screen Protector has been specially made with scratch resistant material and rounded edges for a more precise fit. Due to the Glossy Finish and surface hardness of the Film, Screen Protector provides premium protection and no lose in touch screen sensitivity. Surface hardness Three times stronger than regular PET film. Even sharp objects such as knives and keys will not scratch the Glass Screen Protector. Oleo phobic Coating: The Glass Screen Protector has an oleo phobic coating that prevents fingerprints and other contaminants and makes the film easy to clean. Anti-Shatter Film: If broken, the Glass Screen Protector cracks into small pieces that are held within the film. They are not sharp, making it safer than other glass products. CAUTION *When removing for re-use, the adhesive properties might wear off to an extent where the screen protector will not adhere to the device. It is not recommended to reuse the Glass Screen Protector once it's been applied. *Using excessive force when installing or removing the screen protector may damage the product
Brand:   Vatsin
Color:   Transparent
Price:   899.00
---
Signature EL Edge To Edge Tempered Glass for Vivo X50 Pro - Made specially to suit X50 Pro, Unique and Perfect(Pack of 1)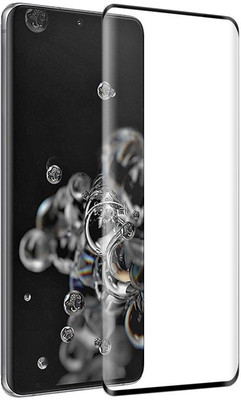 38% OFF
₹ 799.00 @ Flipkart
Check Price @ Amazon
Brand:   Signature EL
Color:   Black
Price:   799.00
---