Prestige Atlas Plus 750 W Juicer Mixer Grinder(Blue, White, 4 Jars)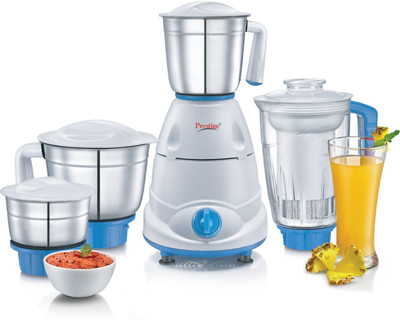 42% OFF
@ Flipkart
Check Price @ Amazon
Bring home the versatile and powerful juicer-mixer-grinder from Prestige so that you can prepare a variety of smoothies, fruit juices, purees, chutneys, dosa batters, and more with ease. This appliance comes with a transparent juicer jar which is perfect for all your juicing needs. Also, this appliance comes with three stainless steel grinding jars to help you grind ingredients finely. The ergonomic handles help you hold the jars firmly, making this a durable kitchen appliance for your everyday use.
Color:   Blue, White
Price:   2,849.00
---
Similar Products
Pigeon FAVOURITE Electric Kettle(1.5 L, Silver, Black)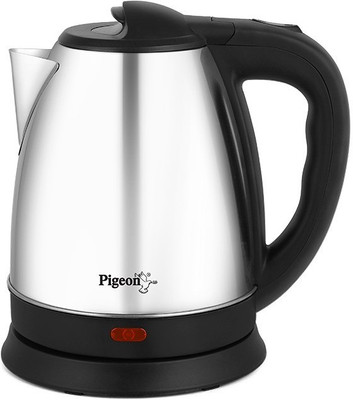 41% OFF
₹ 699.00 @ Flipkart
Check Price @ Amazon
This electric kettle from Pigeon will soon become a travelers' best friend, a hostelite saviour and an answer to all the midnight cravings. With this handy appliance, you can boil water and use it to make instant noodles, packet soup, coffee and green tea. Ergonomic Design This appliance is ergonomically designed and comes with a comfortable, cool touch handle and a stainless steel body which allows you to boil water effortlessly. Power Consumption To help you save electricity and to make you a responsible citizen, this 1.5 L kettle consumes just about 1200 W of power. So use this appliance as much as you want without having to worry about the soaring power usage.
Brand:   Pigeon
Color:   Silver, Black
Price:   699.00
---
Craftify High Quality 1500 W Immersion Heater Rod(Water)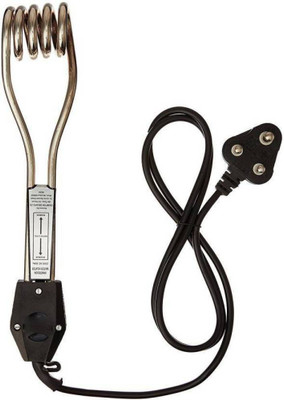 71% OFF
₹ 260.00 @ Flipkart
Check Price @ Amazon
Energy-efficient Immersion Heater Immersion water heaters are extremely useful and a convenient way for heating water. Craftify immersion heating rod is a must-have product for your home. Thanks to its compact in size, this immersion heater can be easily accommodated in storing places or cabinets. This Craftify immersion heater heats water quickly consuming 1500W, thus proving to be energy-efficient. Designed with hairpin tubular elements, this 1500 watts immersion heater facilitates optimum heat transfer for an enhanced performance. To get hot water, you have to simply dip it in a tub, bucket or container of water and switch on the rod. Safe and Easy to Use Water Heater Since it is made from anti-corrosive plastic material and copper with nickel plating, this electric water heater is durable and will function efficiently for long. This electric immersion heater complies with all standards of quality and safety, thus proving to be safe for use at home and even outdoors. The Craftify electric immersion heater is a safe and economic option for heating water that is needed for use outside the bathroom. Equipped with heat-proof plastic handles, this rod offers you a comfortable and firm grip during use. moreover, you can easily clean and maintain this heater. Brand: Craftify Material: Brass with Nickel plating Low Cost Water Heating Consumes less energy Hairpin tubular elements Anti-Corrosive Material Power Consumption : 1500W Manufacturer's Warranty : 12 Months.
Brand:   Craftify
Price:   260.00
---
Bajaj Majesty DX 6 1000 W Dry Iron(White)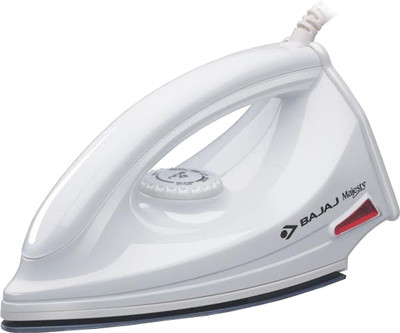 26% OFF
₹ 675.00 @ Flipkart
Check Price @ Amazon
You don't need to wear fancy clothes from high-end brands to look presentable. Wearing neatly ironed clothes is enough to look your best. Get this 1000 W Bajaj dry iron and remove all those stubborn creases and wrinkles off your clothes.
Brand:   Bajaj
Color:   White
Price:   675.00
---
Crompton BRIO 1000 W Dry Iron(SKY BLUE)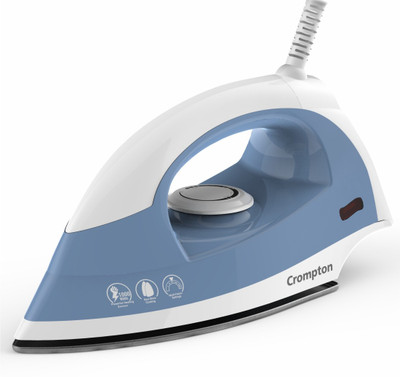 23% OFF
₹ 499.00 @ Flipkart
Check Price @ Amazon
Smoothening the creases on your clothes may not always be the easiest thing but this Crompton iron will make ironing much more convenient. It comes with the Weilberger coating, which enhances the heat plate's durability. On top of that, its ergonomic design makes it easier to glide it on your clothes, along with providing a better grip. Furthermore, you can iron every fabric optimally, as it comes with 6 fabric settings.
Brand:   Crompton
Color:   SKY BLUE
Price:   499.00
---
Singer Aroma(SKT 180 ASE) Electric Kettle(1.8 L, Silver, Black)
69% OFF
₹ 725.00 @ Flipkart
Check Price @ Amazon
With the Singer Aroma (SKT 180 ASE) Electric Kettle in your kitchen, you can boil water for your green tea, instant noodles, and/or instant soups in no time. This electronic kitchen appliance features a 360° Cordless Pirouette Base, Dry Boiling Protection, and an Auto Shut Off function to make it a safe, convenient, and efficient kitchen essential.
Brand:   Singer
Color:   Silver, Black
Price:   725.00
---
Bajaj GX1 500 W Mixer Grinder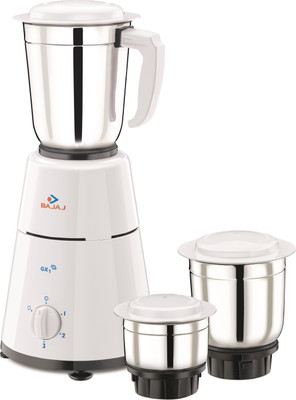 45% OFF
₹ 1,899.00 @ Flipkart
Check Price @ Amazon
Whether you want to grind spices for a special recipe or make dosa batter at home, this Bajaj mixer grinder has got you covered. With the stainless steel jars and their easy-grip handles, this grinder ensures a hassle-free grinding experience. This grinder comes with an automatic shut-off feature that keeps it safe from any electrical damage.
Brand:   Bajaj
Color:   White
Price:   1,899.00
---
Lifelong LLCMB02 500 W Mixer Grinder (White, 3 Jars) & 1100 W Dry Iron (White, Blue) Super Combo
52% OFF
₹ 1,599.00 @ Flipkart
Check Price @ Amazon
Make some delicious recipes at home with the help of this mixer grinder by Lifelong. With a multitude of features, such as the 3-speed setting knob, easy-grip handles, and a 500 W powerful motor, this mixer grinder makes cooking easy and convenient.
Brand:   Lifelong
Color:   Blue, White
Price:   1,599.00
---
Orient Electric Fabri Press DIFP10BP 1000 W Dry Iron(Blue, Black)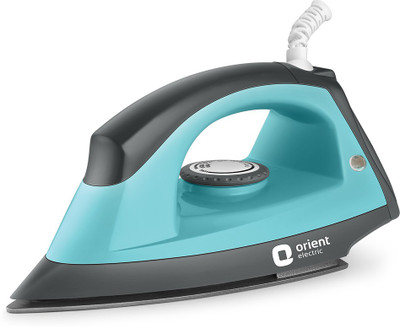 44% OFF
₹ 549.00 @ Flipkart
Check Price @ Amazon
Bring home this iron from Orient for a smooth and quick ironing experience. Featuring the Dupont American Heritage, non-stick soleplate, a 360-degree swivel cord, and a temperature-control knob, this iron is equipped to handle it all.
Brand:   Orient Electric
Color:   Black, Blue
Price:   549.00
---
Butterfly Rapid Kettle 1.5 Litre + Eco 750 Ml Water Bottle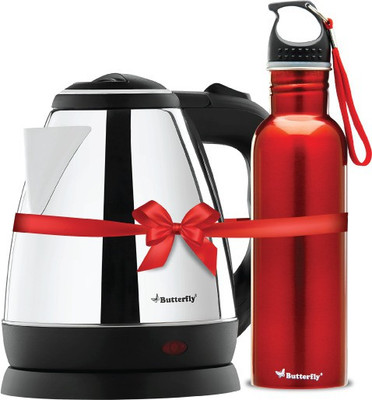 46% OFF
₹ 799.00 @ Flipkart
Check Price @ Amazon
Prepare hot water, instant tea etc in a matter of minutes with Butterfly EKN 1.5 Kettle. With attractive features like automatic cut-off, ergonomically designed handles, unique designs with attractive finishes, lightweight and compact, making it easy to carry. To top it off, it also comes with the best in class safety features & stainless Steel water bottle , making it safe to use.
Brand:   Butterfly
Color:   Black and Red
Price:   799.00
---