ALLMUSIC Rich base original high quality c56 Wired Headset(White, In the Ear)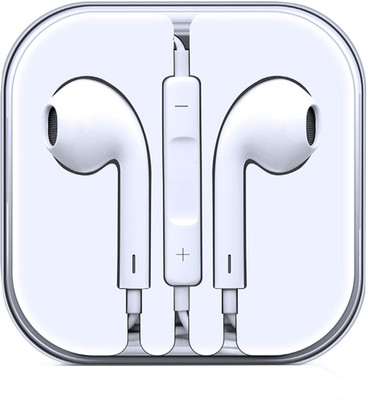 65% OFF
@ Flipkart
Check Price @ Amazon
PRESENTING YOU THE POWERFUL STEREO EARPHONES WITH DEEP RICH AND BASS WITH FIRING SOUND BEATS COMPATIBLE FOR ALL SAMSUNG MODELS & IPHONE ALL SERIES,,ENJOY THE MUSIC AT ITS GLANCE AND FEET TAPPING MUSIC WITH THIS POWERFULPOWERED EARPHONES ,,CONVENIENT DESIGN AND LOOK MAKES IT STYLISH AND WITH IN BUILT CALLING MIC YOU CAN ENJOY SUPERIOR SOUND QUALITY EVEN DURING CALLS
Color:   White
Price:   349.00
---
Similar Products
AUDIO PARK AUDI-PINK Wired without Mic Headset(Pink, In the Ear)
32% OFF
₹ 3,999.00 @ Flipkart
Check Price @ Amazon
Brand new Gift Boxed Braclet earphones by Brand AUDIOPARK it has new microspeaker technology which makes this earphones WIDER HIGHER DEEPER with 5.5 mm driver Can be used with all kind of devices with 3.5 mm jack
Brand:   AUDIO PARK
Color:   Pink
Price:   3,999.00
---
Audio Technica ATH COR150 Wired without Mic Headset(Pink, In the Ear)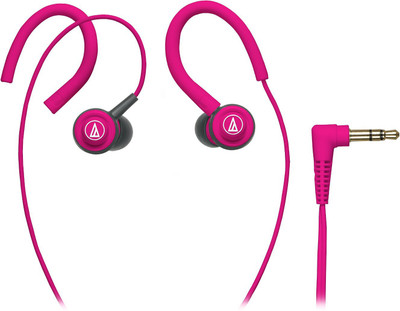 32% OFF
₹ 599.00 @ Flipkart
Check Price @ Amazon
Brand:   Audio Technica
Color:   Pink
Price:   599.00
---
MX 3333-Pink Wired without Mic Headset(Pink, On the Ear)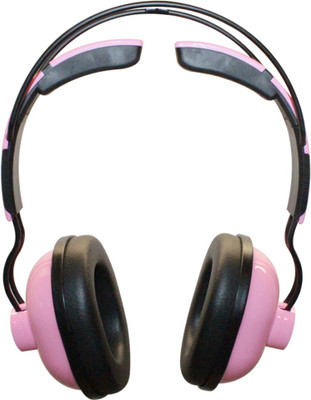 44% OFF
₹ 989.00 @ Flipkart
Check Price @ Amazon
MX Circumaural Closed-Back Headphones is a newly launched Headphones for high Definition Sound. MX Circumaural Closed-Back Headphones is Compact and Sturdy.MX Headphones are committed to give music enthusiasts and Audiophiles the best in high definition sound experience. MX Headphones gives you natural hearing experience with minimal resonance
Brand:   MX
Color:   Pink
Price:   989.00
---
ALLMUSIC original high quality d 3456 Wired Headset(Pink, In the Ear)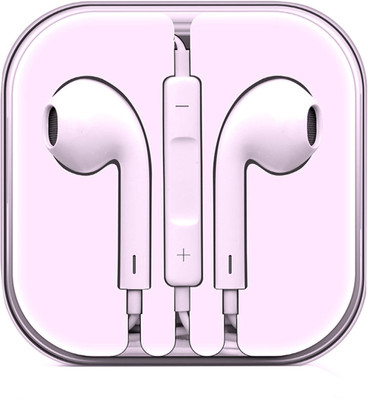 55% OFF
₹ 375.00 @ Flipkart
Check Price @ Amazon
PRESENTING YOU THE POWERFUL STEREO EARPHONES WITH DEEP RICH AND BASS WITH FIRING SOUND BEATS COMPATIBLE FOR ALL SAMSUNG MODELS & IPHONE ALL SERIES,,ENJOY THE MUSIC AT ITS GLANCE AND FEET TAPPING MUSIC WITH THIS POWERFULPOWERED EARPHONES ,,CONVENIENT DESIGN AND LOOK MAKES IT STYLISH AND WITH IN BUILT CALLING MIC YOU CAN ENJOY SUPERIOR SOUND QUALITY EVEN DURING CALLS
Brand:   ALLMUSIC
Color:   Pink
Price:   375.00
---
Crowdpex Hands-Free EHS61ASFWE (GH59-11849C) 3.5 mm jack Wired Headset(White, In the Ear)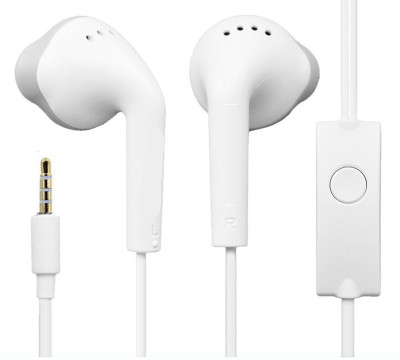 36% OFF
₹ 284.00 @ Flipkart
Check Price @ Amazon
New; A brand-new, unused and undamaged item. See the seller's listing for full details. See all condition definitions Brand : Samsung Colour : White Warranty : 6 Month Features : Foldable Compatible Brand : Universal, For Samsung With or Without Mic : With Mic Type : Wired Earpiece Design : Canal Earbud (In Ear Canal) Connector(s) : 3.5 mm Jack Fit Design : In-Ear only Earpiece : Double UPC : Does not apply Original SAMSUNG 3.5mm Jack Handsfree Headset Earphones+Mic Lightweight and comfortable, this enables you to carry on conversations while you continue to do other things. Please note- One side of the ear phones is longer than the other side. Built-in Microphone In-the-ear Headset Description : Enjoy feet tapping music with this pair of Samsung wired earphones. Whether you are travelling in the bus or working at office, keep yourself entertained by listening to your favorite tunes in high-quality with this headset. Wired These wired, in-the-ear earphones not only offer a secure fit but also offer a long-lasting comfort. In Line Remote This pair of earphones comes with an inline remote which offers better control - you can pause and play music without having to fidget with your phone
Brand:   Crowdpex
Color:   White
Price:   284.00
---
ALLMUSIC original high quality c2343 Wired Headset(Pink, In the Ear)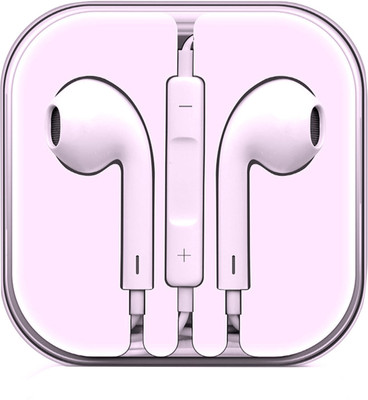 61% OFF
₹ 326.00 @ Flipkart
Check Price @ Amazon
PRESENTING YOU THE POWERFUL STEREO EARPHONES WITH DEEP RICH AND BASS WITH FIRING SOUND BEATS COMPATIBLE FOR ALL SAMSUNG MODELS & IPHONE ALL SERIES,,ENJOY THE MUSIC AT ITS GLANCE AND FEET TAPPING MUSIC WITH THIS POWERFUL EARPHONES ,,CONVENIENT DESIGN AND LOOK MAKES IT STYLISH AND WITH IN BUILT CALLING MIC YOU CAN ENJOY SUPERIOR SOUND QUALITY EVEN DURING CALLS
Brand:   ALLMUSIC
Color:   Pink
Price:   326.00
---
Audio Technica ATH-COR150 Wired without Mic Headset(Black, In the Ear)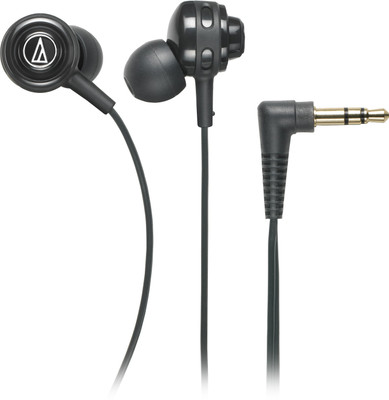 3% OFF
₹ 955.00 @ Flipkart
Check Price @ Amazon
Do your old wired earphones keep coming on your way and fall off while you are working out in the gym or jogging in a park? Then get this Audio Technica ATH-COR150 headphone which not only delivers good quality sound but also comes with accessories that can keep the earbuds tucked in one place.  Oval Hangers and Silicone Eartips This travel-friendly canal headphone comes with oval hangers which you can use to snap-on and snap-off the wire anytime you want. It also has silicone ear tips which make it comfortable to wear. This audio output with a core bass is engineered to produce impressive bass sounds and heavy tones as well. 
Brand:   Audio Technica
Color:   Black
Price:   955.00
---
Audio Technica ATH-COR150 Wired without Mic Headset(Blue, In the Ear)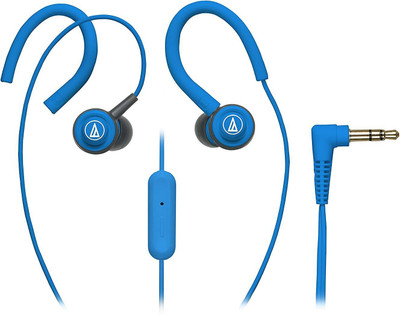 7% OFF
₹ 915.00 @ Flipkart
Check Price @ Amazon
Audio-Technica brings its pro audio expertise to the design of Core Bass in-ear headphones. Proving that even a small earphone can produce an impressive bass response, Core Bass offers full and heavy tones for rock, electronica and bass-driven metal … without sacrificing clarity. These advanced-fit in-ears come equipped with snap-on, snap-off ear hooks for the latest word in comfort and wearing stability. Snap them on if you prefer an over-the-ear cord-fit engineered to keep the Core Bass 'phones perfectly in place in the gym or out and about, regardless of your activity level. Snap them off if you prefer a more traditional fit, with the cord resting in front of the ear. The included travel-friendly cord wrap makes it easy to carry the in-ears without tangling the cord.
Brand:   Audio Technica
Color:   Blue
Price:   915.00
---
Shopizone Super Classy Bluetooth without Mic Headset(Pink, In the Ear)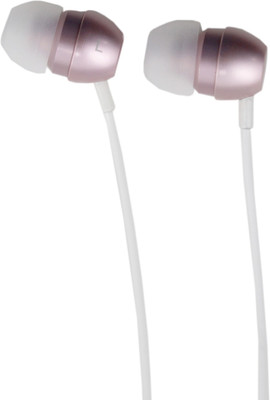 50% OFF
₹ 499.00 @ Flipkart
Check Price @ Amazon
The earpieces are designed to fit comfortably in ears whilst allowing external noise to still be heard. The extra bulge on each earpiece helps hold it in the ear securely without discomfort.The new headsets are now configured to work on the newer handsets no matter which part of the world they come from. Product is Lightweight, Comfortable fit in ears. Product is sleek and stylist desing and high quality sound. Product Type : Headphone. Functions : Multi Functions Button. Connector Type : 3.5 mm. Frequnc Response : Range 20-2000 Hz.
Brand:   Shopizone
Color:   Pink
Price:   499.00
---