MX Value On Ear DJ Headphones with Swivelling Ear Cups & Included Carry Bag DJ 1000-Green Wired Headphone(Green and Black, Over the Ear)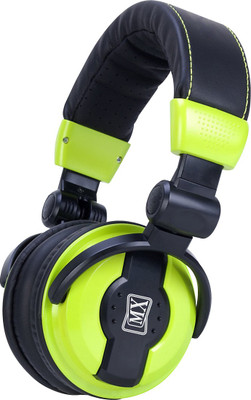 MRP - Rs. 2475
Price - Rs. 2250
product description
MX DJ Headphones DJ-1000 Green are a great solution to your audio needs.
With an included bag for easy portability, the DJ-1000 from MX also sets itself apart by folding in on itself to make sure that you are able to keep it with you at all times.
Never miss out on the latest music at high quality with these Headphones.
Comfortable right from the start the MX DJ-1000 green won't interrupt your listening time with any unneeded glamour or glitz, but you will get high quality sounds.
Features include a 3.5 mm head jack with a 14.7\" cord that will provide you with a long lasting listening experience.
The flexible housing design allows for not only easy portability, but also for easy access to single ear monitoring.
Don't worry about breaking these just to quickly make sure the sound is right.
The comfortable over the hand band allows for great double ear monitoring as well.
Also included are two 1/4\" stereo adapters, one straight, one right angle.
you may also like