USHA Wonder Stitch Electric Sewing Machine( Built-in Stitches 13)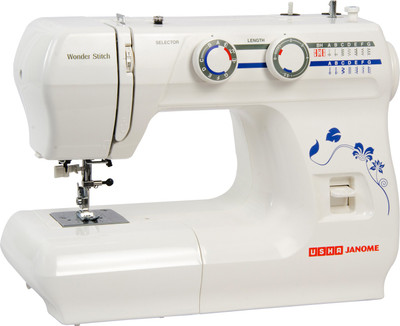 Check Price @ Amazon
A beautiful looking sewing machine, the Wonder Stitch comes with features like automatic needle threading, triple strength stitch, feed drop lever to facilitate embroidery, and a hard cover for extra protection. You don't have to go around looking for a tailor to fix that tear in your jeans or kurta thanks to the Stitch.Further it comes with nine applications that includes stretch stitching, button fixing, rolled hemming, blind stitch hemming, smocking, and zip fixing and 13 built in stitches including the button hole
Price:   13,599.00
---
Similar Products
USHA Anand Composite Manual Sewing Machine( Built-in Stitches 1)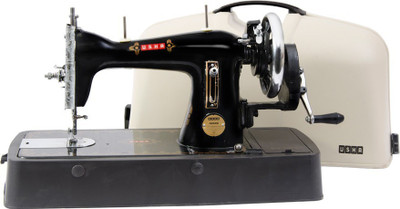 Check Price @ Amazon
Lever type stitch regulator Auto tripping bobbin winder Comes with attractive gift pack ISI marked ... Body Shape:Round Machine Color:Black Motion of Thread Take Up Lever:Cam motion Needle Bar Thread Guide:Curved type Needle Plate and Slide Plate:Slide type Presser Foot:Medium shank Pressure Adjustment:Screw type Shuttle Race:Closed type Stitch Length Adjuster:Straight lever type
Brand:   USHA
Price:   5,000.00
---
USHA EI 1602 1000 W Dry Iron(Grey)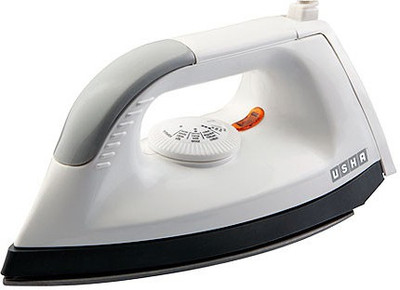 Check Price @ Amazon
Nothing can boost your confidence better than wearing neatly pressed clean clothes. Now iron your clothes right at your home anytime you want with this dry iron from Usha. Featuring an ergonomically designed, lightweight body and many amazing features, this dry iron is easy to use and quite handy.
Brand:   USHA
Color:   Grey
Price:   620.00
---
USHA heavy weight iron heavy weigt 1.75 kg 1000 W Dry Iron(White)
Check Price @ Amazon
Prominent Neon light Overheat safety shut off Easy handling and Better ironing Extra long Ironing cord for better reach Shock Proof plastic Handle Easy Ironing under Buttons
Brand:   USHA
Color:   White
Price:   1,180.00
---
USHA Anand Dlx. Composite Manual Sewing Machine( Built-in Stitches 1)
Check Price @ Amazon
Square Arm Lever type stitch regulator Auto tripping bobbin winder Comes with attractive gift pack ISI marked ... Body Shape:Square Fabric Selector Knob:No Machine Color:Dark blue & black Motion of Thread Take Up Lever:Cam Motion Needle Bar Thread Guide:Curved type Needle Plate and Slide Plate:Slide type Presser Foot:Medium shank Pressure Adjustment:Screw type Shuttle Race:Closed type Stitch Length Adjuster:Straight lever type
Brand:   USHA
Price:   4,750.00
---
USHA 1000 watt light weight iron 1000 W Dry Iron(White)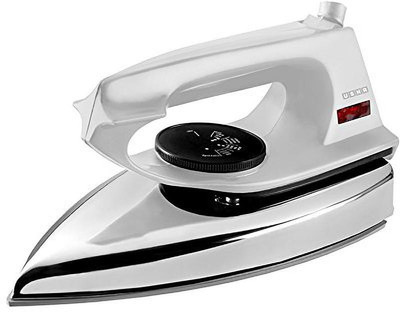 Check Price @ Amazon
ideal option for ironing all your clothes
Brand:   USHA
Color:   White
Price:   539.00
---
USHA 1602 Electric Dry Iron with Non Stick PTFE coated Sole Plate and cool touch body 1000 W Dry Iron(Purple, White)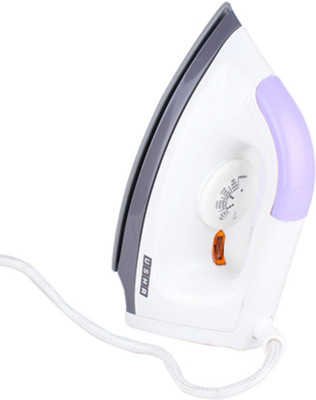 Check Price @ Amazon
Give a crisp and wrinkle-free look to your clothes after every wash by pressing them using this Usha dry iron. Teflon Soleplate This light iron has a light body and a teflon soleplate which makes it easier for you to slide the iron without any difficulty. Additional Features This Usha iron has a temperature control knob for different heat settings. The indicator light hints when the iron is ready to be used. It also has an automatic shut-off feature which provides extra safety while in use. Self Cleaning Feature The soleplate has a self-cleaning feature and hence doesnât hold on to any residue. Power Consumed It operates on a 220-240 V range and consumes a maximum of 1000 watts of electricity.
Brand:   USHA
Color:   Purple, White
Price:   614.00
---
USHA MIST AIR DUOS 400 mm 1280 Blade Pedestal Fan(White, Pack of 1)

Check Price @ Amazon
After a day spent under the scorching heat of the sun, one of the first things that you would want to do on returning home is to switch on the pedestal fan and relax for some time on your living room couch. Well, if you have been planning to buy or replace the old one, then this stylish pedestal fan from Usha can be a good choice. Powerful Motor Designed to withstand voltage fluctuations, this fan has a powerful motor that boasts of a speed of 1280 RPM to deliver high airflow. Featuring uniform oscillation and soft hand tilting mechanism with knob and ratchet type mechanisms, this fan allows you to control the airflow as per your need. Three Blades This fan comes with three aerodynamically designed PP blades that provide better airflow without making too much noise. It also comes with castors for easy mobility.
Brand:   USHA
Color:   White
Price:   2,649.00
---
USHA SNI03 1000 W Dry Iron(White)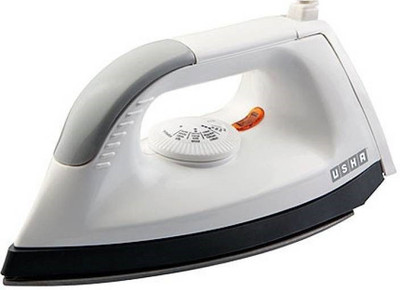 Check Price @ Amazon
clothes to be perfectly ironed
Brand:   USHA
Color:   White
Price:   649.00
---
USHA Anand Composite Manual Sewing Machine Manual Sewing Machine( Built-in Stitches 1)
Check Price @ Amazon
Brand:   USHA
Price:   4,750.00
---
Sewing Machines & Accessories
Sorted By Price
₹ 13,599.00
-
USHA Wonder Stitch Electric Sewing
₹ 5,000.00
-
USHA Anand Composite Manual Sewing
₹ 620.00
-
USHA EI 1602 1000 W
₹ 1,180.00
-
USHA heavy weight iron heavy
₹ 4,750.00
-
USHA Anand Dlx. Composite Manual
₹ 539.00
-
USHA 1000 watt light weight
₹ 614.00
-
USHA 1602 Electric Dry Iron
₹ 2,649.00
-
USHA MIST AIR DUOS 400
₹ 649.00
-
USHA SNI03 1000 W Dry
₹ 4,750.00
-
USHA Anand Composite Manual Sewing
Sorted By Brand
USHA
-
USHA Wonder Stitch Electric Sewing
USHA
-
USHA Anand Composite Manual Sewing
USHA
-
USHA EI 1602 1000 W
USHA
-
USHA heavy weight iron heavy
USHA
-
USHA Anand Dlx. Composite Manual
USHA
-
USHA 1000 watt light weight
USHA
-
USHA 1602 Electric Dry Iron
USHA
-
USHA MIST AIR DUOS 400
USHA
-
USHA SNI03 1000 W Dry
USHA
-
USHA Anand Composite Manual Sewing
Sorted By Discount
2%
-
USHA Wonder Stitch Electric Sewing
0%
-
USHA Anand Composite Manual Sewing
26%
-
USHA EI 1602 1000 W
37%
-
USHA heavy weight iron heavy
6%
-
USHA Anand Dlx. Composite Manual
40%
-
USHA 1000 watt light weight
23%
-
USHA 1602 Electric Dry Iron
8%
-
USHA MIST AIR DUOS 400
31%
-
USHA SNI03 1000 W Dry
5%
-
USHA Anand Composite Manual Sewing