Ravbelli USB, Micro USB, USB Type C OTG Adapter(Pack of 2)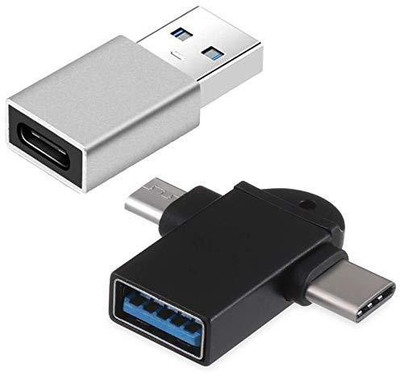 Check Price @ Amazon
Price:   281.00
---
Similar Products
Ravbelli Edge To Edge Tempered Glass for TECNO SPARK 6 GO, TECNO SPARK 6 GO(Pack of 1)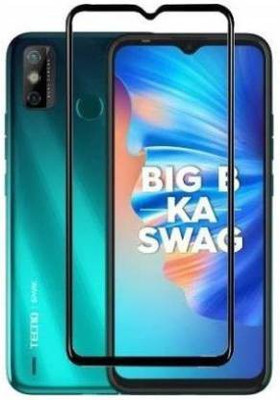 Check Price @ Amazon
ULTIMATE PROTECTION AND USABILITY: Ravbelli 11D Premium Tempered Glass Screen Protectors are designed to protect your device screen against impact, scratches, dust and fingerprint smudges. Manufactured from a high quality chemically treated glass, the screen protectors are lightweight, thin but most importantly, extremely protective. After lot of experiment Our R&D Team have finally developed a technique where major problems like Rainbow Effect, Dust Particles entering from sides, Weak Adhesion, Less responsiveness have been removed completely. HARDNESS: Industry-high hardness: Effectively resists scratches up to 9H (harder than a knife). OLEOPHOBIC COATING: The Oleo phobic coating built into these screen protectors is a special oil-repellant coating which prevents oily finger marks from sticking to the screen, so that they can be easily wiped off without leaving hard to remove dried on smudges. EASY INSTALLATION: Due to their solid nature, tempered glass screen protectors are much easie
Ravbelli USB Type C Female to USB Male Adapter USB Type C Female to USB Male Adapter - USB C to USB A Connector,Works with Laptops,Chargers,and More Devices with Standard USB A Interface USB Charger, Laptop Accessory(Multicolor)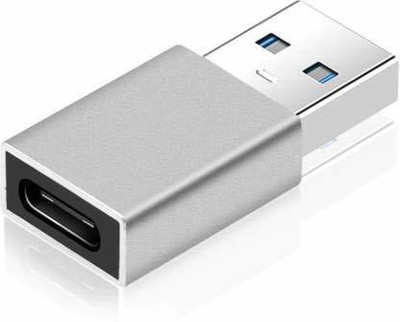 Check Price @ Amazon
Ravbelli This BKN USB 3.1 C(female) to USB A (male) converter for connecting USB C device like USB-C smartphones/ tablets/ laptops/ power bank and u disk to charge & sync data. Top quality design and metal aluminum materials to ensure reliability and provide super speed charging and transferring. This usb c to usb adapter has up to 480 Mbps data transfer speed. Convert USB-C Device Connect your USB-A laptops, chargers or other USB A devices to USB C cable, USB C hubs, USB C peripherals and other devices with a USB C port.Support charging and data transfer! You can connect type C devices such as Oculus VR, Playstation, Xbox, Card Reader, USB Flash Drive, Hard Drive, Mouse, Keyboard, Printer, Scanner, Camera and so on with this adapter. With this little female usb-c to male usb-a adapter, you can charge the iPad from a conventional USB power source; Sync photos from my Windows 10 desktop via iTunes; Connecting to my Windows 10 desktop for access to photos stored on the iPad.
Ravbelli USB Type C, USB, USB Type C OTG Adapter(Pack of 2)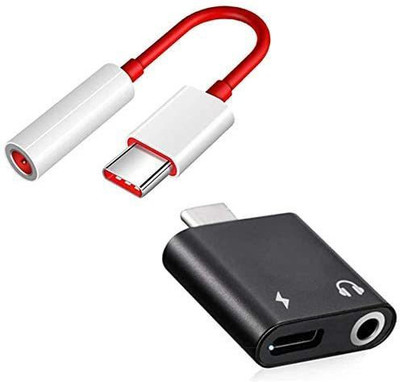 Check Price @ Amazon
This USB 3.5mm adapter is very easy to carry, you can put it in your packaging, bag or other. Anywhere and anytime, you can listen to your favorite music with this USB C Headphone Adapter, Enjoy Music USB C to 3.5mm Adapter allows 24 bit/ 96 KHz Hi-Res and lossess audio output. Just plug and play, then you can enjoy the original sound quality on your headphones and speakers. The 100% copper core offers a clear sound quality and ensures the stability of the transmission. 2 in 1 - It is designed to provide a better experience for your Type C devices with stylish design and stable performance and mini size let your life simple and convenient to get rid of trouble of only one choose to charge or listing music.
Ravbelli USB Lite Set of 5 Mini USB LED Light Lamp, USB Light for Laptop Computer Keyboard, Flexible Gooseneck Reading Light, USB Powered LED Light, Portable USB Laptop Light (Colours May Vary) USB Hub, Led Light USB Lite Laptop Accessory, USB Flash Drive, USB Hub, Led Light(Multicolor)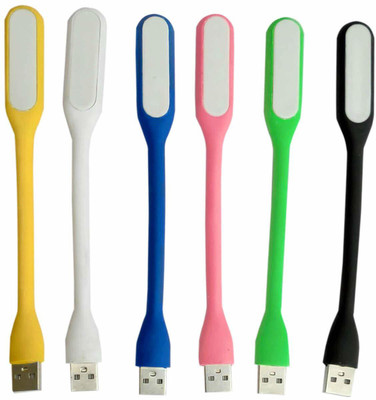 Check Price @ Amazon
Ravbelli The side the LED light falls on will depend on your USB port orientation (non-standardized) This product can twist and bend without breaking. Use this to shine light as required Rated Voltage: 5V; Rated Power: 1.2W - Powered by any standard USB outlet (car charger, power bank, laptop etc.) Ideal for lighting small areas inside your car, as an alternative to your cabin light You might experience moderate heating from the LEDs - this is normal and won't damage the product
Ravbelli Adjustable LED USB Car Roof Star Night Light Starry Sky Projector Lamp Interior Decorative Car Roof Top Ceiling Star Light Car Fancy Lights(Black, Red)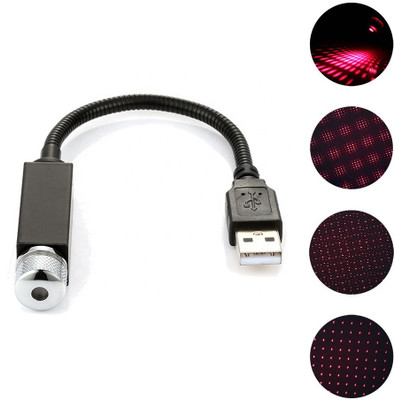 Check Price @ Amazon
Car USB Led Starry Sky Projector Lamp Features: 1. A variety of Starlight densities can be adjusted: the car star lights can be rotated to adjust the lighting style, the light source is stable. 2. 360 degree rotation + USB interface: Lightweight and flexible, it can be adjusted from multiple angles. Portable, easy to install. 3. The bright Starry effect creates a romantic atmospheres for your car roof or house, and can also be used to decorate birthdays or holiday parties. 4. This star projector lamp can be used as a special gift for friends or children. 5. The fun roof USB light can be used as a night light, room decoration, car decoration, usb night light power supply, charging via USB interface.
Ravbelli Hexagon Electrical Extension Cord 4 Surge Power Socket with 4 USB Port for Computer with 6 ft. Wire Protector Spike Strip Guard Hexagon Electrical Extension Cord 4 Surge Power Socket with 4 USB Port for Computer with 6 ft. Wire Protector Spike Strip Guard USB Charger, USB Hub(Light Blue , W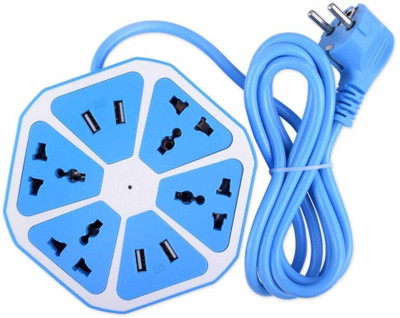 Check Price @ Amazon
Universal 4 USB Hexagon Power Socket Extension Socket Plug Electrical. Outlet 250V 2500W. With 4 USB ports, Max output current up to 2A, which are capable of charging any kinds of digital products, such as mobile phones, tablets, MP3, etc. Allowing you to charge several devices with USB cables at the same time without an adapter. 4 universal socket plugs made of high strength Eco-friendly flame-retardant plastic. meeting room, bedroom and guest room, etc. Specification:- Type: Extension Socket Material: Plastic Quantity:1 pcs Rated Voltage:250V Rated Current:10A USB Output:5V 2A Interface:4 sockets and 4 USB port Socket ,Package:- 1 Extension Socket
Ravbelli Mobile Stand Holder Big Size Universal 4 Steps Adjustable 4 Steps Fold-able for All Phone Tablet Mobile Holder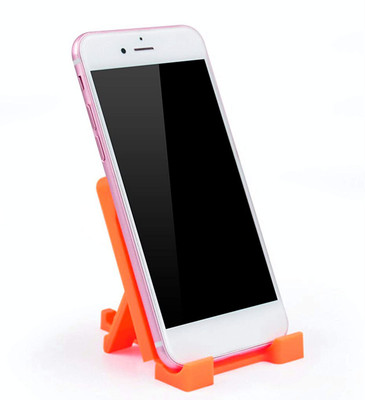 Check Price @ Amazon
Ravbelli Universal folding Mobile phone holder stand mount for smartphone & tablet. Foldable, Flexible Phone Mobile Holder, Material: Plastic, Tested quality, Perfect Grip Ideal For Tablets and All smartphones, Plastic Waterproof Material, Ideal to keep on Desks, Washrooms or Dining An incredibly useful device, the phone holder allows you to use your phone while for various purposes while leaving your hands free to do other things.
Ravbelli Edge To Edge Tempered Glass for Redmi Note 7PRO, Redmi Note 7, Redmi Note 7S(Pack of 1)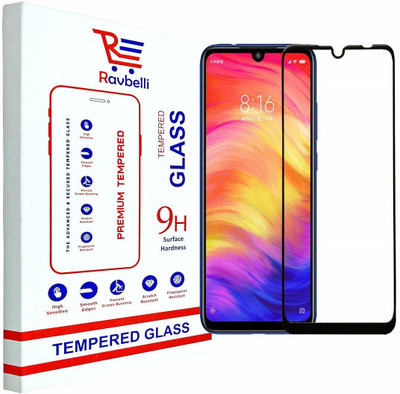 Check Price @ Amazon
Ravbelli tempered glass are made from strong Japanese glass which comes with a 9H surface hardness to protect it from day to day scratches. The 6D edge ensures a smooth rounded finish with no rough edges and zero compromise on clarity & transparency. The tempered glass has a special oleophobic coating which make it smudge and fingerprint proof for a clearer screen, additionally, it also comes with an additional layer to make it shatter-proof. The 100% bubble-free technology ensures that you can easily install the tempered glass yourself without any issue.
Ravbelli usb otg Type-C to Micro USB Adapter + Type-C OTG Adapter for Samsung Galaxy F Type C Male to Micro USB Female/USB-A 3.1 OTG Data Connector Converter Charging Charger Adapter (Multi) USB Charger, USB Mug, USB Hub(Multicolor)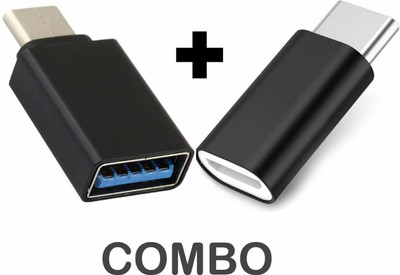 Check Price @ Amazon
TO USE: Micro USB to USB Type--C Adapter simply plug a standard Micro USB cable into end (female connection) of the Adapter, then place the Type-C male connection (the other end of the Adapter) into a Type-C port., Hi-speed USB 3.1 Type-C male to USB 3.0 female OTG can support Video, Audio. The maximum data transfer rate up to 10GBit/s, USB 3.1 standard, Reversible Connector: Smaller, smarter and more convenient to USB-C connector with a reversible design simplifies the connection plug and unplug easily without checking the connector orientation., Compact Metallic Build: Premium components with metallic construction.Take the mini adapter anywhere. Light and compact, it is so small that you can fit it into the coin pocket of your jeans., USB-C (male) to Micro USB Adapter (female) allows you to charge and sync USB-C devices with a micro USB cable. Plug and play design. No external driver or software installation needed.
USB Gadgets & Accessories
Sorted By Price
₹ 281.00
-
Ravbelli USB, Micro USB, USB
₹ 197.00
-
Ravbelli Edge To Edge Tempered
₹ 226.00
-
Ravbelli USB Type C Female
₹ 399.00
-
Ravbelli USB Type C, USB,
₹ 248.00
-
Ravbelli USB Lite Set of
₹ 249.00
-
Ravbelli Adjustable LED USB Car
₹ 479.00
-
Ravbelli Hexagon Electrical Extension Cord
₹ 188.00
-
Ravbelli Mobile Stand Holder Big
₹ 169.00
-
Ravbelli Edge To Edge Tempered
₹ 198.00
-
Ravbelli usb otg Type-C to
Sorted By Brand
Ravbelli
-
Ravbelli USB, Micro USB, USB
Ravbelli
-
Ravbelli Edge To Edge Tempered
Ravbelli
-
Ravbelli USB Type C Female
Ravbelli
-
Ravbelli USB Type C, USB,
Ravbelli
-
Ravbelli USB Lite Set of
Ravbelli
-
Ravbelli Adjustable LED USB Car
Ravbelli
-
Ravbelli Hexagon Electrical Extension Cord
Ravbelli
-
Ravbelli Mobile Stand Holder Big
Ravbelli
-
Ravbelli Edge To Edge Tempered
Ravbelli
-
Ravbelli usb otg Type-C to
Sorted By Discount
53%
-
Ravbelli USB, Micro USB, USB
67%
-
Ravbelli Edge To Edge Tempered
62%
-
Ravbelli USB Type C Female
33%
-
Ravbelli USB Type C, USB,
58%
-
Ravbelli USB Lite Set of
74%
-
Ravbelli Adjustable LED USB Car
51%
-
Ravbelli Hexagon Electrical Extension Cord
68%
-
Ravbelli Mobile Stand Holder Big
71%
-
Ravbelli Edge To Edge Tempered
60%
-
Ravbelli usb otg Type-C to