Marshland Back Screen Guard for Protector Flexible Anti Scratch Oleo Phobic Coating Anti Glare Matte Finished, Realme 2 Pro(Pack of 1)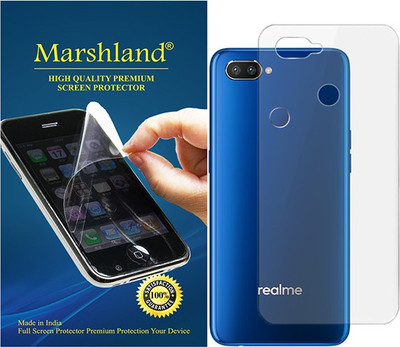 MRP - Rs. 358
Price - Rs. 167
product description
Marshland Matte Finish Back Screen Guard Protector Is Specially Designed to Cover and Protect the Back Screen of Your Smartphone.
The oleo phobic coating makes it scratch resistance and smudge free.
Its New Adhesive Technology Provides Easy Installation With A Single Swipe.
Even at Heavy Impact the Screen Guard Is Shatter Proof and Does not Damage Your Smartphone's Screen.
Retina and HD compatible high quality screen protector for your device's Matte Finish Back screens the surface of the Screen Guard has thickness is 0.33 mm, three times stronger than a regular screen protector film.
Even objects such as knives and keys will not scratch Screen Guard Ultra clear for 98% transparency: Light Penetration Ratio 93.7% as compared with usual protective film 80% Bubble Free.
Screen Guard has high transparency.
The surrounding part is smooth to protect the screen from being smashed, the product is environmentally friendly.
Coating of oleo phobicity: anti-fingerprint, anti-oil, anti-acid.
FOR YOUR CONVENIENCE: There are many protective films Or Mobile accessories for tablets and mobile phones that we offer in the store.
Please enter \"Marshland + your tablet/mobile phone\" to quickly find the product you want.
You can clearly see the products.
?\"Marshland\" will do the best service for you.?
you may also like