LIMETRO STEEL Stainless Steel Heavy Gauge Lazer Made in india Mirror Finish set of 20 pcs (4 Dinner Plates,4 Halva Plates, , 4 Bowl/ Wati, 4 Glasses, 4 Spoons,) Steel Dinner Set Pack of 20 Dinner Set(Stainless Steel)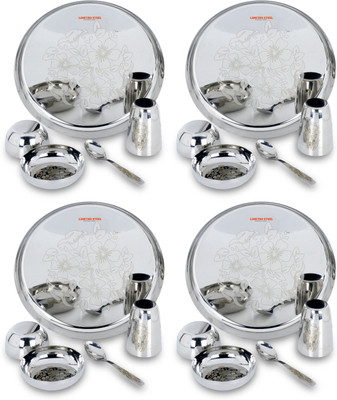 MRP - Rs. 2499
Price - Rs. 1899
product description
To serve your dinner in style, a perfect set of dinner set is a must.
If you prefer to take meals with your family, a stylish yet durable dinner set from the house of LIMETRO would surely cater to your requirement and preference.
This 20 Pc dinner set from LIMETRO STEEL is going to be your trusted kitchenware.
You can serve all kinds of food in this dinner set.
It is very economical in range, Made from 100% food grade stainless steel making it highly durable and resistance to corrosion.
It is non-breakable, durable, sturdy, rust free and long lasting.
This Set Contains 4 Plate, 4 NewGlass, 4 Halwa/small plate 4 watis & 4 Spoon.
Get compliments from all for your rich sense of taste in your kitchen collection.
you may also like