Lifelong LLGS23 Glass Manual Gas Stove(3 Burners)

64% OFF
@ Flipkart
Check Price @ Amazon
Bring home this gas stove from Lifelong whose three burners with stainless steel trays make for an easy cooking process. It features a toughened glass top and knobs that can be turned easily. Three Burners You can cook multiple dishes on this gas stove, as it features three burners that facilitate equal distribution of heat. Toughened Glass Top This gas stove features a toughened glass top, thereby making it a safe and durable addition to your kitchen. Easy-to-use Knobs This gas stove's heat-resistant nylon covered knobs let you operate the burners with ease. Stainless-steel Trays This gas stove's stainless steel trays are easy to maintain and they can be cleaned efficiently. ISI Certified This gas stove comes with the assurance of ISI certification making it extremely safe to use at home.
Price:   2,299.00
---
Similar Products
Lifelong ISI Certified Glass Manual Gas Stove(4 Burners)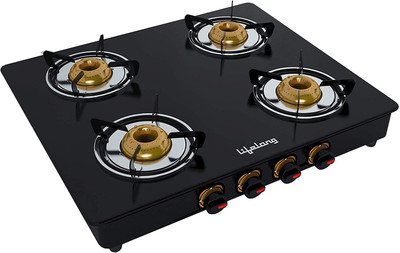 56% OFF
₹ 3,299.00 @ Flipkart
Check Price @ Amazon
With this Lifelong Gas Stove in your kitchen, you'll be able to enjoy comfortable, smooth, and safe cooking experiences. It features Anti-skid Feet that make sure that it remains stationary while cooking. This makes it comfortable for you to cook delicious dishes. This gas stove has a glass top that you can easily clean with a wet cloth. You can even clean the side and knobs of the appliance with ease to ensure hygiene.
Brand:   Lifelong
Price:   3,299.00
---
Lifelong LLGS118 Glass Manual Gas Stove(2 Burners)

59% OFF
₹ 1,749.00 @ Flipkart
Check Price @ Amazon
The Lifelong LLGS118 Glass Manual Gas Stove will be an efficient cooking essential in your kitchen to prepare delicious home-made food. This durable kitchen appliance features Forged Burners, a Toughened Glass Layer, and Anti-skid Feet for efficient, easy and safe cooking.
Brand:   Lifelong
Price:   1,749.00
---