ONBN Edge To Edge Tempered Glass for one plus 6 6D Tempered Glass Full Glue Original 9H Hardness Anti Scratch Full HD(Pack of 1)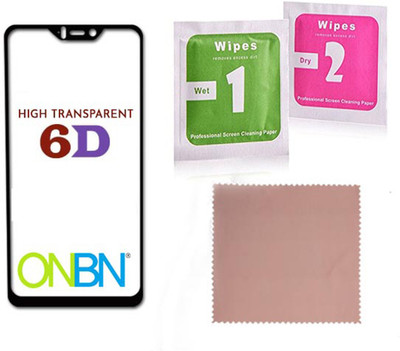 MRP - Rs. 999
Price - Rs. 499
product description
ONBN® brings to you the highly acclaimed ONBN® Series of \"FULL BODY 2.5D 9H Hardness Toughened Tempered Glasses\" for your mobile devices.
ONBN®: HD Transparency ensures perfect match with your screen with zero impact on visual display.
•FULL BODY TOUGH: Ultra durable due to the Toughened Glass (9H Hardness) Used.
Fingerprint proof (Oleophobic Coating), Anti-dust, washable & tear-resistant.ONBN® •Super Sensitive Touch and Easy Installation:ONBN® Attaches smoothly with a self-adhering surface and leaves no residue when removed.
•Anti-Shatter: If broken, the glass will break into small parts but stay in one piece, making it safer for glass screen of your phone.ONBN® •Scratch Proof : Protects your screen from daily scratches, dust, scrapes, and normal signs of wear.ONBN® Comes with a Scratch Proof coating for lasting durability.
This Tempered Glass provides the Maximum Protection to your Phone and maximum comfort for use.
•Precise Cutouts : for each and every phone opening including The Front Camera of your Device ONBN®.
•5D Tapered Rounded Edges: The 2.5D tapered round edges of tempered glass screen protector helps deflect shock from bumps and also increases touch sensitivity during scrolls making it a highly Product.
\"
you may also like