Marshland Edge To Edge Tempered Glass for Samsung Galaxy S6 Edge Plus(Pack of 1)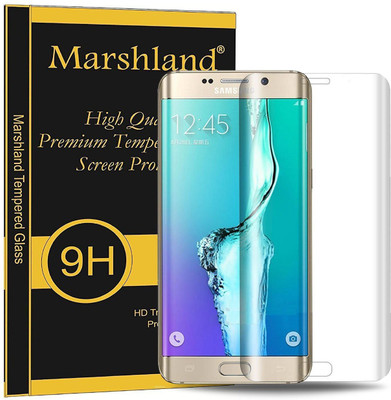 MRP - Rs. 899
Price - Rs. 648
product description
Marshland® Samsung Galaxy S6 Edge Plus Tempered Glass full 3d curved Screen Protector It is a type of glass using for protection of mobile screen.
This is a soft crystal clear glass processed by controlled thermal or chemical treatment to improve its strength and quality.
TEMPERED GLASS SCREEN PROTECTOR is a multi-layered screen protection.
It has a bottom layer of absorbent silicon, pet film and an optically clear adhesive tempered glass and oleo phobic coating in that order.
Tempered glass is up to five times stronger than normal.
MARSHLANDTM TEMPERED GLASS GIVES YOU HD CLARITY Smart phone is expensive, so it's necessary to protect mobile screen and tempered glass is a best option to protect to protect our mobile screen but its quality and strength is so important.
It is very important to choose best quality tempered glass screen protector.
CRYSTAL CLEAR CLARITY able to be seen through with clarity and strong 9H hardness features provide a strongest protection of mobile screen.
3D CURVED EDGE having a round or curving shape, smooth on round edge scratch protection feel a real comfortable surface of Tempered Glass.
SENSITIVE TOUCH mobile screen that can detect and fast respond to something, such as a finger or stylus, pressing on it.
PERFECT ADHESION, Oleo Phobic Coating &silicon coating provide a perfect surface to use mobile screen.
Tempered Glass Outlook High clear Features Screen Protector 3D Curved Edge, 0.33mm Thickness, 9H Hardness, Anti Explosion, Bubble-free, Oleo phobic Coating Available thickness 0.33mm Available radian 3D round edge Transparency 99% Hardness 9H Quantity 1pcs Function Tempered Glass Screen Protector Retail Packing Alcohol wipes, Cloth, Tempered Glass.
you may also like