Stealodeal Exclusive Dark Brown High Quality Leatherite Wallet Atm 15 Card Holder(Set of 1, Brown)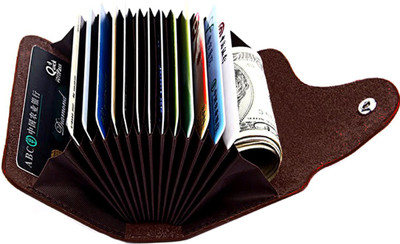 MRP - Rs. 500
Price - Rs. 500
product description
Stealodeal Exclusive Brown Leatherite Card Wallet Are you looking for a modern Leatherite Card holder, which is lightweight but with huge storage? Then our Stealodeal credit card holder is a good choice for you.
Dimensions: Length/Width/Height-10.5cm/7.5cm/2.6cm.
Thanks to its small size, it can be easily stowed in the trouser pocket and you can take this credit card case anywhere, e.g.
for shopping, sports etc.
? Material: Leatherite ? Totally 15 card slots: 13 Small card slots + 2 large card slots ? Color: Brown ? Customized gift box--a great gift for your friends and yourself.
? Used as wallet to keep money as well as your atm cards.
? Easy Lock Button ? 6 Months Warranty Package: 1 x Credit Card Case (With a Branded box) \"
you may also like