Iris Mechanix Wear Weight Lifting Gloves Half-Finger Training Gloves for Fitness, Training Exercise,Cycling,Running,Yoga for Men & Women Gym & Fitness Gloves (Free Size, Green)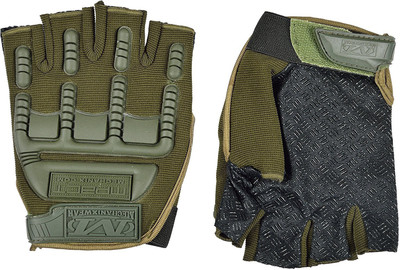 MRP - Rs. 1200
Price - Rs. 569
product description
Are you ready to experience a strong, natural grip while lifting the maximum weight in the gym? If so, you're going to love our Grip Power Pads Gym Gloves – the highest quality, longest lasting gym gloves on the market! Just what is it that makes Grip Power Pads Gym Gloves better than the competition? We're glad you asked! Our gym gloves have an innovative curved finger design that that fits the natural shape of your hand, giving you the ultimate protection for your palms and fingers and total comfort for any type of finger size.
In addition, rubberized pads and dots on the palm of each glove give you maximum control when lifting.
Grip Power Pads specializes in designing products that last.
Unlike other gym gloves, our half-finger gym gloves are made with premium materials including genuine leather.
This ensures long lasting quality.
Our gloves are built for both durability and grip.
Get ready to lift more, train longer and workout harder with our BEST-SELLING GYM GLOVES! Imagine working out with no more calluses or blisters! It's now a reality! Our weight lifting gloves keep the bar from digging into your hands and causing calluses and blisters.
Say hello to keeping your hands in the best shape possible for working out!
you may also like