Kamron Screen Guard for Canon EOS 5D Mark III / 5 DSR / 5D Mark IV(Pack of 1)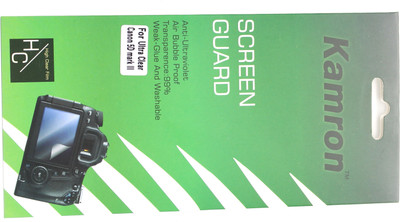 MRP - Rs. 399
Price - Rs. 190
product description
1.
Anti-Scratch & Good resistance Put the product under full protection, against scratches, dirt and oil.
Under normal daily usage.
Screenward could last for a long time without affecting product's smoothness and transparency.
2.
Precise demension Use Japanese advanced technology, which cutting is exact.
it is convenient for you to apply.
3.
Transparency is over 99% The highly transparency can preserve the high resolution and vivid colors of your product.
4.
Electro-SAT The electro-static obsorption technology ( Electro-SAT ), makes no residue leave on the product, easy for cleaning when you remove it.
5.
Bubble-Free when it is applied The Screenward is bubble-free when it is applied, enhance the touching operation.
you may also like