DMG Flip Cover for Google Nexus 7 2013 Edition(Purple, Artificial Leather)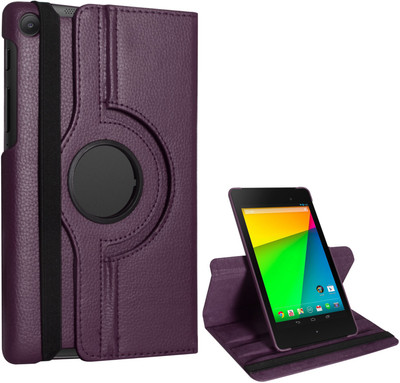 MRP - Rs. 999
Price - Rs. 641
product description
PU Leather 360 Rotating Smart Cover for Google Nexus 7 2013 .
The premium constructed PU leather 360 degree rotating stand Google Nexus 7 2013 case is specifically designed for convenience and protection.
The case swivels around the center and rotates both vertically and horizontally giving maximum viewing angles for your Facetime, video chat or reading.
The form-fitted design securely holds the device in place while the hard-sided exterior provides a sturdy, protective cover.
A restraint strap keeps the flip firmly closed when not in use.
.
Design: .
- Built-in Stand: Case converts into a stand to hold the device upright for hands-free viewing of video, online books and more.
.
- Hard-Shell: Hard-shell design offers a molded exterior to protect fragile glass displays that are prone to damage when bent.
.
- Scratch-Resistant Lining: This soft-to-the-touch material is designed to help prevent scratches on sensitive accessories such as sunglasses or mobile phones for worry-free travel .
- 360°Rotating: Making it simple to transition between landscape and portrait options, the 360-degree feature allows for more viewing versatility while keeping your device in the case.
Compatibility: .
This case is designed for Google Nexus 7 2013 ONLY; .
you may also like