Exxotic Jewelz Ganpati Rhodium Ruby, Sapphire, Emerald, Pearl, Cat's Eye, Cubic Zirconia, Coral, Garnet, Sapphire Sterling Silver Pendant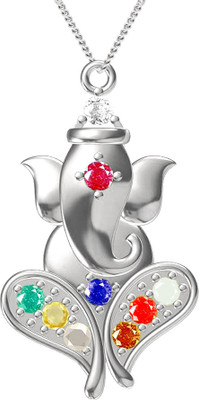 MRP - Rs. 3499
Price - Rs. 1750
product description
This Navratna pendant jewellery made by 925 sterling silver.
About Navratna : Navratna is a Sanskrit compound word meaning \"nine gems \".
Jewelry created in this style has important cultural significance in Hinduism, Jainism, Buddhism, and Sikhism.
This cultured Navratna pendant jewellery made by 925 sterling silver and cultured stones.
The traditional setting and arrangement of these nine gems is shown in the illustration.
A ruby (representing the Sun) is always in the center, surrounded (clockwise from the top) by a diamond, a natural pearl, red coral, hessonite, a blue sapphire, cat's eye, a yellow sapphire, and an emerald.This is the same placement as the Nava-graha Yantra.They represent the wisdom of the ancient ones and are highly respected for their strength and individuality.Exxotic Jewelz is an online retails store that houses high quality jewellery and accessories with strikingly exquisite designs.
With its affordable rates and unique shopping experience, Exxotic Jewelz is your one stop destination for making any given day an occasion.
you may also like