Wama Fashion Printed Daily Wear Faux Georgette Saree(Pack of 2, Multicolor)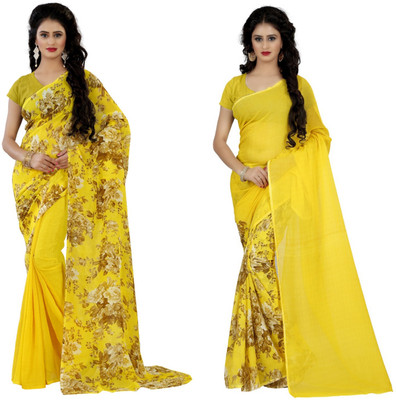 MRP - Rs. 2999
Price - Rs. 899
product description
If you are looking for Pack of 2 Saree collection with multiple choices of color combinations in vaious Printed pattern then you have choosen perfect online store for the collection you are searching for.We have vast collection available here in beautifully printed pattern.This is Casual Wear pack of 2 saree Collection made from faux georgette fabric with unstitched blouse piece available with Saree.This is a 5.25 meters Saree Collection having width of 1.12 Meters and 0.75 Meters blouse piece length.
\"Here at \"\"Wama Fashion\"\" Online Store we have vast collection of saree available in various Printed patterns like Floral Print,Geometric Print,Paisley Print,Striped Print.
We have simple Casual and Daily wear Saree collection as well as Half and Half Saree Collection available in beautifully designed and Implemented Color Combinations.
Fabric Details:- Faux georgette is one of the most popular types of fabrics in ethnic fashion today.
As the name suggests, it is an artificial version of georgette made of twisted yarns of rayon, polyester or nylon rather than silk.
Light and floaty in its appearance, faux georgette fabric is also quite sturdy and durable.
It offers a lot of comfort for the wearer as it is both soft and breezy.
Wash Care:- -Though this material is strong, hand washing s best.
-Fill a sink or tub with cold water.
-Add a small amount of mild detergent and agitate the water to mix.
-Add the clothing and gently swish it around in the water.
-Remove from the water and squeeze to remove excess water.Avoid stretching and wringing the fabric as it will cause it to lose its shape.
-Rinse with clean water.
Again, squeeze out excess water.
-Lay the piece on a flat surface or on a drying rack and allow it to air dry completely.
\"
you may also like