Gorilla E1-1200MB BLDC Motor with remote control 3 Blade Ceiling Fan(Matte Brown)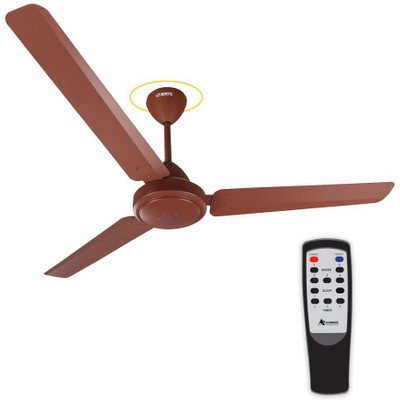 MRP - Rs. 3600
Price - Rs. 2945
product description
Save more with this Gorilla 3-blade ceiling fan.
Packed with an improved BLDC motor, this fan not only consumes less power than ordinary ceiling fans, but it also has a wide operating voltage range of about 110 V - 285 V.
Save More Gorilla Fans are more energy-efficient than ordinary fans that consume close to 75 W, so you don't break the bank paying electricity bills.
BLDC motor with Improved Reliability and Longevity This fan uses a BLDC motor with thicker windings and permanent magnets, which makes it more reliable and long-lasting.
Sleep and Timer Mode While the Timer Mode switches off the fan after a fixed time interval set by you, the Sleep Mode gradually reduces the fan speed after every 2 hours.
No Noise and No Heating Issues The fact that these fans don't heat up even after long hours of usage only adds to their life.
They don't make any humming sound while running, so you are not disturbed by any unwanted noise.
Low Power Consumption Even at its highest speed, this fan consumes about 28 W of power, which is almost the ?rd of an ordinary ceiling fan's power consumption.
Wide Operating Voltage Range It can operate efficiently between the voltage range of 110 V - 285 V.
Superior Air Delivery This fan's air delivery output is much better than conventional induction fans.
you may also like